Amanda Knox Latest: Her Final, Ceremonial Exit from Italian Prison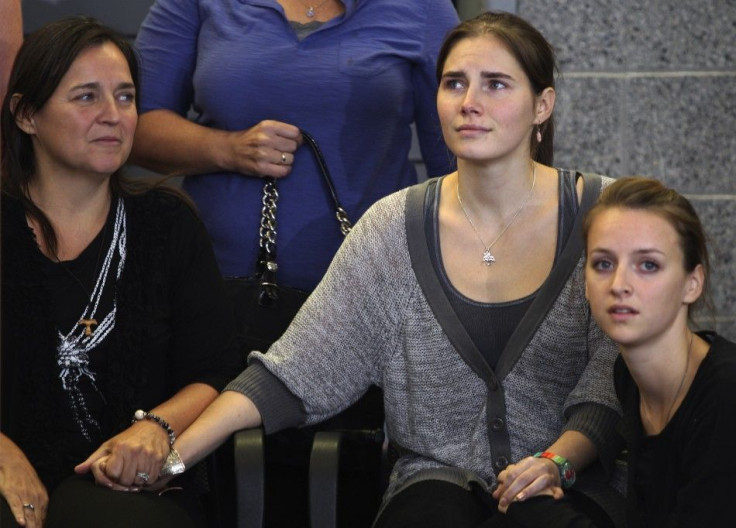 Amanda Knox is home in Seattle, Wash., celebrating her acquittal with friends and family. After landing at the Seattle-Tacoma International Airport on Tuesday, Knox gave a brief, but teary, press conference to her supporters, then went back to her childhood home.
I'm really overwhelmed right now. I was looking down from the airplane and it seemed like everything wasn't real. Knox said at the airport.
What's important for me to say is just thank you, to everyone who has believed in me, who has defended me, who has supported my family, she added.
Just a day earlier, Knox was sitting first in a jail cell and then a court room, waiting to hear a judge acquit her of the murder of Meredith Kercher. And, before she could leave Perugia and go back to the United States for the first time in four years, Knox had to officially and symbolically release herself from Capanne prison.
The first thing she did, presumably after finishing required paperwork and gathering her belongings, was break her toothbrush in half and throw it away, ABC News reported.
There are particular rituals that happen when a person knows they are leaving for good, Knox family lawyer Theodore Simon told Good Morning America.
And as you leave the jail, you slide with your right foot forward as a symbolic gesture to hope somebody who should rightfully be released will leave there soon, he added.
Then, standing in the prison yard, Knox watched her fellow inmates wave her goodbye with clothes hanging out of windows twirling like flags.
Two years ago, Knox, along with her boyfriend Raffaele Sollecito, was found guilty of murdering Kercher, the British student with whom Knox shared a small apartment. She was sentence to 26 years the Capanne prison outside of Perugia, the medieval Umbrian city where she once hoped to have a fun semester in 2007 learning Italian.
After the 2009 murder conviction, a journalist described Knox's cell as small, but extremely clean. It had an en suite bathroom with a shower, a door and a sink, which she shared with between one and three other people. At one point, Knox's cellmate was a 53-year-old American woman who had been convicted on drug charges.
Capanne also reportedly has a library and a lounge with a pool table and a ping-pong table. Some of the female inmates -- the prison is co-ed, but men and women are separated -- have children that play on playground in the facility.
It's cold here, Knox stated shortly after her arrest and incarceration at Capanne, as winter settled in two years ago. I try to cover myself but I am always shivering. I miss music above all and I really let go when they let me out in the courtyard, singing loudly and trying to stay in the sun as long as possible before heading back under the artificial light.
She was also singing loudly hours before heading back to court to hear the result of her appeals trial. She was singing to distract herself from what was about to come.
Now, she is at her family home, singing because she is happy, and because she is free.
© Copyright IBTimes 2023. All rights reserved.