Amazon (AMZN) Q3 2015 Earnings: $25.4 Billion Revenue Beats Estimates, Jeff Bezos Touts Amazon Fire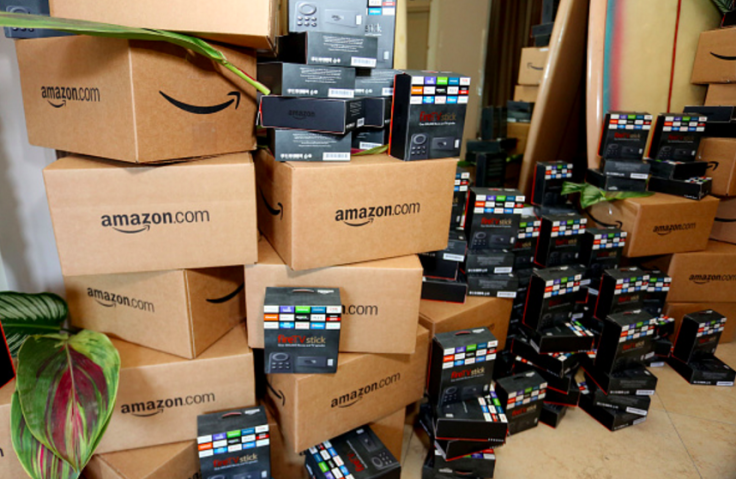 Amazon.com Inc (AMZN) reported third-quarter earnings Thursday with $25.4 billion in revenue, up by 23 percent year-over-year with $0.17 per share. That milestone sent shares up past $620 in after-hours trading.
The e-commerce giant credited the growth to its Prime services, declining to breakdown numbers. Amazon has been crushing analysts' expectations, beating estimates in three of the last four quarters. It's especially notable for the company given that its third quarter has traditionally been sour.
Amazon CEO and founder Jeff Bezos touted his company's new Fire tablet and Fire TV system. "For the first time, we're recommending you bring home a six-pack for the whole family," Bezos said in a statement. "At a price of $50 for one or $250 for a six-pack, Fire sets a new bar for what customers should expect from a low-cost tablet."
Analysts were expecting $24.9 billion in revenue, up by 21 percent year-over-year, and with losses per share at $0.12, according to Thomson Reuters. Most notably, Amazon turned a profit, earning 19 cents per share while expectations had pegged a loss of 14 cents. Last quarter, revenue was boasted by Amazon Web Services, the company's cloud storage and enterprise services unit, and more Amazon Prime services.
Amazon Web Services continued to impress. Bank of America Merrill Lynch predicted $2.08 billion in revenue for that division, up by 78 percent from the third-quarter of 2014.
Igniting Fire
Amazon made several moves to drive revenue. In July, it held its first Prime Day that offered deals for all Prime subscribers.
Prime Day had helped boost Amazon's Fire product sales. Prime subscribers ordered a reported "tens of thousands" of Fire TV Sticks in one hour, which positioned it as the fastest deal of an Amazon-exclusive device ever.
"This is one more step in our mission to bring customers premium products at non-premium prices. Fire is the #1 best-selling product on Amazon.com since launch, and based on the strength of the customer response, we are building millions more than we'd already planned," Bezos said in a statement.
The e-commerce industry is expected to grow to $1.67 trillion in 2015, up by 20.9 percent, eMarketer estimates.
"Unlike eBay, Amazon has quite a loyal customer base. They have grown their mobile user base to over 118 million, though the service is still mainly used online via PCs," Hannu Verkasalo, CEO of Verto Analytics, wrote in a research note.
Blowing Up Prime
Amazon has invested into other initiatives, such as original content and mobile-driven features that will be available exclusively to Prime subscribers. The company is releasing six pilot children shows, including "If You Give a Mouse a Cookie," in November.
Prime Now, a one-day delivery service accessible via a mobile app, has expanded from a test market in New York City to adding eight cities over the last quarter to a total of 17 locations.
"These fast options add us up to consideration in a couple items that a customer might be interested in purchasing," said Phil Hardin, Amazon's director of investor relations. "We continue to work on the network around the world."
Other Prime benefits have been tested exclusively in international market. This quarter, Amazon launched "Amazon Pantry," a market for daily essentials delivered for a flat-rate fee. Amazon also expanded Prime Music to UK customers.
Amazon.com Inc. (AMZN) | FindTheCompany
© Copyright IBTimes 2023. All rights reserved.