Amazon Ramps Up Delivery Business With Rivian Electric Vehicles To Reach Climate Goals
As Amazon (AMZN) continues the expansion of its delivery fleet, the online retailer has revealed its electric delivery van developed in partnership with Rivian.
The all-electric vans have begun to arrive just a year after Amazon made a commitment to be net-zero carbon by 2040. The company has plans to take delivery of 100,000 electric vans from Rivian by 2030, with 10,000 expected to be on the roads by 2022.
The Rivian vans were developed to "enhance the driver experience and optimize safety" with a customized configuration that comes in three different models. The vans feature sensor detection, highway and traffic assist features, larger windshield, exterior cameras with digital display, Alexa integration, stronger door design, interior "dancefloor" for added space, multiple tail lights, and three levels of shelving to store packages.
"When we set out to create our first customized electric delivery vehicle with Rivian, we knew that it needed to far surpass any other delivery vehicle," Ross Rachey, director of Amazon's Global Fleet and Products, said in a statement.
"We wanted drivers to love using it and customers to feel excited when they saw it driving through their neighborhood and pulling up to their home. We combined Rivian's technology with our delivery logistics knowledge, and the result is what you see here--the future of last mile delivery," he added.
The deal with Rivian for the electric vans followed an investment by Amazon into the electric truck maker. Rivian, which also received investments from Ford, Cox Automotive, and T.Rowe Price Associates, is set to release the R1T electric truck and R1S electric SUV in 2021.
"The vehicle we've developed with Amazon is not just electric," RJ Scaringe, Rivian CEO, said in a statement. "We prioritized safety and functionality to create a vehicle that's optimized for package delivery. We thought through how drivers get in and out of the van, what the work space feels like and what the work flow is for delivering packages."
As Amazon embarks on its Climate Pledge, the company is continuing to overhaul its transportation network globally. The company has invested in a series of electric charging stations with plans to increase this infrastructure. Amazon also said it will add 1,800 electric delivery vehicles to its fleet in Europe in 2020, and 10,000 electric delivery vehicles in India by 2025.
Shares of Amazon were trading at $3,189.43 as of 11:50 a.m. EDT, down $6.26 or 0.20%.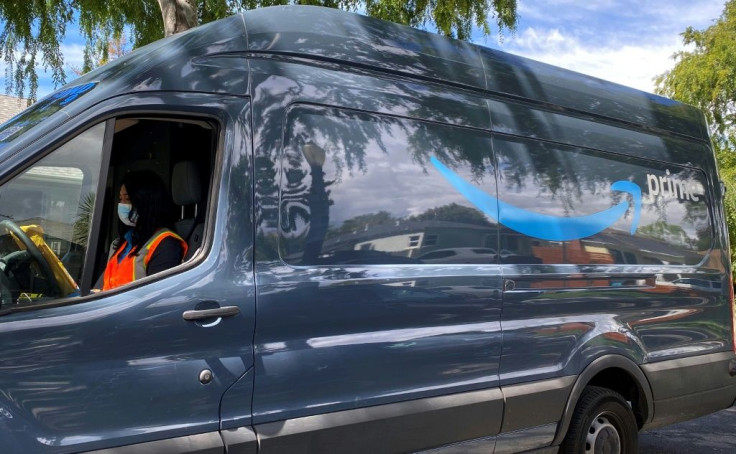 © Copyright IBTimes 2023. All rights reserved.