Amazon Will Build Virginia's Largest Solar Farm To Clean Up Its Energy Guzzling Data Centers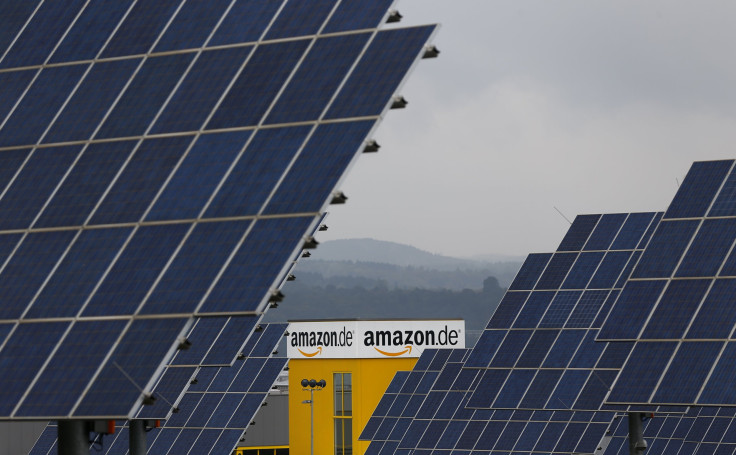 Amazon.com Inc. is backing a giant solar farm in Virginia that will power its data centers in the state. The $150 million project will advance the company's goal to use 100 percent renewable energy sources at its global cloud computing operations, Amazon said Wednesday.
The 80-megawatt solar project is the latest in a string of clean energy investments made by giant U.S. technology companies in recent months. Energy intensive businesses are increasingly turning to solar, wind and other alternative energy sources to both reduce their overall climate change emissions and slash their sizable energy bills.
Apple Inc. bought nearly $850 million in solar power contracts this spring for its new headquarters in Silicon Valley. In May, the company launched two 20-megawatt solar farms in Sichuan Province, China, and announced plans to develop more renewable energy for its Chinese manufacturing facilities. Google Inc. has spent more than $1.5 billion worldwide on clean energy projects to power its offices and infrastructure.
Amazon Solar Farm US East could come online as early as 2016 and will be the largest solar installation in Virginia, the company announced. The panels will produce enough electricity to light up the equivalent of 15,000 U.S. homes each year. Clean electricity will flow directly to the main power grid, which connects to Amazon Web Services' data centers in Virginia.
"We continue to make significant progress towards our long-term commitment to power the global Amazon Web Services (AWS) infrastructure with 100 percent renewable energy," Jerry Hunter, vice president of infrastructure at AWS, said in a statement.
So far, renewables only supply about 25 percent of the power at the cloud division's buildings and data centers. AWS said it aims to get 40 percent renewable power by the end of 2016.
Amazon and other major tech companies are facing pressure from environmental groups and their clients to curb greenhouse gas emissions and reduce electricity usage at their energy guzzling data centers, which form the backbone of the Internet and hold all our emails, messages, photos and streamed music. U.S. data centers used around 91 billion kilowatt-hours of electricity in 2013, the equivalent of running 34 large coal-fired power plants for a year, the Natural Resources Defense Council estimated.
Companies are also investing in clean energy as the costs of solar and wind power decline, making renewables an increasingly attractive option for large energy users. The average U.S. price for solar has plummeted from about 15 cents per kilowatt-hour a decade ago to about 5 cents today, according to the Lawrence Berkeley National Laboratory in California.
About two-thirds of Fortune 100 companies and nearly half of all Fortune 500 companies have made public commitments to shift away from carbon-intensive coal and natural gas to cleaner alternative sources, though only a few firms -- namely Apple, Google, Amazon and Facebook Inc. -- have actually invested in big-ticket energy projects, experts say.
Update, 6/10/15 at 5:30 p.m. EDT: Greenpeace, a global environmental group, applauded Amazon's Virginia solar announcement Wednesday. The organization has previously criticized the company for being among the world's dirtiest tech companies. Greenpeace gave Amazon an "F" on environmental policy, advocacy and transparency in an April 2014 report, which came out months before Amazon's cloud division made its committment to 100 percent renewable energy.
Still, David Pomerantz, a senior energy campaigner for Greenpeace, said the Virginia solar plant will likely only account for a fraction of Amazon's energy usage in Virginia. The 80-megawatt installation could boost the amount of renewable energy supplying Amazon's data centers in the state from 2 percent to roughly 6 percent, Greenpeace estimated. "Tripling is significant, but the low number shows how rapidly Amazon will have to scale its renewable energy procurement in Virginia to reach its ultimate 100 percent goal, especially given evidence of its rapid ongoing growth there," Pomerantz said in a statement.
© Copyright IBTimes 2023. All rights reserved.