Amazon Workers Plan Historic Unionizing Vote
Amazon workers on Staten Island are looking to unionize and planning to file for a union election with the National Labor Relations Board on Monday.
The Amazon Labor Union seeks to create an independent organization for Amazon workers. A previous unionizing effort failed in Bessmer, Ala., but it was trying to become a part of the Retail, Wholesale, and Department Store Union, not create one from the ground up like the Staten Island workers.
On Monday, a Twitter account associated with the unionizing effort tweeted "[Sunday night], ALU members democratically voted to ratify our constitution and elect our leadership, all of them Amazon workers. This is a huge step forward for our grassroots, independent union! Now the only thing left to do is [file] for an election."
This effort took months of organizing and a gofundme page that raised $20,000 for supplies like "pamphlets and literature, apparel, banners, signs, posters, web hosting costs" and more. According to The Guardian, they collected 2,000 union authorization cards from workers at the warehouse in New York City. Amazon has a long history of opposing union efforts despite its public support for workers' rights to do so.
"We intend to fight for higher wages, job security, safer working conditions, more paid time off, better medical leave options, and longer breaks," the Amazon Labor Union said Thursday in a statement.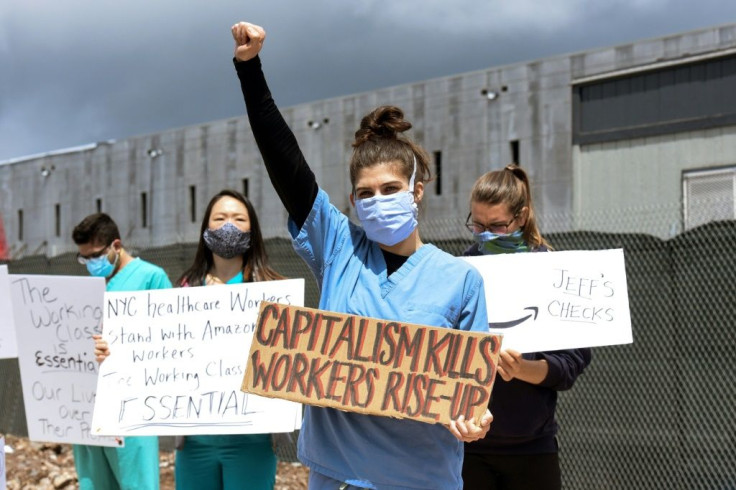 A website affiliated with the unionizing effort claims that during the COVID-19 pandemic "it's become more obvious than ever that [Amazon] values profits over people and will consistently make decisions that harm workers if it means saving money."
The unionizing effort started over the firing of Chris Smalls, a process assistant who led a walkout protesting the unsafe working conditions at Amazon during the pandemic.
"The goal and purpose of the Amazon Labor Union is to change the relationship between the company and its workers so we can negotiate a better, safer, and more equitable workplace," the website claims.
The unionizing effort claims support from "countless labor organizations, politicians, news media, and established unions, both in NYC and across the country." If the unionization effort is successful it could mark the establishment of a global labor union for workers at the world's largest online retailer.
Amazon is not thoroughly on board with workers forming a union, though a representative from Amazon told International Business Times in an email that while it is preferred employees work directly with managers, the act is not forbidden.
"Our employees have the choice of whether or not to join a union. They always have. As a company, we don't think unions are the best answer for our employees. Every day we empower people to find ways to improve their jobs, and when they do that we want to make those changes—quickly. That type of continuous improvement is harder to do quickly and nimbly with unions in the middle," Kelly Nantel, an Amazon spokesperson, said in a statement that was included in the email.
The statement continued, "The benefits of direct relationships between managers and employees can't be overstated—these relationships allow every employee's voice to be heard, not just the voices of a select few. We've made great progress in recent years and months in important areas like pay and safety. There are plenty of things that we can keep doing better, and that's our focus—to keep getting better every day."
© Copyright IBTimes 2023. All rights reserved.