Did Amazon, Jeff Bezos Lie To Congress?
Multiple investigations and reports by news outlets, including the Wall Street Journal and Reuters, directly contradict sworn testimonies of Amazon higher-ups to Congress, including former Amazon CEO Jeff Bezos. The WSJ and Reuters report that five members of Congress sent a letter to current Amazon CEO Andy Jassy.
The five members write that they "strongly encourage you [CEO Andy Jassy] to make use of this opportunity to correct the record and provide the Committee with sworn, truthful, and accurate responses to this request as we consider whether a referral of this matter to the Department of Justice for criminal investigation is appropriate."
After the most recent investigation by Reuters about Amazon's unscrupulous business practices in India, calls for the breakup of Amazon and other large tech companies have been renewed. In India, Reuters reports that groups representing brick-and-mortar retailers by the millions called on prime minister Narendra Modi's government to take action against Amazon.
In response, Reuters reports that an Amazon spokesperson wrote in a statement that, "Amazon and its executives did not mislead the committee, and we have denied and sought to correct the record on the inaccurate media articles in question. We have an internal policy, which goes beyond that of any other retailer's policy that we're aware of, that prohibits the use of individual seller data to develop Amazon private label products. We investigate any allegations that this policy may have been violated and take appropriate action."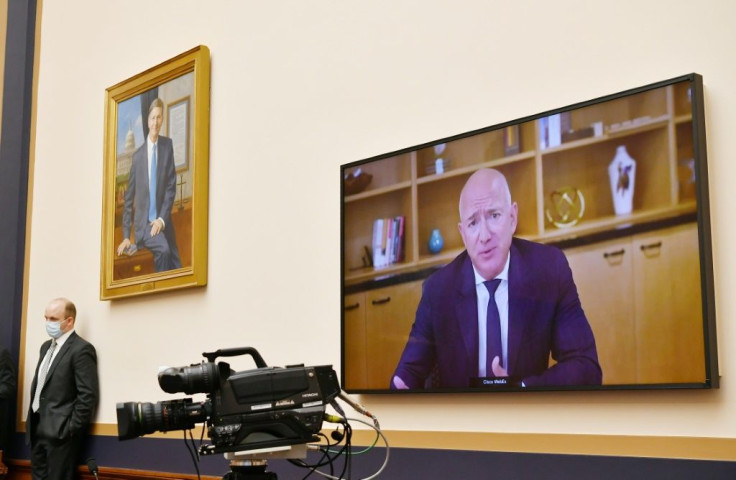 Before stepping down as CEO, Bezos' opening remarks last year to the U.S. House of Representatives Committee on the Judiciary Subcommittee on Antitrust, Commercial, and Administrative Law assured that "Amazon should be scrutinized. We should scrutinize all large institutions, whether they're companies, government agencies, or nonprofits. Our responsibility is to make sure we pass such scrutiny with flying colors."
© Copyright IBTimes 2023. All rights reserved.
FOLLOW MORE IBT NEWS ON THE BELOW CHANNELS