AmazonFresh: Amazon's Same-Day Grocery Service Is About A Lot More Than Groceries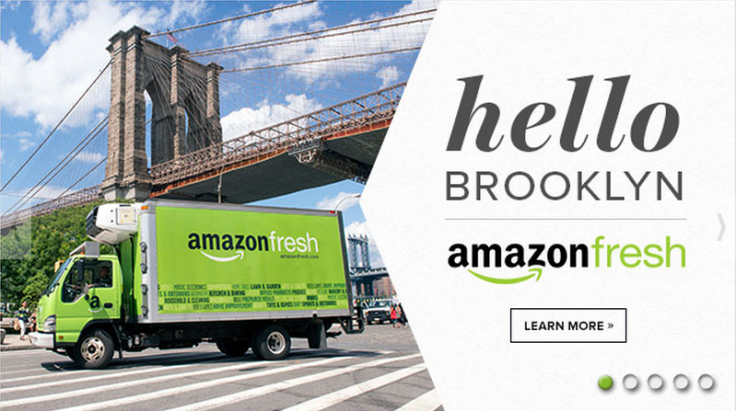 Amazon.com Inc. is extending its AmazonFresh grocery delivery program to New York. It will first offer its same-day and morning grocery delivery in Park Slope, Brooklyn, with more areas to follow, it says.
Amazon is moving into a competitive area where even existing supermarket chains are having trouble turning a profit, due to the high cost of retail space and advertising. But as Amazon prepares a midtown Manhattan warehouse, there could be a number of fringe benefits for Jeff Bezos' e-commerce empire. AmazonFresh is about a lot more than groceries.
"It's an incredibly competitive place, and they're going to be losing a lot of money to play in it," said Sucharita Mulpuru-Kodali, Forrester analyst and expert on multichannel and online retail. "They are going to have to figure out how to attract new customers, they have to get existing customers to spend an addition $200 on Prime."
New York is densely populated enough for a number of same-day delivery services, including Google Inc.'s "Google Express" service. Amazon might be timing its decision to enter the city never sleeps to improve the ability to deliver to customers in time for the holidays.
"Part of this is getting trucks on the ground in the New York metro area before the holidays, which they can use for delivering other packages. They know that what they can ship through UPS and FedEx can get constrained at that time of year, so this enables them to be a little less dependent on carriers," Mulpuru-Kodali said.
AmazonFresh's venture into Brooklyn is so far only available to members of Amazon Prime, the company's $99-per-year subscription program that includes free two-day delivery on its products and access to streaming video and music. Those subscribers will be able to order groceries for free until the year's end, when they will be required to upgrade to the company's $299-per-year Prime Fresh service.
Customers that place orders before 10 a.m. will receive deliveries later that same day; those that miss the cutoff will receive their groceries the next day. AmazonFresh already operates in in Seattle and a number of California cities, but has greater competition in the Big Apple.
Peapod offers delivery as well as "click and pick" curbside pick-up, where orders are placed online and then picked up from participating grocers. Peapod is a last remnant of grocery delivery services that operated before the last dot-com bubble and is owned by Ahold, a European conglomerate that leverages its Stop & Shop grocery stores to fulfill deliveries, and already competes with startups like Instacart and Fresh Direct.
"Amazon has significant scale of its own, and its own set of its own capabilities it can rely on, so it will be a pretty interesting matchup," Mike Paglia, Kantar Retail research analyst said. "Amazon also has a willingness to sacrifice profit to drive sales, but fresh goods are a tricky category for e-commerce. You're talking about perishable items, something Peapod is very familiar with."
Peapod is profitable for Ahold, doing close to $500 million in annual sales, he said. And while Amazon is currently limited to upscale Park Slope families willing to pay higher prices for convenience, the company is investing in learning how to include fresh food in its operations.
"If Amazon is going to figure out how to be good at this and make money, they can't wait 10 to 15 years from now until the demand is really there," said David J. Livingston, an independent supermarket analyst. "They need to work on this technology now."
© Copyright IBTimes 2023. All rights reserved.
FOLLOW MORE IBT NEWS ON THE BELOW CHANNELS