Amazon's First Brick-And-Mortar Bookstore Befuddles Seattle, Vexes Indie Booksellers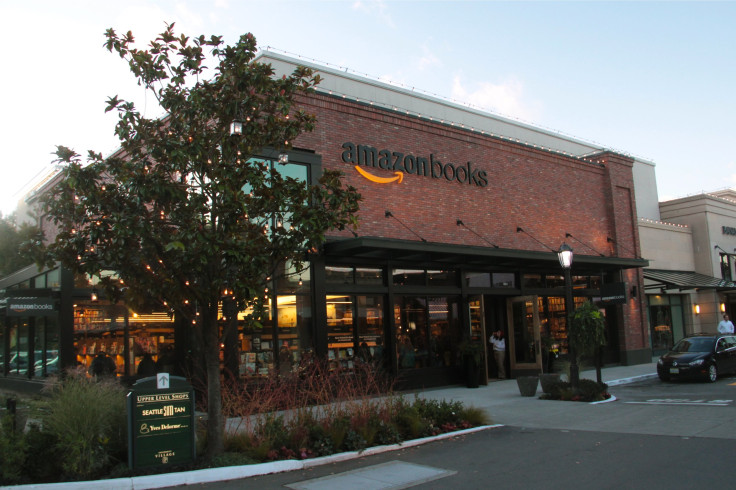 SEATTLE -- An hour before Amazon's first bookstore opened in the company's hometown Tuesday morning, Joe Nguyen and Brian Van peered through the floor-to-ceiling windows for an early glimpse of the stacks of glossy titles within. The two Boeing employees were completing training nearby and had wandered over to check it out.
They admitted they were slightly confused.
"We thought the whole brick-and-mortar concept was dead," mused 24-year-old Nguyen, a cup of Starbucks in his hand -- largely, he added, because Amazon had killed it.
"It's a little bit of a mystery," agreed 28-year-old Van.
Amazon, which generated $89 billion in online retail sales last year, announced Monday that it would open its first bookstore the following day in the former location of a popular sushi restaurant in the University Village neighborhood near the University of Washington. Amazon Books -- a "physical extension" of Amazon.com, the company says -- has been in the works for a year, but its grand opening came as a surprise to customers and locals.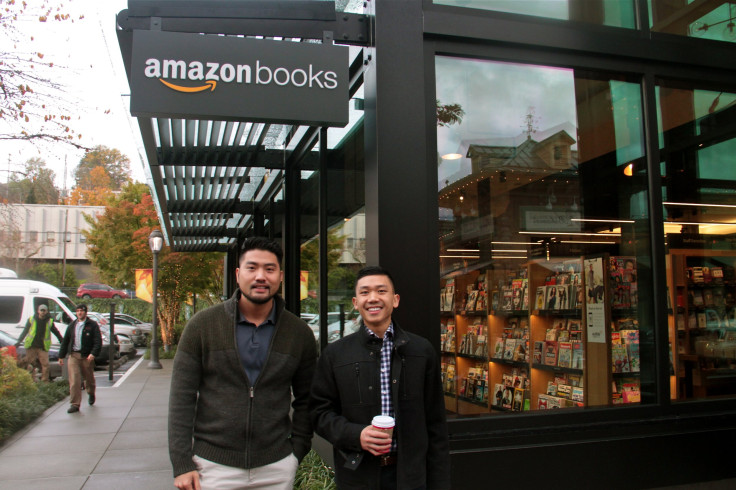 The novelty of a traditional bookstore born of online commerce was clearly a draw on its first day, as a steady stream of customers tolerated short lines all day to see what exactly an Amazon-run bookstore would look like.
"Amazon has always been online, so it's cool to see that they have a store now," said Rachel Burnett, a 16-year-old resident of the city's Capitol Hill neighborhood, who was perusing the Young Adult section with her mother Tuesday afternoon.
Several local residents were flummoxed by the store's sudden appearance, and many wondered out loud about the company's decision to open such a place.
"I don't know what their purpose is," Sue Peterson said while perusing a selection of oversize art books at The Elliott Bay Book Company, one of Seattle's pre-eminent local bookstores, in trendy Capitol Hill.
Other consumers see the Amazon Books debut as a direct attack on local bookstores that have eked out an existence in spite of competition from the bookselling behemoth's online orders. Over half of the roughly 4,000 independent U.S. bookstores that existed when Amazon was founded have since closed their doors.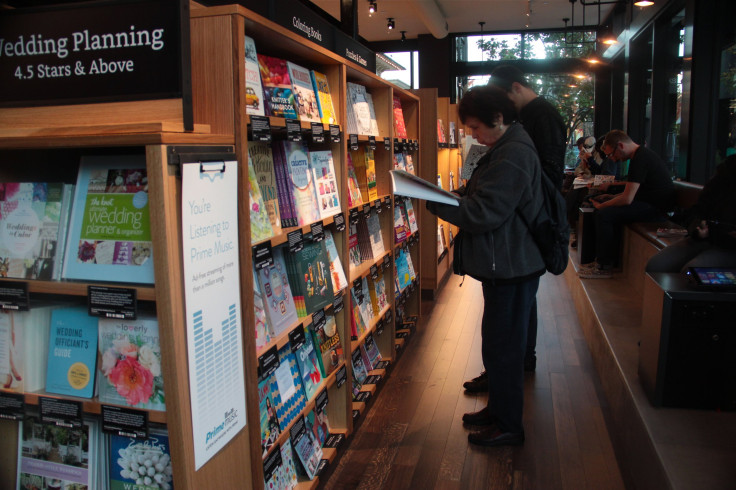 Allen Watkey, a 38-year-old Elliott Bay employee, was kneeling on the floor Tuesday stacking books in the fiction section, where handwritten tags stuck out intermittently from shelves, signed with personal reading recommendations from the staff.
"They're already destroying the book industry online," he said. "I definitely think it's going to hurt."
Peterson echoed that sentiment. "It's like, give everybody else a chance," she said, gesturing to tall cedar shelves that hold over 150,000 titles, compared with the 5,000 to 6,000 available at Amazon Books. "If we keep buying from Amazon, we won't have any more of these."
At first glance, Amazon Books looks a lot like other chain bookstores such as Barnes and Noble. But the features of the store that make it distinctly Amazonian and are meant to set it apart from the likes of Barnes and Noble and Elliott Bay become more obvious as customers browse.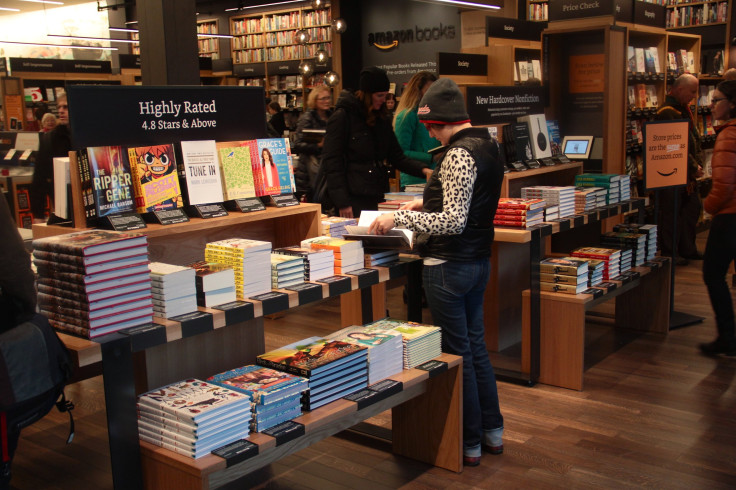 One of the biggest differences is simple: Staff members place books on the shelves so that covers face outward rather than showing only the spines. While the strategy dramatically reduces the number of books the store can exhibit, customers seemed to appreciate it.
"I like that they face the books out," Sharon Silverstone, Burnett's mother, said. "It's more visually interesting."
Each book is also perched above a label that integrates details from Amazon's online reviews, including a star rating, customer comments and a scannable bar code to direct smartphone users to the book's Amazon page.
"I find that useful because the reviews are one of the main reasons I use Amazon," Stacia Hofmann, a 35-year-old Seattle resident who was perusing the shelves Tuesday, said. "That's a neat thing to bring into the store."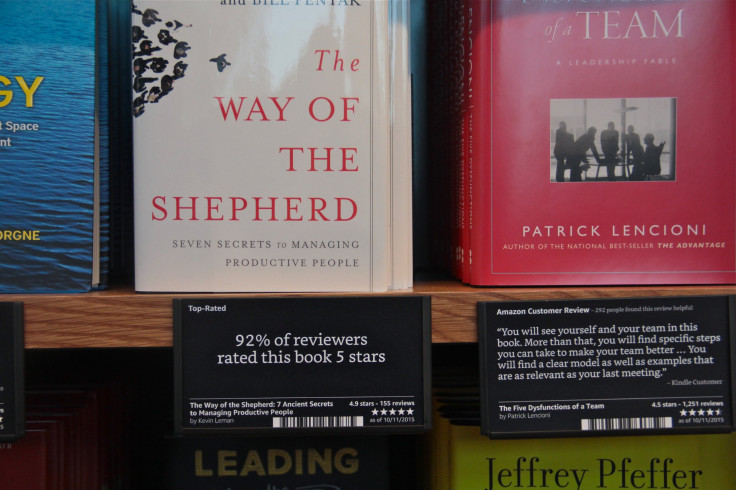 In fact, the store's entire concept is to use reviews and data compiled through Amazon's 20 years of online book sales to create a shopping experience that is primed to deliver maximum customer satisfaction. Most of the books on display have been rated with at least four stars by online customers. One display features Amazon's "Most-Wished-For Cookbooks," and another highlights the site's best-selling fiction books in the Pacific Northwest.
Madison Cooper, a 20-year-old resident of Seattle's University district, loved the approach. She purchased "Rising Strong" by Brene Brown, a book that had been on her Amazon Wish List for months. "I think it's exciting to have all of the top books in one place," she said.
Though star ratings are prominently featured, prices are not on display anywhere in the store because books are sold for exactly the same price that customers would pay online, and those prices fluctuate. To learn the price, customers must scan a book's cover or bar code with Amazon's app, or carry it to a price check station. Hofmann said she found this slightly annoying.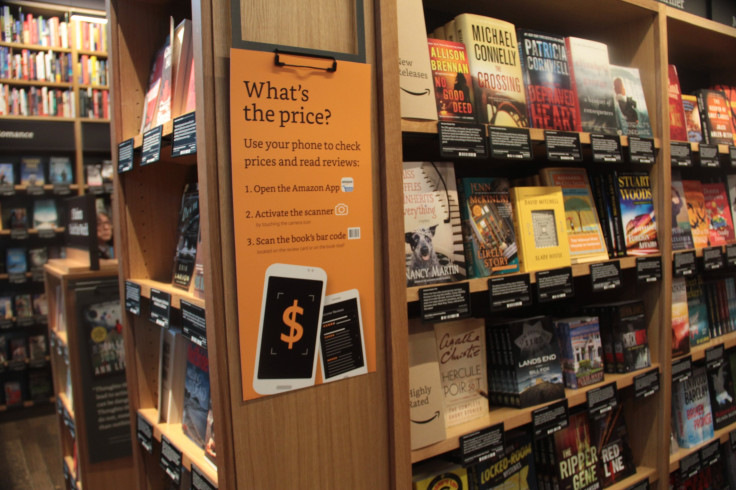 The pricing structure makes it clear that the bookstore's purpose is not to generate revenue, since Amazon's online prices don't support the traditional overhead costs of running a brick-and-mortar store. "I think this is more of a branding effort," Ngyuen said.
Though the store's main feature is clearly books, there is another area of Amazon's business that stands to benefit from the hands-on interaction that a store permits. Amazon's Kindle, Fire Tablet, Fire TV and Echo are prominently featured in the store's center. A designated device sales team helps customers navigate the models on display. One corner is dedicated to an interactive exhibit that allows customers to peruse movie trailers and e-books of famous titles such as "Moby Dick" and "The Martian."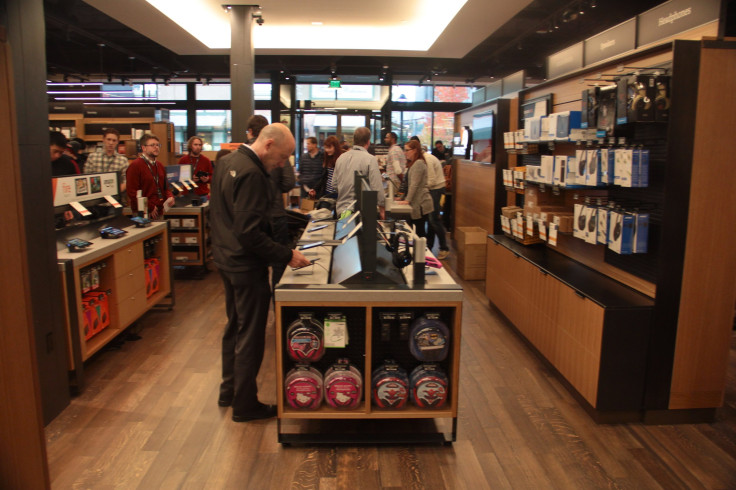 These displays represent Amazon's first opportunity to feature its tablets and e-readers in a retail store of its own, emulating the approach of rivals such as Apple and Microsoft, which have diligently pursued both online and retail sales. (Both Microsoft and Apple have stores in the same outdoor shopping center where Amazon Books is located.)
Dan Miles, a 31-year-old musician from the Queen Anne neighborhood of Seattle, who already owns a Kindle, said he was looking forward to perusing other models and devices while at the store Tuesday -- something he has previously been able to do only at stores such as Fred Meyer that carry limited Amazon products. There is one conspicuous absence at Amazon Books -- there are no used books for sale, even though they make up a substantial portion of the retailer's online business.
Regardless of the selection, Caitie O'Donnell, a 28-year-old resident of Capitol Hill, doesn't expect to ever step foot through the door of Amazon's new store. She likes to bring her sketchbook to Elliott Bay and hole up in the cafe, with its extensive menu of wine, beer and coffee. "I make a point of trying to come here," she said. "It's important to me to support small businesses."
FOR FREE to continue reading
✔️ Unlock the full content of International Business Times UK for free
offer available for a limited time only
✔️ Easily manage your Newsletters subscriptions and save your favourite articles
✔️ No payment method required
Already have an account?
Log in
© Copyright IBTimes 2023. All rights reserved.