American Hostages In North Korea Otto Warmbier And Kim Dong Chul Threatened By Kim Jong Un Regime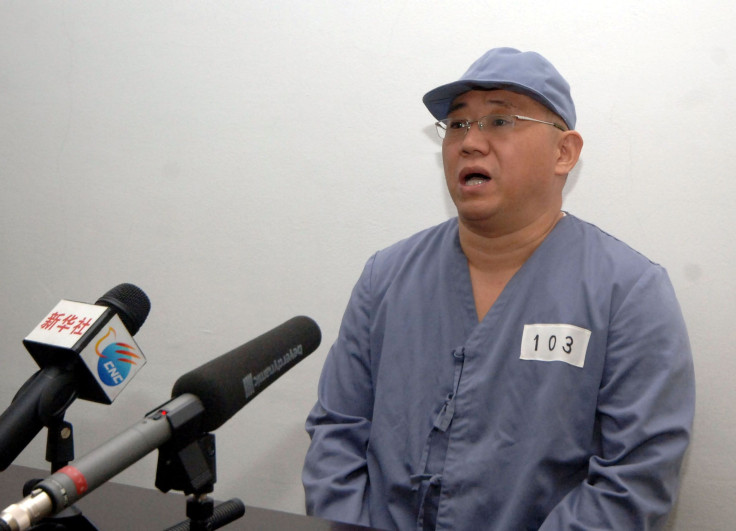 U.S. prisoners being held by North Korea face further punishment if freed U.S. missionary Kenneth Bae continues to criticize Pyongyang for sentencing him to 15 years of hard labor for alleged anti-state activities, North Korean state media warned Monday.
North Korean officials called Bae, a tour guide who was released in 2014 after being held for two years, a "filthy object" and "Judas." They said negotiations for the release of two other American prisoners have been put on hold because of Bae's remarks about North Korea since his return home, the Associated Press reported.
"As long as Kenneth Bae continues his babbling, we will not proceed with any compromise or negotiations with the United States on the subject of American criminals, and there will certainly not be any such thing as humanitarian action," the North's KCNA news agency said. "If Bae continues, U.S. criminals held in our country will be in the pitiful state of never being able to set foot in their homeland once again."
Bae, a U.S. citizen born in South Korea, traveled to the isolated nation through his "Nations Tour," company based in China. He was accused by North Korean leader Kim Jong Un's regime of working to help China oust its government and of a "malignant smear campaign."
Americans Detained in North Korea | Graphiq
Bae released a memoir recounting his detention in North Korea in May and has given interviews and made public appearances to promote the book. Bae has said he became a "negotiating tool" for the North Koreans during his detention and was "brainwashed" at the time.
His remarks come as North Korea is holding Otto Warmbier, a 21-year-old University of Virginia student, who was sentenced in March to 15 years of hard labor for allegedly stealing a propaganda banner promoting former leader Kim Jong Il. Korean-American missionary Kim Dong Chul was also convicted in April of crimes against the state and faces 10 years of hard labor, Reuters reported.
The U.S. State Department warned Americans in May to avoid traveling to North Korea because of the risk of "unduly harsh sentences."
North Korea has an estimated 200,000 people in prison camps and has been accused by global human rights groups of suppressing political dissent.
© Copyright IBTimes 2023. All rights reserved.
FOLLOW MORE IBT NEWS ON THE BELOW CHANNELS