'American Ninja Warrior' Finally Has A Winner, So Now What? The Show's Top Athletes Discuss Finals, Season 8 [VIDEO]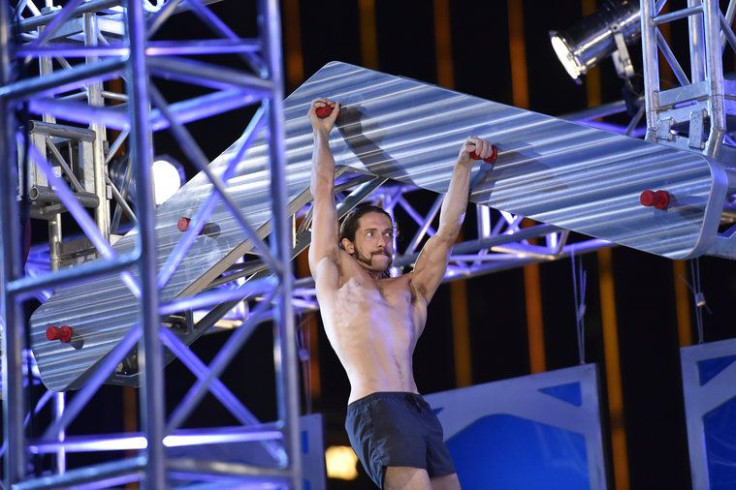 Who would be the first American Ninja Warrior? Would anyone ever conquer Mt. Midoriyama?
These questions loomed over NBC's "American Ninja Warrior" for seven seasons, but the answers finally came when Isaac Caldiero and Geoff Britten became the first athletes to complete the fourth and final stage of the show's finals course (Mt. Midoriyama) in Las Vegas in the Season 7 finale. While the show now has its first winner -- Caldiero -- and its athletes proved the difficult course could be beaten, fans were still left with a lot of questions as they wait for Season 8 next summer -- first and foremost, who was actually the "first" American Ninja Warrior?
The NBC obstacle course competition series had never had a winner before Season 7 and, thus, had never awarded the title of American Ninja Warrior and subsequent million-dollar prize to one of its athletes. Each season, after qualifying in city and regional finals courses, the best of the best athletes on the show took on the four-stage finals course in Las Vegas. Only by completing all four stages could someone have laid claim to the title, but through six seasons no one had even so much as reached Stage 4 to even make an attempt.
That all changed in the Season 7 finals. Colorado rock climber Isaac Caldiero and Maryland native Geoff Britten both conquered the previously untamable Stage 3 to force a showdown at Stage 4's daunting rope climb. Britten went first, completing the 75-foot climb in just under thirty seconds and thrilling fans as the first athlete to beat Mt. Midoriyama. However, Caldiero followed Britten up with an even faster (by three seconds) effort to claim the title of American Ninja Warrior and the prize money. Britten, on the other hand, received nothing.
Watch Isaac Caldiero beat Stage 4 and win "American Ninja Warrior" below:
The wild ending has left fans divided over which athlete deserves what credit or title, if there are indeed multiple titles to consider.
Connecticut native and fellow ninja Joe "The Weatherman' Moravsky says there is a distinction to be drawn between Caldiero and Britten.
"In my opinion, Geoff is technically the first American Ninja Warrior and Isaac is the second," Moravsky told International Business Times. "The only difference is Isaac climbed it faster so he gets the million and won the season."
Britten, while admitting Caldiero clearly bested him, agrees that he does deserve his due.
"There's been a lot of people confused about the verbiage -- 'first American Ninja Warrior' or 'first winner,'" Britten told IBT. "The way I feel about it is I did it first. [Caldiero] went out there and crushed it. I'm not trying to take anything away from him, but it does not take away from what I did. He's like the grand champion."
Britten also proposed an alternative, inspired by the Japanese show "Sasuke," on which "American Ninja Warrior" is based.
"In Japan, if two people beat the final stage they consider them co-champions and they get an equal prize, but here in America we have to have a winner."
However, Caldiero does not think there is anything to dispute.
"There is no distinction, it's the same title," Caldiero told IBT. "There are pictures of me holding the trophy that says I'm the first American Ninja Warrior. I think they are trying to give him a moment too because he does deserve it, but as far as the rules go, there is one title. It's an all or nothing deal. If you look at other sports, if Michael Phelps beats everyone in the Olympics by a fraction of the second that's the way it is, even if everyone else 'finishes the course'."
"American Ninja Warrior" co-host Akbar Gbaja-Biamila incidentally fueled the controversy during the broadcast, declaring "Geoff Britten is the first American Ninja Warrior" after Britten's run, but before Caldiero had made his attempt. The broadcast also stated that Caldiero had chosen to go second, which Caldiero says is not the case, but rather the rules mandated that they go in order of their times on Stage 3. Therefore, Caldiero argues, who went first should have no effect on who gets the title.
"Someone had to go first," said Caldiero. "That's the technicality in the rules."
Watch Geoff Britten beat stage 4 of "American Ninja Warrior" below:
If this seems like much ado about nothing, think again. The title matters, especially within an athletic community comprised largely of rock climbers and history chasers.
"For me [the motivation in Season 7] was being the first," said Britten. "As a climber -- there are a lot of climbers on the show -- there's a great amount of distinction to the person who does it first. You get to name that climb. You get to be that person. That carried over to this. Everybody wanted to be that person."
Moravksy agrees that history is the greatest driving force for the athletes on the show.
"When I went into this season, I wanted to make history as the first American Ninja Warrior. That was my biggest motivator."
However, perhaps other incentives should be considered as the show marches towards Season 8 with no signs of slowing down. "American Ninja Warrior" has become one of the most popular shows on television and a rare summer ratings juggernaut. However, as the seasons pass and the level of competition, and therefore the drama, intensifies, the show becomes more and more dependent on a group of dedicated athletes who train all year for the summer competition. Moravsky, whose "Weatherman" brand has been used heavily by NBC in promos, says the show needs them as much as they need the show and the time might be coming to consider financial compensation.
"We are 'American Ninja Warrior.' If we got all new competitors next year the show would never be the same. I feel like we've reached that point where [NBC and the athletes] are valuable to each other."
Moravksy says it is frustrating that the athletes in the show remain in limbo between the show's reality show and sport identities.
"If I was an athlete, I'd be paid. If I was an actor, I'd be paid. We're being put in that grey area. Granted, we do apply and there are tens of thousands of people who would love to be on the show, but at the same time, we make the show. The show does not make us anymore."
While Britten fears that "it would be very easy for them to say we are coming back next season with all new obstacles and all new contestants," he does agree that compensation is becoming an issue.
"A lot of guys work small, odd jobs and don't make a lot of money," says Britten. "They live paycheck to paycheck and this is their dream. I feel bad for them. I think the show should compensate them. The only thing [NBC does] is you get a little money if you get the fastest time on a regional or city finals course and then they pay for you to go to Las Vegas. A lot of people take a lot of time off work and spend a lot of money and travel for this. It's a shame. I feel like they make a lot of money. They have the number one show of the summer. It would not hurt them to help out these guys and it might help them even do better."
Moravsky, who has lost on Stage 3 for three consecutive seasons, added that compensation would improve the athletes' morale and motivation to return.
"You fall in the water you don't have to feel like, 'I lost. I get nothing.' It keeps people positive. We don't need a lot. I don't think anyone is looking to make a living off of this, but at least something."
Watch Joe Moravsky beat Stage 2 on "American Ninja Warrior" below:
Despite his million-dollar payday, Caldiero agrees that compensation, whether via more prize money or an allowance for sponsorship while competing on the show, would help the athletes gain more legitimacy in the sports world.
"We are no different than Major League Baseball players or NFL players. We are professional athletes. We dedicate and sacrifice a lot of our life and we are very passionate. It is turning into a legitimate sport and I would love to see it go to a place where more people would actually endorse these athletes. I hope it would benefit all of the ninjas and I want to do everything in my power to set an example for that and help everyone out."
However, Caldiero added that "American Ninja Warrior" might not be enough.
"I think it is being recognized as a sport, but I think there is also going to have to be different events that take place alongside of this. There are already talking about a team event."
Ultimately, it is the level of dedication from the athletes that makes the lack of compensation hard to stomach.
"There are a lot of people who are going to lose their relationships and their lives because of 'Ninja' and the financial struggles it has cost them," says Caldiero. People give so much of their lives."
"Veterans who have been doing this for years think about it more than anybody because if they don't have sponsors or something, they are probably struggling to make a living and workout," says Moravsky. "People have lost relationships because of it. They say, 'you have to choose,' and the athletes says, 'I choose Ninja Warrior.'"
However, almost any athlete on the show will tell you the same thing -- it is not about the money. Even Britten, whom many fans felt was robbed in the finale -- one group has started a crowdfunding campaign to get him his own million-dollar prize -- says that at the end of the day, the money is not what drives him.
"If the grand prize had been $5000 I would have approached this the same way," says Britten.
Caldiero, Britten, and Moravksy all agree that getting paid is not their top priority. However, they do believe the time has come to have the conversation and believe NBC will be a partner with them in shaping the show and the sport's future for them and all of the athletes. As for Season 8, while some form of compensation might be a debate worth having, another million-dollar prize might be out of the question.
"They don't want a winner next year," says Britten. "They want to make it impossible again."
NBC did not respond to requests to be included in this story. Tweet your thoughts to @Ja9GarofaloTV.
© Copyright IBTimes 2023. All rights reserved.