'American Ninja Warrior' Finalist Joe Moravsky On Reaching Stage 3 Again In Season 7; Why Did 'The Weatherman' Fall Short? [VIDEO]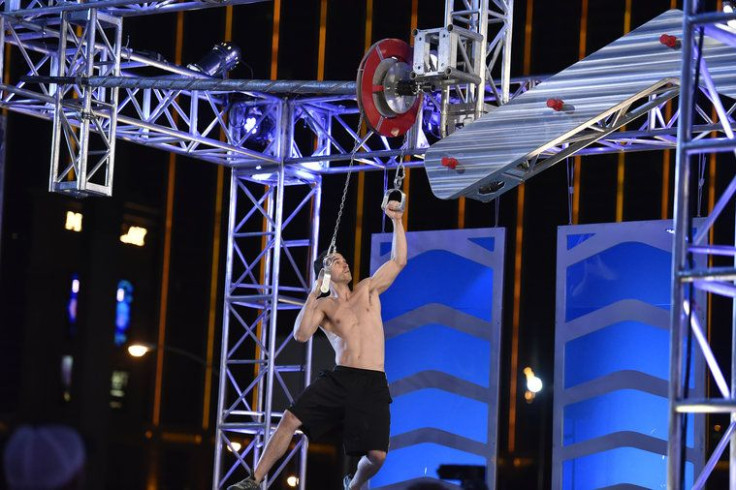 Joe "The Weatherman" Moravsky came into Season 7 of "American Ninja Warrior" as the favorite to be the first American Ninja Warrior on the NBC series. After going further on Stage 3 than any other athlete in Season 6, the Connecticut native returned to Mount Midoriyama in the finale Monday looking to make history. However, while transferring between two sections of the cliff-hanger obstacle, Moravsky, 26, chose to attempt a 180-degree spin while jumping -- Stage 3 finishers Isaac Caldiero, 33, and Geoff Britten, 36, turned on the obstacle before jumping -- leading to an early exit. Moravsky spoke with International Business Times to defend his technique and reveal his mind-set going into Season 8.
Read the full interview with Joe Moravsky below:
International Business Times: Immediately after you got out of the water in the finale, you said you would be back in Season 8. Is that still how you feel?
Joe Moravsky: Yeah, I definitely feel like I'm going to be back. You know, it's tough, when I watch Geoff Britten and Isaac Caldiero [complete Stage 3] -- and I've talked to Geoff Britten about this -- Geoff thinks you need to be minimum at a V8 stage climber to beat Stage 3. Period. Well, I'm not a V8 climber and look, there you go, I didn't make it. Now, granted, I didn't fall on Stage 3 because I wasn't strong enough physically, I fell because I didn't fling my body far enough to make the transfer. The 180-degree turn is the way I practice it. It's the way the Japanese competitors do it. It's, I feel, the right way to do it. I believe the other way is the easy way out, but it's the smart way to do it, if you've practiced it that way. Now, I haven't and was not going to be trying something new on that obstacle. Unfortunately, I came up a little short, but after watching Geoff Britten -- who back in the day was climbing up into V11s and V12s, but is still climbing V9s and above -- barely make it, I realized I need to be stronger than I thought to beat this thing.
IBTimes: So watching Geoff Britten beat Stage 3 and Stage 4 is not necessarily encouraging, but actually a little bit discouraging?
Moravsky: A little bit, because I know how strong he is, so to see him struggle that much makes me nervous. What also makes me nervous is that Isaac breezed through it, which shows you how strong that guy is.
IBTimes: Do you have the ability to get to that level?
Moravsky: I think I do have the ability to hit that level. The problem is I don't have the time and the resources to do it. To hit Geoff's level at his current age is more feasible, but I don't think I will ever be as strong as Isaac because I can't do it all of my life. Isaac travels the country doing this. I'm never going to have that opportunity, I'm sure, but I find ways to get the work done I need to get done. I'm just going to have to reassess how I train every day.
IBTimes: You have reached Stage 3 for three consecutive years, which is an unparalleled level of consistency so far in the show's history. Does that mean something to you, or is it just frustrating to keep coming so close?
Moravsky: It's bittersweet. It really is. I'm telling people now that I'm cursed on Stage 3. Yes, the sweet part is I'm very consistent, but that almost makes it more difficult because I feel like people think, "Come on, Joe's gotten to Stage 3 three times in a row now. Why can't he get to Stage 4?" So, there is a little more pressure.
IBTimes: You talked about watching Geoff Britten and Isaac Caldiero affecting how you gauge your ability to complete Mount Midoriyama, but does their beating the course affect your motivation to beat the course?
Moravsky: Yes. When I went into this season, I wanted to make history as the first American Ninja Warrior. That was my biggest motivator. Now that that's gone, I'm just motivated to beat this thing. It's Stage 3 -- it seems like I work all year for it and I can't beat it. It drives me crazy.
IBTimes: What are your expectations for yourself in Season 8?
Moravsky: I can tell you right now that in regional finals next year I am going to go recklessly fast. I'm done with the second-place finishes. This year was a very safe year for me and I wanted to go as far as I could, but I know I could step it up 50 percent easily. Next year, I'm done messing with it. Vegas, Stage 1, I'm going to go as fast as I can. This consistency streak is great, but it's not getting me anywhere.
Watch Joe Moravsky's Stage 2 run in the "American Ninja Warrior" Season 7 finals below:
© Copyright IBTimes 2023. All rights reserved.
FOLLOW MORE IBT NEWS ON THE BELOW CHANNELS