Amid China-North Korea Threat, Japan Mulls Extending Range Of Its New Advanced Missile
KEY POINTS
China and Japan have long-standing territorial disputes over the Senkaku/Diaoyu Islands
North Korea is posing a security threat to Japan with its recent missile tests
Acquiring advanced strike capabilities is against Japan's long-held, self-defense-oriented military approach
Facing increasing security challenges from both Beijing and Pyongyang, Japan is now planning to extend the range of its home-developed land-based missile that will provide Tokyo the capability to strike China's coastal areas and North Korea.
In a move that is seen as a major departure from its self-defense-oriented approach, Japan is considering extending the range of its new under-development high-speed missile beyond 1,000 km (over 620 miles), a report by Tokyo-based agency Kyodo News said Sunday.
The long-range missile, home-developed by Japan, is expected to have features that will make it difficult to intercept. Once fired from a mobile launcher, the warhead separates at a high altitude and travels on an irregular trajectory before gliding at supersonic speed toward its target.
Research and development of the missile began in 2018 and is expected to be mass-produced from next year onwards and deployed in 2026. Although the prototypes are ready, the improved version will have a higher range.
Japan, which is heavily dependent on the U.S. for its security, is seeking to quickly bolster its deterrence capacity and counterstrike capabilities. As part of its efforts to develop its own missile systems, Japan is also considering buying U.S.-developed Tomahawk cruise missiles that have a range of up to 2,500 km (over 1500 miles).
Acquiring such advanced strike capabilities is controversial in Japan, which has long-held a self-defense-oriented military stance under its war-renouncing Constitution.
Driven by tensions with China and North Korea, the procurement plan recently unveiled by Japan's defense ministry makes the country the world's third-biggest military spender behind major allies the U.S., and neighboring China.
While North Korea is posing a security threat to Japan with its recent missile tests for the first time in five years, the extended range of the missile will also better equip Tokyo to defend its remote islands that China claims as its sovereign territory.
At the root of Japan and China's confrontation is a long-running territorial dispute over a group of uninhabited islands in the East China Sea known as the Senkaku Islands in Japan, the Diaoyu Islands in China, and Tiaoyutai Islands in Taiwan.
The Senkaku/Diaoyu Islands have been administered by Japan since 1972 and reportedly contain significant oil and natural gas reserves and are near prominent shipping routes surrounded by rich fishing areas. Both China and Taiwan claim the islands as part of their territory.
Japan is worried about China invading the Senkaku Islands as part of its efforts to conquer Taiwan, a self-ruled democracy that Beijing considers its own and to be reunified with the mainland, by force if necessary.
In September 2012, following the Japanese government's decision to nationalize the Senkaku/Diaoyu Islands, China, announced the establishment of an "East China Sea Air Defense Identification Zone (ADIZ)," covering a large swath of airspace over the East China Sea, including the disputed islands, warning it would use force against aircraft that did not follow its ADIZ guidelines.
China has recently reaffirmed the role of its military as a strategic tool for achieving the ideological goal of national rejuvenation with President Xi Jinping, saying Beijing's military power needs to be normalized to win regional wars.
"The use of military power needs to be normalized and used in diverse ways," the Chinese president said in a report to the 20th Communist party congress on Oct. 16.
"We need to be able to stage military operations readily, create a secure environment, deter and control risks and conflicts, and win regional wars," Xi said.
Although Washington has remained neutral about the status of the Senkaku/Diaoyu Islands, the U.S. has clarified it is covered by the 1960 Japan-U.S. security pact, leading many observers to fear a military clash, especially one that could draw in the U.S.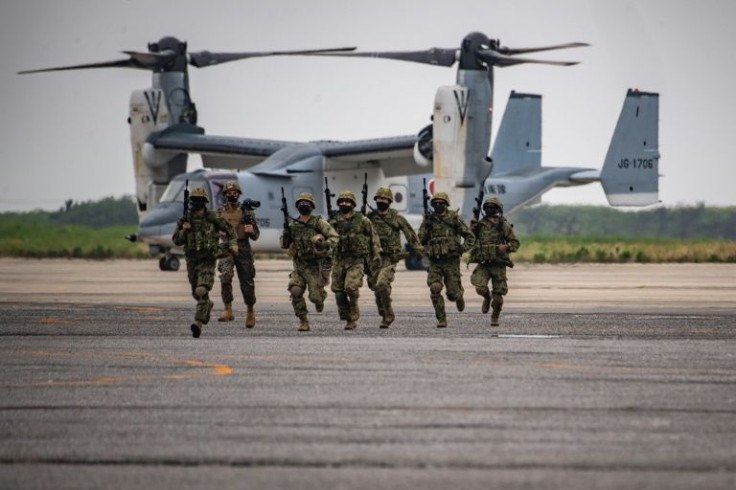 © Copyright IBTimes 2023. All rights reserved.