Amid Ethiopia Elections 2015, Obama's USAID Nominee Gayle Smith Slammed For Supporting Africa's Repressive Regimes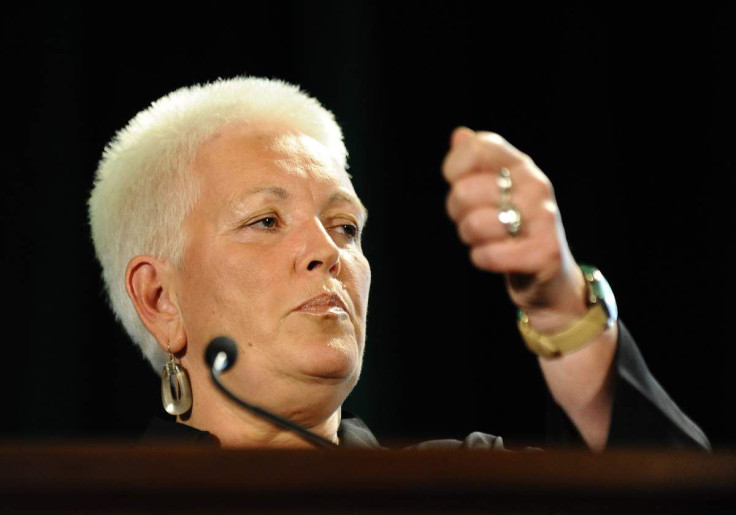 Gayle Smith, President Barack Obama's nominee to run the U.S. Agency for International Development, boasts a glowing list of credentials after spending two decades in Africa as an aid worker and award-winning journalist. But to critics, she is a sympathizer of repressive regimes in Africa who has done little to improve living conditions for people in impoverished war zones.
Since Obama's April 30 announcement, a growing number of critics have come forward against Smith's appointment, which could further stall her pending Senate confirmation. Her nomination comes amid another oppressive election season in Ethiopia, where Smith has been accused of indulging an autocratic government with millions of U.S. aid dollars. Meanwhile, her failure to intervene on regional inter-state rivalries has led to deadly conflicts, which critics said should be called into question before she's approved to lead USAID and manage the agency's billion-dollar budget.
"She has as good of a claim to the job as a lot of other people," said Herman Cohen, former U.S. assistant secretary of state for African affairs. "But there were major Africa policy blunders under the Clinton and Obama administrations that she should be asked about."
Smith, 59, has served under the Obama administration as special assistant to the president and senior director for development and democracy on the National Security Council staff since 2009. She also served under the Clinton administration as special assistant to the president and senior director for African affairs at the National Security Council from 1998 to 2001, as well as chief of staff and administrator of the USAID from 1994 to 1998. In 2007, Smith co-founded the Enough Project, a nonprofit organization to end genocide and crimes against humanity. She previously lived and worked in Africa for 20 years as an aid worker and a journalist.
If confirmed by the Senate, Smith will succeed USAID administrator Rajiv Shah in leading the U.S. government's humanitarian response. The USAID has had its share of controversies under Shah, who has run the agency since 2009. Last year, the Associated Press reported a USAID-operated Twitter account was aimed at encouraging young Cubans to revolt against Cuba's communist government. The agency was also accused of placing hundreds of millions of U.S. tax dollars at risk of fraud, waste and abuse due to a lack of oversight and monitoring. Shah announced in December he would step down from his post by mid-February.
"The great challenge for anyone who takes this job is how to make U.S. assistance more efficient, less bureaucratic and more relevant to the recipient," Vicki Huddleston, former deputy assistant secretary of defense for Africa, said in an email. "Gayle has the president's ear, so perhaps she can begin the process of streamlining both the assistance process and the way in which U.S. assistance is carried out by NGOs and private firms."
As the administrator of USAID, Smith would be charged with directing the agency's $20 billion budget to tackle humanitarian disasters around the world. But some critics raised concerns that Smith will use these funds to coddle friendly dictators in strategic locations, like Ethiopia, rather than enforce democratization and encourage real development in Africa.
"No African country has developed hooked to the life-supported system of U.S. aid," Alemayehu Mariam, a constitutional lawyer and a professor of political science at California State University, San Bernardino, wrote in a blog post for the Hill. "Smith will oversee the administration of billions of dollars in U.S. aid to Africa if confirmed. Her long and chummy relationship with Africa's strongmen will make her a weak advocate of human rights, the rule of law and good governance on the continent."
'A Disasterbacle In Africa Policy'
While serving under former President Bill Clinton, Smith, along with her colleague Susan Rice, assistant secretary of state for African affairs at the time and now the White House national security adviser, were mediators in an ultimately failed attempt to reduce tensions between rivals Eritrea and Ethiopia. Shortly after Eritrea gained its independence from Ethiopia, the two countries returned to war in 1998.
"They totally failed in the mediation and during the process they won the hatred of the president of Eritrea [Isaias Afwerki] because he accused them of plagiarizing the Ethiopian side," Cohen said in a telephone interview.
The two-year war led to massive causalities and internal displacement in both countries. Ethiopia deported tens of thousands of Eritreans and Ethiopians of Eritrean descent from the country, which compounded Eritrea's refugee crisis. The two countries remain bitter foes, and U.S.-Eritrean relations have since soured. The State Department has accused the Eritrean government of detaining dissidents, shutting down the independent press, stifling civil liberties and being controlled entirely by Afwerki, who has been president since 1991 and heads Eritrea's sole political party. Under both the Clinton and Obama administration, Smith and Rice have ordered tough sanctions against Eritrea for allegedly aiding Somali-based terror group al Shabaab – a claim which experts said was never proven.
"As of now, everyone agreed there was nothing going on between Eritrea and al Shabaab. But the U.S. didn't want to lift sanctions," said Cohen, a former U.S. ambassador to Gambia and Senegal. "I contend that this was just because of Gayle's personal animosity [with Eritrea]."
Meanwhile, the United States has maintained cozy relations with Ethiopia -- a country that has also been accused of human rights abuses, silencing political opposition and cracking down on independent journalism. Ethiopia has jailed 19 journalists, more than any other African country, and ranked fourth on the 2015 list of the top 10 most censored nations in the world by the Committee to Protect Journalists. Eritrea ranked first.
Smith's friendly rapport with the Ethiopian government and other authoritarian regimes in Africa, including Rwanda and Uganda, has struck controversy among experts. Howard French, an author and longtime journalist who reported from Africa for many years, posted on Twitter last month that Smith was "a disasterbacle in Africa policy" whose "long [and] cozy relationship [with] Ethiopia's highly repressive regime should be cause for concern."
'Close Ties With Many World Leaders'
Ethiopia's ruling party has been in power for the past 23 years and has won each of the last five elections. The Ethiopian People's Revolutionary Democracy Front (EPRDF) has used harsh laws to smother any resistance to the incumbent party ahead of the upcoming national elections scheduled for Sunday. Last week, Ethiopian opposition groups accused the ruling party of harassing and illegally detaining their rival candidates as well as journalists. The EPRDF won 99.6 percent of parliamentary seats in the last national elections in 2010 – an outcome largely expected in the next round of polls scheduled for May 24.
"The Ethiopian government's systematic repression of independent media has created a bleak landscape for free expression ahead of the May 2015 general elections," Human Rights Watch said in a January report. "At least 60 journalists have fled their country since 2010, while at least another 19 languish in prison. The government has shut down dozens of publications and controls most television and most radio outlets."
Still, the United States has continued to funnel millions of aid dollars to Ethiopia. In 2012, Ethiopia received $580 million in American foreign aid. Critics said Smith, who is charged with global development, democracy and humanitarian assistance issues, has supported Ethiopia's autocratic leaders because the country is considered a key U.S. strategic ally in the Horn of Africa. The Ethiopian government has allowed the United States to deploy drones into Somalia from southern Ethiopia to target al Shabaab militants, the Washington Post said.
"Gayle maintains close ties with many world leaders, including several in Africa, where she has deep expertise and firsthand experience," Edward Price, spokesman for the National Security Council, said in an email statement last week, adding that Smith was unable to grant an interview request while awaiting Senate confirmation. "U.S. government officials routinely raise human rights concerns with their counterparts, and Gayle has taken advantage of every opportunity to advocate for more open political space, including in the Ethiopian context."
While under the Clinton administration, Smith and Rice were also criticized for not condemning Rwanda and Uganda for invading the Congo a second time -- first in 1996 and then in 1998. By 2008, the invasion and its aftermath had caused 5.4 million deaths, making the Second Congo War the deadliest conflict in modern African history and the bloodiest worldwide since World War II. The ruling political parties in Rwanda and Uganda have governed for decades, stamping out any opposition.
"A lot of people believe that by not discouraging this, they actually encouraged it," Cohen said. "The U.S. did very little to try to stop this war. [The Senate] should ask Gayle Smith, why didn't you tell them not to do it? Why didn't you condemn Rwanda and Uganda for this aggression?"
'She Has Africa In Her Heart'
Some experts disagreed with Smith's critics, saying her vast experience and knowledge in African affairs warrants her strong positions and decision-making. As special assistant to Obama, Smith helped coordinate the administration's response to the deadly Ebola outbreak in West Africa last year, including the decision to send 3,000 American troops to Liberia.
"Undoubtedly there will be some who disagree [with Smith]. We've had our disagreements," said J. Peter Pham, director of the Africa Center at the Atlantic Council in Washington, who has known Smith for many years. "But I'd be the first to say she's got every right to her opinions because they're grounded on a rich experience on the ground and in government."
Smith's nomination process could take some time and it's unknown whether the Senate will at all question her slip-ups or relationships with repressive regimes. Smith, who lived and worked in Ethiopia, Sudan and Kenya, has received praise from both Republicans and Democrats for her dedication and no-nonsense approach to Africa policy.
"The African constituency is fairly small. Even though we come at it from different parts of the political spectrum, we all in our hearts want to see Africa make it and move forward," said Tibor Nagy, former U.S. ambassador to Ethiopia and Guinea who also served as an Africa policy adivser on presidential campaigns for Obama and Mitt Romney. "I have known Gayle for a long, long time. Gayle knows Africa. She has Africa in her heart."
© Copyright IBTimes 2023. All rights reserved.