Amid Fight Against ISIS, NATO European Military Spending Questioned By Pentagon Following Islamic State Terror Attacks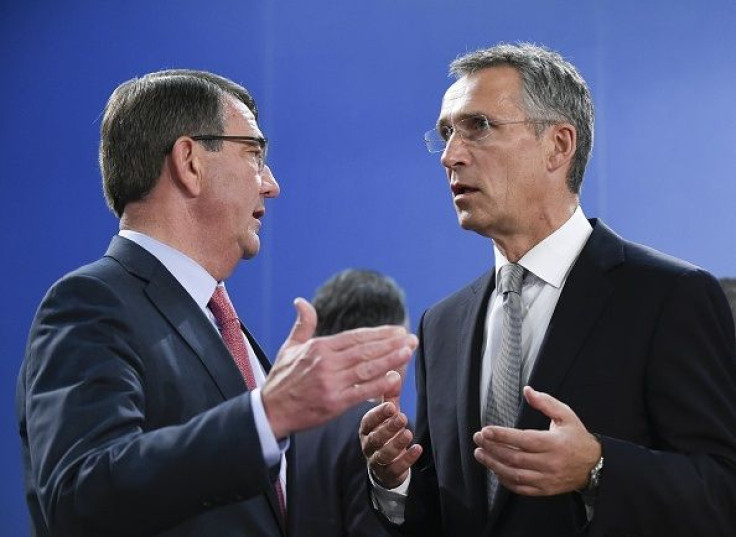 The British and French militaries were continuing Thursday to join U.S. jets in bombing Islamic State group targets in Syria and Iraq despite U.S. Secretary of Defense Ash Carter insisting one day earlier that European countries were not doing enough to help defeat the terror group commonly known as ISIS. Britain and France have renewed their anti-ISIS efforts both militarily and financially, but the same has not been true for some of their fellow NATO members, Carter maintained.
Nearly all European states' defense spending has fallen below the minimum requirement as mandated by NATO, due in part to the ongoing eurozone debt crisis. But while finances play a major role in the fight against ISIS, there are also political and strategic reasons for a lack of full European participation, going beyond just economics, security and foreign relations analysts said.
"I don't disagree that individual member states could do more in this conflict," said Simond de Galbert, a former French diplomat and expert in European and transatlantic security with the Center for Strategic & International Studies, in Washington, D.C. "These issues are financial in most cases, but I think the biggest constraint for most countries are political and relate to the current military strategy of the coalition."
Europe's Economy And Defense Spending
During testimony Wednesday at a Senate Armed Services Committee hearing regarding the U.S. strategy against ISIS, Carter said he was "quite concerned with the level of investment Europe is making in its militaries and alliance partnerships with the United States," while calling on the bloc to do more to combat the terror group.

Financial wherewithal is not the only reason Europe as a whole has been largely absent from the fight against ISIS, but it does represent one of the major factors as countries continue to chip away at years of high debt. Each member country is expected to spend 2 percent of its gross domestic product in order to maintain the collective defense of NATO, but those payments have long been increasingly difficult for some to meet.
"It's not a realistic target for many of the NATO countries," said Sam Perlo-Freeman, senior researcher at the Stockholm International Peace Research Institute, who spoke to International Business Times in September 2014. "Many of those countries, especially in Europe, are still implementing austerity programs."
Since the 2008 global financial crisis, which saw a significant decline in the GDP of many of Europe's economies and brought on the broader eurozone debt crisis that still persists, defense spending in Europe declined substantially among NATO member countries. According to NATO data, 17 of the 28 countries in the alliance reduced their defense budgets between 2011 and 2015. In comparison, during that same time span, many European countries' economies showed significant recovery in the aftermath of the financial crisis, according to World Bank statistics. Furthermore, only five of the 28 countries actually meet the NATO mandated spending threshold, bringing total European defense spending to 1.5 percent, its lowest since 1995.
That overall figure is dwarfed by U.S. spending and is what primarily framed Carter's comments about Europe's apparent NATO shortcoming.
"The big concern here is, if you look at NATO defense spending maybe 10 or 12 years ago, it was roughly 50-50 between U.S. and Europe," said Steven Pifer, former U.S. ambassador to Ukraine and senior fellow in the Center for 21st Century Security and Intelligence at the Brookings Institution, a Washington, D.C.-based think tank. "It's now moving towards 70 percent to 75 percent in favor of the U.S., despite Pentagon cuts, and that's what's causing concerns that are a lot deeper than just what is going on in Syria and Iraq."
Britain, which has traditionally been America's main ally in global conflicts, steadily grew its economy over the last four years by around 2.6 percent, according to figures from the World Bank. At the same time, its defense spending shrunk from 2.4 percent of GDP in 2011 to 2.1 percent in 2015. Germany, which has the strongest economy in Europe and has grown by 1.6 percent in the same time period, also cut its defense spending from 1.3 percent to 1.2 percent since. While this minor reduction in military spending may seem inconsequential, Germany has long been criticized for its lack of spending on defense given that it is the most economically powerful country in Europe.
France, another major European economy, could be excused for wanting to cut back on defense given its sluggish economy and an unemployment rate of 10.6 percent, its highest since 1996. However, in the aftermath of the Charlie Hedbo attacks in January and a major ISIS attack on Paris last month, the French government decided to cancel proposed defense cuts and actually increased its defense budget by $4.42 billion.
American Military Expenditure Over Time | FindTheData
ISIS Isn't The Only Concern

Of the current major coalition partners against ISIS, the only significant European contributions are coming from the Britain and France, which both decided to increase their involvement following the Paris attacks. While many of Europe's smaller countries do have significant militaries -- Poland, for example, spends more than 2 percent of its GDP -- they generally have other concerns to worry about, according to Malcolm Chalmers, a special adviser to the U.K. Parliament's Joint Committee on the National Security Strategy and the deputy director general of the London-based think tank Royal United Services Institute.
"It's not just about finances," Chalmers said. "NATO member states from countries from Eastern and Central Europe – the Poles, Romanians and [Balkans], and so on – their primary focus right now is Russia and they are reluctant to get involved in operations which are not related to that."
But de Galbert of the Center for Strategic & International Studies indicated that some countries in Europe were hampered by the nature of the operation against ISIS, as it is almost exclusively being fought from the air. "Considering the current strategy of airstrikes, with the addition of very unique special forces on ground, many of Europe's smaller countries are unable to contribute anything that is equal or better to what it already being used against ISIS," he said. "Regardless of these considerations about finance, European countries should be contributing more to NATO."
Some Central and Eastern European countries that are NATO members either don't have an air force or have an antiquated fleet that is only good for protection. The Baltic countries of Latvia, Estonia and Lithuania all fall into that category.
While Carter's comments that Europe needs to do more against ISIS echo those made by other leaders within the current U.S. administration, the biggest hurdle for many EU states inside NATO is that the conflict in Syria could end up being the next long, expensive and deadly war in the Middle East, said Pifer of the Brookings Institution.
"The wars in Iraq and Afghanistan do certainly give everyone concern about engaging in that part of the world again," he said.
© Copyright IBTimes 2023. All rights reserved.