Amid Russia War Talk, NATO Sends Warships To Black Sea Near Turkey, Ukraine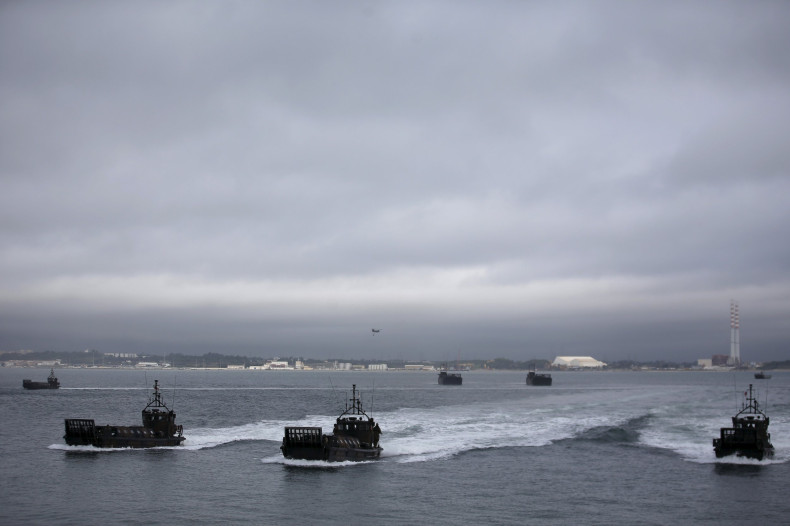 The North Atlantic Treaty Organization has stationed four warships in the Black Sea, the Russian news agency Sputnik reported Friday. The Black Sea sits between several countries with strained relations of late, including Russia, Turkey and Ukraine. Russian-Turkish relations have been particularly tense in recent weeks, after Turkey shot down a Russian jet in Syrian airspace in November.
The U.S. would send a guided missile destroyer, the USS Ross, "to promote peace and stability in the region" as part of Operation Atlantic Resolve, said a press release from the U.S. Navy Sixth Fleet Wednesday. Portugal, Spain and Canada sent the missile frigates Francis Almejida, Blas de Lezo and Winnipeg, respectively, Sputnik reported.
Operation Atlantic Resolve is a "demonstration of continued U.S. commitment to the collective security of NATO and to enduring peace and stability in the region, in light of Russia's illegal actions in Ukraine," according to the U.S. Army. Russia has also been condemned and sanctioned by other Western nations for its involvement in the ongoing war in eastern Ukraine.
The USS Ross's "operations in the Black Sea are meant to enhance maritime security and stability, readiness, and naval capability with our allies and partners," the Sixth Fleet's press release read. It added, "The U.S. remains committed to maintaining a persistent presence in Eastern Europe" and that the USS Ross was on a "routine patrol conducting naval operations...in order to advance security and stability in the Black Sea region."
Tensions have been high between Russia and Turkey, a NATO member, in the wake of Turkey's shooting down a Russian plane in November. One of the two pilots was killed.
"If somebody thought that after committing a treacherous war crime -- the killing of our people -- it would be possible to get away with mere restrictions on the trade of tomatoes, or some other restrictions...then they are grossly mistaken," Russian President Vladimir Putin said Thursday during the annual state of the nation. "They will regret what they've done for a long time," he added.
Turkish President Recep Tayyip Erdogan has insisted, following the incident, that "those who violated our airspace are the ones who need to apologize."
Beyond issuing threats, Russia has also sought retribution in a variety of economic ways since the downing of the plane. In November, Russian Foreign Minister Sergei Lavrov urged Russians, who constitute the second-highest proportion of travelers to Turkey, not to visit the country "for tourism or any other reason." Russia also suspended talks Thursday to build a gas pipeline from Russia to Europe via Turkey, where "domestic energy demand is surging and internal energy sources are extraordinarily limited," according to an analysis by the publication Global Risk Insights.
© Copyright IBTimes 2022. All rights reserved.