US Strategy Against Islamic State Group: Anti-ISIS Military Action In Syria Outlined By Pentagon Chief Ash Carter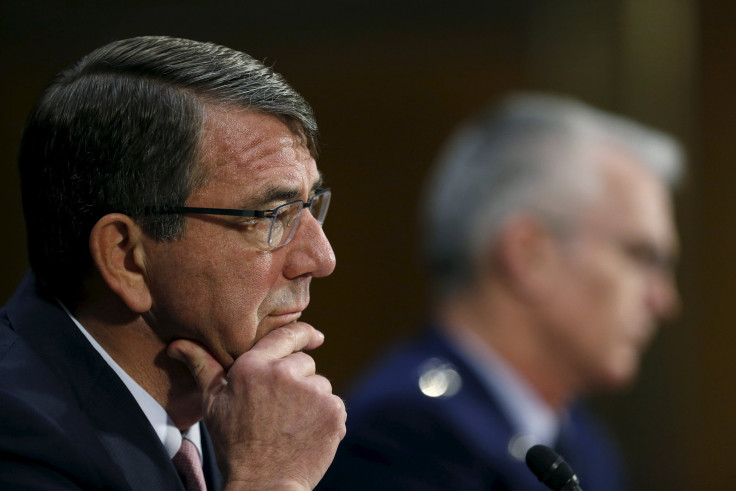 No Islamic State group target is beyond the reach of the U.S. military, Defense Secretary Ash Carter told the Senate Armed Services Committee Wednesday, adding that the Pentagon will support local ground forces to beat the terror group. However, he was unable to outline any timeline to take back the ISIS strongholds of Mosul in Iraq and Raqqa in Syria.
Alongside Joint Chiefs of Staff Vice Chair Gen. Paul Selva, Carter gave testimony about the U.S. military strategy against ISIS in Syria and Iraq, noting that Congress also had to do more to release important funds to better equip Syrian rebels.
"It is absolutely necessary to defeat ISIL in its parent tumor in Syria and Iraq and also to take necessary action wherever else in the world this evil organization metastasizes," said Carter, using another name for the militant group. "Achieving these objectives means leveraging all the components of our nations might as the chairman noted: diplomatic, military, law enforcement, homeland security and intelligence, economic, informational."
Under intense questioning from members of Congress, including committee Chairman Sen. John McCain, R-Ariz., Carter outlined three main points that gave some clues about the overall U.S. strategy. The U.S. was "taking the fight to the enemy" and was nurturing "motivated, local ground forces" because they were "the only force that can assure a lasting victory," he said.
The final point of the military strategy was that the U.S. needed to set out the conditions for a "political solution to the civil war in Syria and for inclusive governance in Iraq." Both of which, Carter said, "are essential, as they are the only durable ways to prevent a future ISIL like organization from re-emerging."
In turn, McCain said that the strategy was vague and lacked the necessary details -- like a timeline -- for retaking the de facto ISIS capitals of Raqqa, Syria, and Mosul, Iraq. "We need a multinational ground force primarily made up of Sunni-Arab and European forces with a strong component to do what no local force can do or will and retake Raqqa, destroy ISIS' caliphate in Syria and prepare a long term stabilization effort," McCain said after calling for a bigger force to beat the terror group. "Beyond Iraq and Syria, we need to seize the initiative and roll back ISIL regional expansion."

Carter hit back immediately and said that building such a force had been made difficult because Congress was not releasing important funds that would supply training and weapons to Syrian rebels. Lawmakers were dragging their heels on appointing personnel into key military positions, such as Secretary of the Army, Carter added.
He was "quite concerned" with Europe's general contribution to the fights and that Sunni Arab forces had been reluctant to take part because of the involvement of Iran and Russia. Commenting on Russian involvement, Carter said Russia had only bombed those opposing Syrian President Bashar Assad and that Moscow needed to get "on the right side of the fight." He also acknowledged that Russia has committed to fighting ISIS.
Gen. Paul J. Selva, vice chairman of Joint Chiefs of Staff, responded to McCain's alleged deficiencies in the anti-ISIS military strategy, especially as it relates to a timeline on Mosul and Raqqa. "To provide a timeline would deny the fact that the enemy on the ground gets a vote, but they do not get freedom of maneuver," Selva said. "They do not have operational freedom to maneuver; they do not have tactical freedom of movement," said Selva.
"It's the fight on the ground that defines the progress we will make against the caliphate," he continued. "We have put significant pressure on northern Syria. We have, with Syria and Coalition partners, taken significant ground in the north and east of Syria. They are using the equipment that we have provided to put pressure on ISIL's main lines of communication between Raqqa and Mosul."
Despite Selva's inferring that ISIS was contained, McCain immediately jumped in to tell Selva that ISIS was able to conduct an attack on San Bernardino in California.
© Copyright IBTimes 2022. All rights reserved.
FOLLOW MORE IBT NEWS ON THE BELOW CHANNELS