Amid Muslim-Christian Violence, Pope Francis Leaves Central African Republic With Hope For Peace, But Little More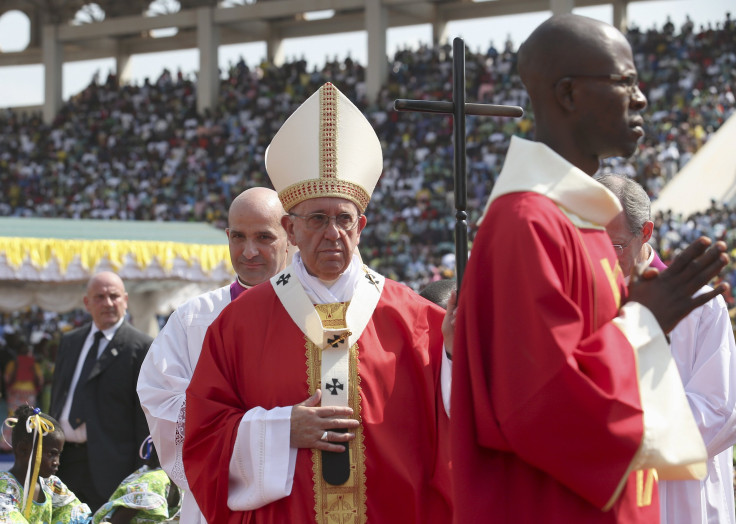 Central African Republic's capital city of Bangui is by all accounts ground zero to much of the sectarian violence among the conflict-ridden country's warring Muslims and Christians. That fact didn't deter Pope Francis Monday, who was wrapping up his three-nation, six-day tour of Africa "as a pilgrim of peace and an apostle of hope." It was precisely the reason he wanted to be there.
"Christians and Muslims are brothers and sisters," he said after meeting Muslim leaders at the Koudoukou mosque. "Together, we must say no to hatred, to revenge and to violence, particularly that violence which is perpetrated in the name of a religion or of God himself."
Those words of anti-violence from the first sitting pope to travel to an active war zone may have fallen on deaf ears. With national elections on the horizon, a budding refugee crisis and a sagging economy, violence between the two faiths was not likely to end any time soon, said religious and political experts, who argued that inspirational words alone will not cease the fighting that has a divided a nation and killed thousands over the past three years -- even if they are from the pope.
"Pope Francis' words were music to the ears of everyone both within and outside the country who desire an end to the bloodletting. But one does not have to be a pessimist to admit that neither those words nor the visit in general would suffice to bring an end to the violence," said Ebenezer Obadare, associate professor of sociology at the University of Kansas' main campus in Lawrence, who focuses on Africa.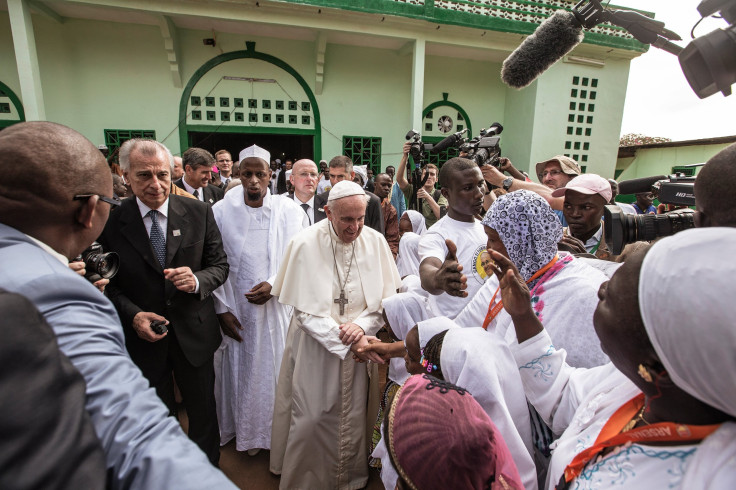 About 80 percent of the impoverished nation's population is Christian, while roughly 15 percent is Muslim. During his 26-hour visit to Central African Republic, Francis met with religious leaders, community members, youths and displaced persons in the last remaining Muslim community in Bangui. Christian militias there have for the past two months severed the tiny PK5 neighborhood, one of the most dangerous districts in the city, from the rest of Bangui by blocking supplies from entering and Muslims from exiting.
"Going to the mosque there, that was a pretty gutsy thing," said David Cook, associate professor of religious studies at Rice University in Houston. "I think it really did touch the Muslim community."
Central African Republic has been gripped by a bloody civil war since late 2012, when mainly Muslim rebel groups formed an alliance known as "Seleka" and seized power from then-President Francois Bozize. The move left a security vacuum and prompted revenge attacks by Christian militias that are still ongoing. Thousands of French forces and United Nations peacekeepers are deployed in Central African Republic in an effort to stem the violence that is increasingly taking religious dimensions. Some 400,000 people have been forced to flee their homes from Seleka-controlled areas, while another 460,000 have sought refuge in neighboring countries. Despite the warring sides signing a cease fire in 2014, violent clashes persist.
The economy has suffered as a result. Central African Republic saw a 36 percent drop in its gross domestic product in 2013. Economic growth has slowly clawed back since then, but the agricultural sector – the chief contributor to GDP -- continues to lose ground. Farmers are afraid to go out to their fields, marketplaces are empty and Muslim-Christian trade is practically nonexistent. Some 62 percent of the population lives in poverty, and many residents rely on humanitarian food aid, according to the World Bank Group.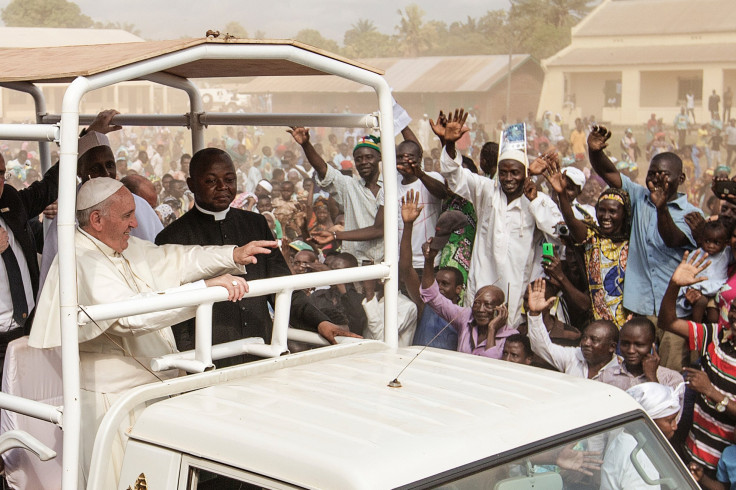 Before departing Bangui for Rome, the pope called for "an end to every act which, from whatever side, disfigures the face of God and whose ultimate aim is to defend particular interest by any and all means." The pontiff's words were echoed by local religious leaders trying to foster a peace process. Experts said religious leaders should use the pope's visit as an opening to forge a much-needed pan-religious coalition before the papal ardor wears off. Immediate attention must also be paid to refugees who fled the nation and live in camps across the border in Cameroon, Chad, the Republic of Congo as well as the Democratic Republic of the Congo, where they suffer difficult living conditions and lack enough to eat. The refugee population includes a large number of Muslims and could be seen as a recruitment opportunity for extremist groups.
"If those refugees stick around in Cameroon and Chad, there's every chance for radicals to work among them. They have genuine grievances," Cook warned. "It's in everyone's best interest to finish off this refugee issue as soon as possible."
Meanwhile, the clock is ticking on the transitional government's authority that leads Central African Republic. The first rounds of parliamentary and presidential elections are scheduled for the end of December. Transitional authorities must address the representation gap of the Muslim minorities by diversifying recruitment within the public administration, experts said. A peaceful, democratic, nationwide vote is also essential for reconciliation, they added, but it remains unlikely unless militias agree to lay down their weapons and relinquish their control of northern territories.
"It's going to be a tough sell," Christopher Day, assistant professor of political science and African studies at South Carolina's College of Charleston, said. "Until there's a systematic plan to demobilize the armed actors, only then will the social messages of the pope's visit be able to really be seen."
© Copyright IBTimes 2023. All rights reserved.