Amid Palestine-Israel Violence, Netanyahu Under Fire For Placing Holocaust Blame On Former Palestinian Leader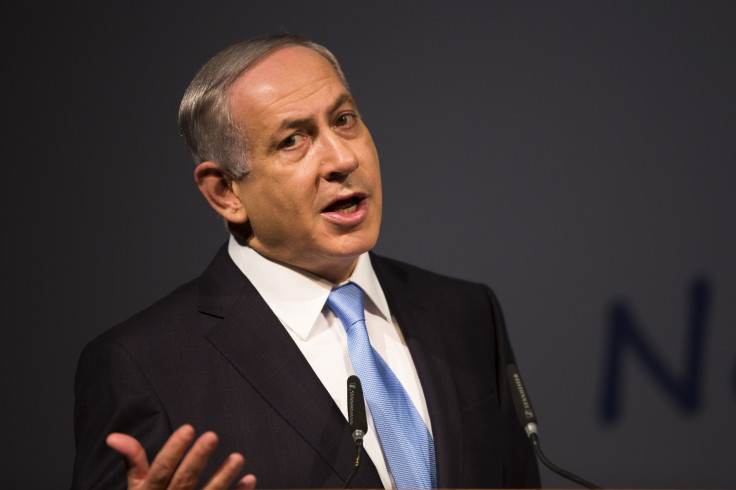 Israel's Prime Minister Benjamin Netanyahu has come under fire for alleging that a World War II-era Palestinian leader planted the idea of exterminating Jews in Adolf Hitler's mind. Netanyahu made the comments just hours before boarding a plane for a visit to Germany Tuesday at the 37th Zionist Congress, as he sought to link current anti-Jewish violence in Israel to a history of purported Palestinian anti-Semitism.
"Hitler didn't want to exterminate the Jews at the time, he wanted to expel the Jews," Netanyahu said in the speech. "And Haj Amin al-Husseini went to Hitler and said, 'If you expel them, they'll all come here.'
"'So what should I do with them?'" Netanyahu said Hitler asked the mufti. He then reportedly responded: "Burn them."
While it's true that Husseini, who held the religious title of grand mufti of Jerusalem, flew to Berlin to meet with the Nazi dictator in 1941, social media users were quick to criticize Netanyahu's historical narrative, as Palestinian officials said the Israeli leader wished to absolve Hitler of the Holocaust and place blame on Palestinians instead.
"Just a day after the Israeli occupying forces gunned down five Palestinians, raising up the number of Palestinians killed since Oct. 1 to 50, Mr. Netanyahu blamed the Palestinians for the Holocaust and completely absolved Adolf Hitler's heinous and reprehensible genocide of the Jewish people," Saeb Erekat, the secretary-general of the Palestine Liberation Organization, said Wednesday, according to Ma'an News.
"Mr. Netanyahu should stop using this human tragedy to score points for his political end," added Erekat, the chief Palestinian negotiator with the Israelis.
Several historians who spoke with Reuters said Netanyahu's timeline distorted history. While Husseini met with Hitler in 1941, Hitler had already made clear his intention to exterminate the Jews of Europe two years earlier.
The comments come as Israel has seen violence that began around the Al-Aqsa mosque in Jerusalem spread across the country. Netanyahu sought to link a widespread belief among Palestinians that Jews wish to destroy the religious site, which sits at a spot revered by Jews as the site of two previous biblical temples, with similar beliefs held by the former Jerusalem mufti.
Netanyahu responded to the criticism Wednesday: "I didn't mean to absolve Hitler of responsibility, but to show that the father of the Palestinian nation wanted to destroy the Jews even without occupation," Ha'aretz reported.
© Copyright IBTimes 2023. All rights reserved.
FOLLOW MORE IBT NEWS ON THE BELOW CHANNELS