Amid Russia Military Expansion, Moscow To Spend $1.6 Billion On Fighter Jets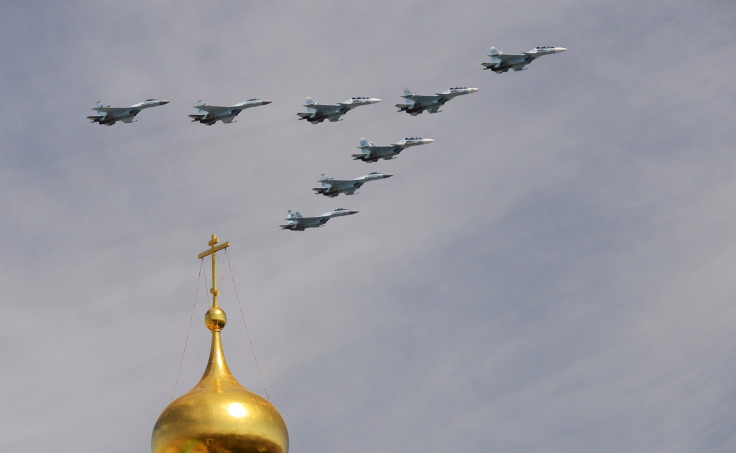 The Russian Defense Ministry signed a contract to purchase 48 Sukhoi Su-35 fighter jets at an air show in late August, local media reported, via Russian outlet Sputnik News. The jets, bought from the United Aircraft Corporation, could reportedly cost as much as 100 billion rubles, or nearly $1.6 billion, Russian outlet Vedomosti reported, citing defense and industry sources.
The jet debuted at the 2013 Paris Air Show to good reviews. The Soviet-designed fighter was first flown in 1988, with the modern version being its fourth-generation design, Business Insider reported in 2013. In the Paris show, the jet impressed audiences with barrel rolls, upside-down flight and "falling leaf" mode, where it appears to be descending straight out of the sky.
This year's deal is expected to be sealed at the MAKS-2015 air show, which takes place in the town of Zhukovsky, near Moscow, Aug. 25-30. The showcase's main goal, according to its website, is "to demonstrate achievements of Russian high tech and receptiveness of the domestic Russian market to joint projects with foreign partners."
Under President Vladimir Putin, the Russian military has spent large sums to expand its military, particularly the air force. The Russian air force added an unspecified number of Su-34 bombers and Su-35 fighters in July and set up plans to continue production of both aircraft through 2020, Russia's government-backed news agency Tass reported. The air force is reportedly set to receive a total of 126 new aircraft this year.
Putin announced in March 2014 that he would spend more than 21 trillion rubles, or about $340 billion, on the modernization of Russia's military, Reuters reported. That total had increased to about $600 billion by early July 2014, Russia's Deputy Defense Minister Yuri Borisov told Tass. Russia has made a number of purchases and deals since Putin's announcement, including the development of the country's next-generation Armata T-14 tank.
© Copyright IBTimes 2023. All rights reserved.