Russian Air Force Receives New Su-34 Bombers, Su-35S Fighters As Military Expansion Continues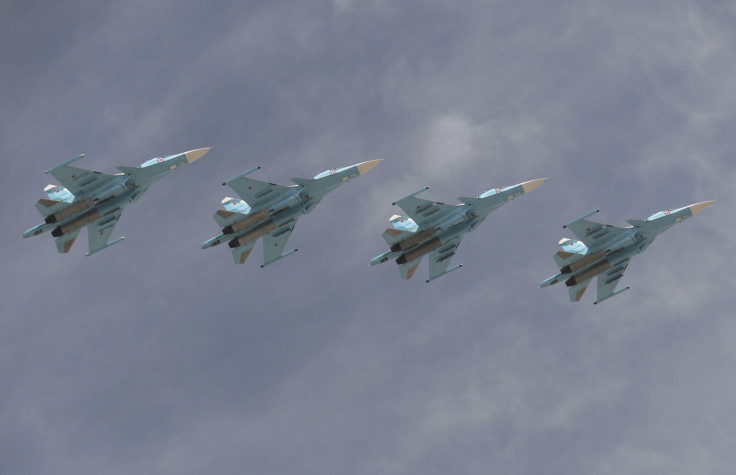 The Russian Air Force received new orders of upgraded Su-34 bombers and Su-35S fighters on Thursday, state-owned manufacturer Sukhoi confirmed Thursday. The aircraft shipments were a direct result of Russian President Vladimir Putin's plan to overhaul the Russian military by the end of the decade.
Sukhoi's plant in the central Russian city Novosibirsk will continue to produce Su-34 bombers through 2020, Sukhoi told Russian news agency Tass. Su-35S fighter production will proceed over the same time period, though it's unclear how many of each aircraft ultimately will be built. The Russian Air Force reportedly will receive a total of 126 new aircraft in 2015.
"The airplanes were manufactured under the state orders on the delivery of combat aviation equipment to the Russian Air Force envisaged by the State Armament Program for 2011-2020. Their implementation will make it possible to deeply modernize the country's armed forces and guarantee the Sukhoi company and its subcontracting enterprises the workload for the long-term perspective," the manufacturer said in a statement to Tass.
Upgrades were made to the Su-34's top speed and flight range. Russia also claimed the SU-35S fighter was "heavily upgraded" with "better flight characteristics," but did not provide specifics.
Russia's armed forces have undergone widespread expansion and conducted military exercises around the world in recent months, even as Western leaders have expressed concern about Moscow's increased activity in Eastern Europe. Both the European Union and the United States enacted economic sanctions against Russia for its purported support of pro-Russian separatists in the eastern Ukraine conflict.
Despite the international criticism, Putin vowed last March to dedicate more than 21 trillion rubles, or $340 billion, to the modernization of the country's military, Reuters reported. By early July, that number had increased to approximately $600 billion, Russia's Deputy Defense Minister Yuri Borisov said. The expansion of Russia's air force and the development of the next-generation Armata T-14 tank were considered major aspects of Putin's program.
© Copyright IBTimes 2023. All rights reserved.