Amid South China Sea Dispute, Beijing Will Launch New Warship By End Of Year: Reports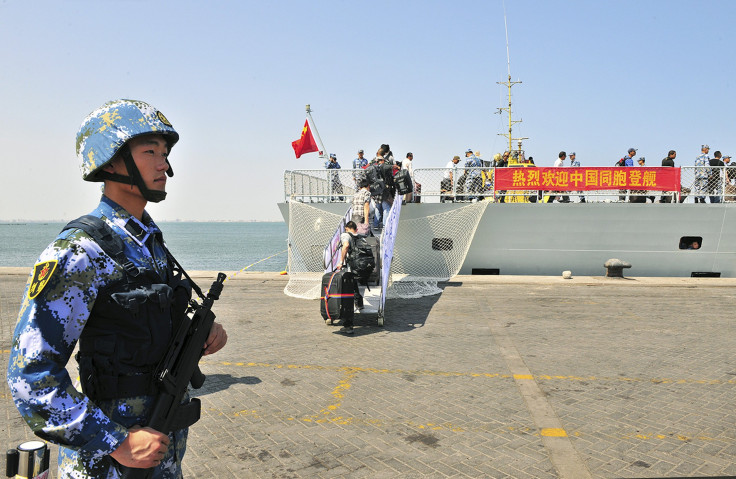 China could launch its first Chinese-made aircraft carrier by the end of the year, amid regional tensions over the South China Sea and China's building of islands -- and military bases -- there. The ship, described as type 001A, could take another four years to go into service, but the launch, according to Ming Pao, a Chinese language newspaper in Hong Kong, was scheduled for Dec. 26, Bloomberg reported Wednesday.
A ship's launch, which can be highly ceremonious, is when the ship is transferred to the water. Dec. 26 is the birthday of Mao Zedong, the former Chinese communist leader.
When the ship would actually enter service was uncertain, although Ming Pao offered Oct. 1, 2019 as a possible date. Beijing has not confirmed that it has a program to build aircraft carriers, but it has not denied such reports either.
Collin Koh Swee Lean, an associate research fellow at the S. Rajaratnam School of International Studies, which is in Singapore, told Bloomberg he considered the Hong Kong newspaper's report "reliable." He added, "Assuming the carrier is launched on Dec. 26 this year, and fitted out subsequently before entering into a series of harbor and sea trials, the carrier should be ready for service by 2020."
China has built seven artificial so-called islands on reefs and rocks among the Spratly Islands in the South China Sea over the last three years and laid claim to territory there, angering neighboring countries including the Philippines, Malaysia and Vietnam. The area is home to fishing grounds and is also believed to contain reserves of oil and gas. In May 2014, China launched drilling operations at an oil rig that was 120 miles off the coast of Vietnam.
China's actions and its claims to territory in the area have become a point of international contention, and neighboring countries have begun to beef up their forces to deter China's ongoing expansion. In June, Vietnam received the fourth of six Kilo-class submarines from Russia, from whom it has also bought missiles that could potentially attack Chinese ships and submarines.
© Copyright IBTimes 2023. All rights reserved.