Yemen Violence: Why The Houthi Rebels In Yemen Threaten Gulf States And Could Help Al Qaeda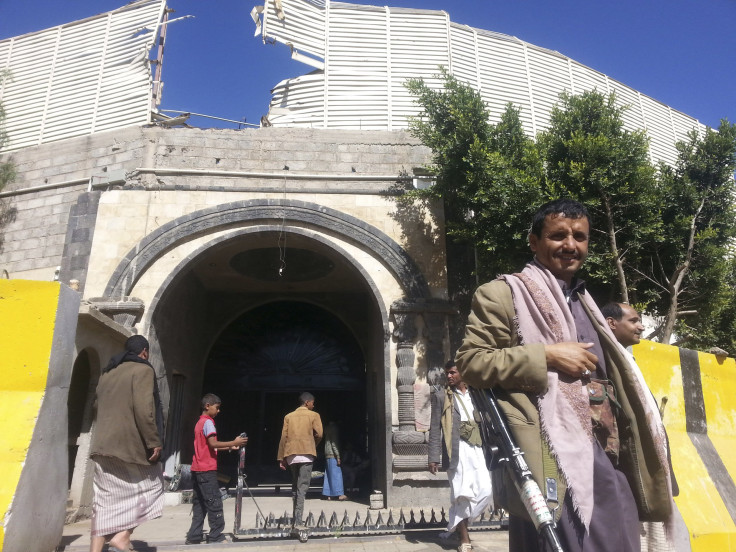 Violence and unrest have reached a critical level in Yemen as Shia Houthi rebels continue to advance after their recent takeover of the capital, Sanaa, solidifying their position in the country's unstable political sphere. The sudden shift in Yemen's political power, after weeks of clashes between the rebels and al Qaeda militants amid rebel-led protests demanding a change in government, also threatens neighboring Sunni Gulf States that support the government. It could also give way to the rise of powerful militant groups like al Qaeda.
Tensions reached a high point Thursday when the United Nations envoy left the country and fled to Saudi Arabia. Also on Thursday, the Houthis ordered Yemen's finance ministry to stop all payments except the salaries of former state employees, according to Reuters. A Houthi leader told Reuters that this would prevent members of the former government from tampering "with funds and to doctor books that will cause the collapse of the state."
The current violence in Yemen has two major causes: An increase in warring sectarian factions after the 2011 protests that ousted Ali Abdullah Saleh and an economically frustrated population. Saleh's Shia regime was replaced by Sunni President Abd Rabbuh Mansur Hadi in 2012, which sparked uprisings from the now marginalized Shia brigades. In recent months, the Houthis gained traction by winning significant battles against sectarian rivals and capitalizing on Yemeni citizens' frustration at the high cost of living. In July, the government raised oil prices by 60 percent and diesel by 95 percent, in hopes of decreasing the country's mounting deficit.
Yemen's Sectarian Strife
Each of Yemen's political factions has different regional allies. The Houthi brigade reportedly has ties to Iran's Shia regime, although Iran denies helping the rebels. Hadi's Sunni administration is backed by Iran's notorious rival Saudi Arabia and other Gulf States.
With the Houthi brigade threatening to take power in Yemen, Gulf States are concerned Iran's involvement could jeopardize their own national security. Thursday, the Gulf Cooperation Council (GCC), a union of Sunni states, warned that they would not "stand idly" in the face of foreign intervention. Though they did not mention a specific country, they insisted the Houthis had outside help when they took over Sanaa.
"You have to know that the conspiracy is beyond any imagination. We were stabbed and we were betrayed from inside Yemen and outside," said Hadi when he made earlier, similar accusations. "It is a cross-border plot where many forces allied together."
However, in the case of Yemen, allegiances don't end at sectarian regional ties. The United States provides the current Sunni government with military and humanitarian aid on the premise that the two have a shared enemy in al Qaeda. However, U.S.-Yemeni relations are bilateral in that Yemen is a major supplier of U.S. oil imports. Yemen's oil pipelines are frequently attacked in clashes between rival factions, which has "left Yemen's oil sector in poor shape," according to the U.S. Energy Information Administration. Clashes threatening Yemen's oil production are a huge cause for U.S. concern.
Rise of the Houthis
Hussein Bader Addian al-Houthi founded the group in the early 1990s and established a stronghold in the northern Yemeni governorate Saada. Early on, the group led several small protests calling for a more transparent Yemeni regime. Protests were peaceful until 2004, after which the group took up arms in what they called an act of self-defense from the Yemeni police force, according to Al Jazeera. The group participated in the 2011 protests that ousted Saleh.
In Saleh's absence, Yemen entered a U.N.-backed transitional phase to democracy, in which a National Dialogue Conference was to be held. According to the NDC, Yemen would be divided into six regions and one of them would include both the country's capital Sanaa and Houthi stronghold Sadaa. Houthi leaders demanded that Sadaa exist as a separate region, which has yet to be enforced.
Two weeks ago, the rebel group seized portions of Sanaa, including many government buildings. The rebels refused to leave the capital even after they signed a peace deal with the president that would allow the current administration to remain in a caretaker role until a new government is formed, according to Al Jazeera. Part of the agreement required Houthi rebels to leave the capital but rebel leaders claim they did not sign that section of the U.N-brokered deal and refuse to leave until a new prime minister is elected, Reuters reported.
Militant Advances
While Yemen's political sphere may be split in two, clashes are taking place between three major opposing factions: Shia brigades aligned with the Houthis, government forces, and Sunni al Qaeda militants who have long called Yemen home.
Al Qaeda in the Arabian Peninsula (AQAP), formerly led by Osama Bin Laden, has reportedly called on its militants to attack Houthis. AQAP also claimed responsibility for a bombing at a Houthi checkpoint in Sanaa Thursday, according to the SITE monitoring service.
Experts believe the militant group could use Yemen's political divide to their advantage and regain some of their former power. They have already begun doing so. In mid-September, the Wall Street Journal reported that at least 60 AQAP militants reached Sanaa and remained there.
As terrorism researcher and professor at Northeastern University Max Abrams recently told the International Business Times: "Terrorists love power vacuums -- they gain traction there.
A portion of the peace deal between Hadi's government and Houthi leaders called for an immediate stop to the fighting. However, AQAP and the Houthis continue to clash, while Yemeni citizens protest high oil prices and the brigade's presence in Sanaa. Violence and unrest continue to plague Yemenis, threatens very fragile regional relationships and could distract governments from stopping encroaching militants.
© Copyright IBTimes 2023. All rights reserved.
FOLLOW MORE IBT NEWS ON THE BELOW CHANNELS