Amir Khan Next Opponent: With Mayweather, Pacquiao Out, Brit Boxer Has Two Options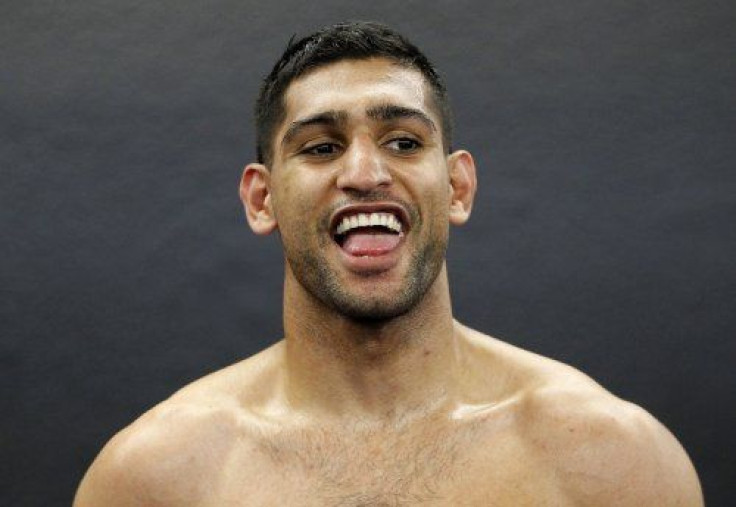 Amir Khan is looking for an opponent for his first fight in 2015, and his options continue to shrink. Now that Floyd Mayweather and Manny Pacquiao are finally set to meet in the ring, one candidate stands out as the most likely to face Khan in his next bout.
Khan's camp has reportedly begun early negotiations with the representatives for Kell Brook. Matchroom Boxing promoter Eddie Hearn seems to think the bout can happen sometime in the first half of this year.
"Just some friendly, initial talks," Hearn said of discussions with Khan's team, via ESPN's Dan Rafael. "They are confident the fight will happen this year. I am pushing for it early June."
Brook is no Mayweather or Pacquiao, but he'd be a formidable opponent for Khan, who has won four consecutive fights. Brook is undefeated in his career, going 33-0 and recently claiming the IBF Welterweight title. He beat Shawn Porter for the belt in a majority decision on Aug. 16.
Even if the two Brits are prepared to face each other in June, a title fight cannot be made for a least a few weeks. Brook is set to put his belt on the line on March 28 against Jo Jo Dan, a 33-year-old southpaw from Romania. A win for Dan would be a shocking upset, considering Brook is a -1000 favorite at Bovada.lv. Dan's odds are currently at +600.
Even before he beat Devon Alexander on Dec. 13, Khan had been looking for a marquee bout, preferably against Mayweather or Pacquiao. However, the 28-year-old told ESPN.com in January that Brook was his ideal candidate, if he could not land a bout with one of the sport's top two stars.
"It's a big fight even if it isn't as big as me against Manny or Floyd," Khan said. "Kell Brook is very powerful, very strong. He's kind of slick the way he fights. He puts his punches together quite well. Plus, it would be a massive U.K. fight. I think we could sell out Wembley. A fight between us has been talked about for a long time. It would bring a lot of money for him to fight me. But he's my third choice."
While the chances may seem high that Khan and Brook can sign on to fight, it's by no means a done deal. In a recent interview, Khan mentioned reaching out to the camps of Timothy Bradley, Miguel Cotto and Juan Manuel Marquez for possible fights in 2015. Considering Cotto is a middleweight and Marquez is dealing with a knee injury, Bradley would be the most likely candidate of the three to face Khan.
Bradley expressed an interest in fighting Khan in December, and has yet to schedule a fight for 2015. He was also named as a potential opponent for Cotto in his next fight.
This is expected to be a comeback year of sorts for Bradey, after a disappointing 2014 that featured a loss to Pacquiao in April, and a draw against Diego Gabriel Chaves in December. The 31-year-old, however, remains one of the more prominent boxers in the welterweight division. Bradley has wins against Marquez, Ruslan Provodnikov, Alexander, and a controversial decision victory over Pacquiao in 2012.
Meanwhile, a potential Bradley-Khan bout could generate extra interest in a boxing year that features Mayweather-Pacquiao.
© Copyright IBTimes 2023. All rights reserved.