Amtrak Derailment Travel Options: Bus Companies, Airlines Cope With Increased Demand Along East Coast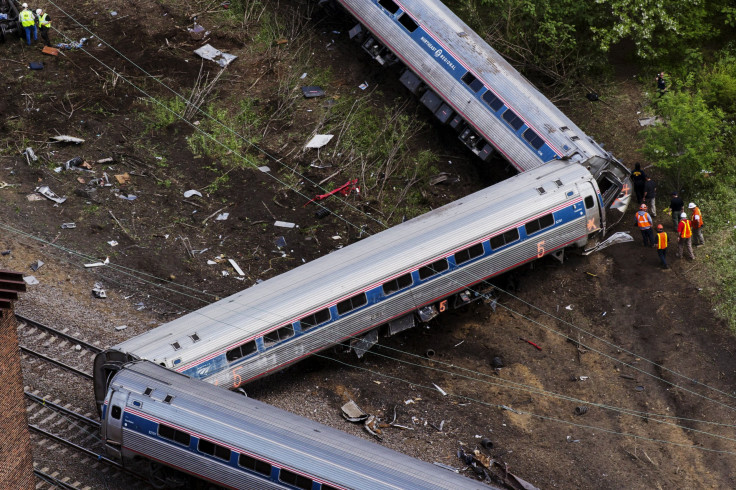 Bus companies and airlines on the U.S. East Coast dealt with increased demand Thursday after the deadly derailment of Amtrak Train 188 in Philadelphia cut the Northeast Corridor. Amtrak shut down high-traffic routes between New York, Philadelphia and Washington, D.C., through the weekend, forcing commuters through the country's Northeast to seek alternate means of transportation.
"Amtrak is in the process of removing all of the train cars and repairing the significant damage to the railroad infrastructure," Philadelphia Mayor Michael Nutter said Thursday at a press conference. Amtrak plans for limited service to be restored to the Northeast Corridor by Monday, with full service by Tuesday, Amtrak CEO Joe Boardman said.
In the meantime, bus companies like Megabus and Greyhound have experienced a spike in customer demand. Both companies are cross-honoring relevant Amtrak tickets in the wake of the train derailment, the Asbury Park Press reports. Megabus offers trips from New York to Washington, D.C., for $35 to $40, and trips from New York to Philadelphia for approximately $20, according to Megabus.com. The vast majority of trips scheduled for Thursday have already sold out. Seats remain available for Friday and this weekend, but those tickets are going fast too.
"We're monitoring the demand and certainly trying to fulfill it as much as we can. If we have the equipment to do so, we will certainly add in extra buses," said Sean Hughes, Megabus' director of corporate affairs for North America.
Greyhound has seen enough consumer demand to justify the addition of several buses along scheduled trips for both its Greyhound and BoltBus branches. The company will have 10 extra Greyhound buses travel from New York to Philadelphia and six extra Greyhound buses travel from New York to Washington, D.C., until Amtrak resumes service. BoltBus will add eight more buses to its New York to Philadelphia schedule and two more buses to its New York to Washington, D.C., schedule to accommodate the demand, Greyhound spokesperson Ashley Sears said.
Domestic airlines have also experienced an uptick in customer demand, but level of the increased volume varied by company. Delta Airlines drew criticism Thursday after CNBC anchor Carl Quintanilla tweeted the price for a round-trip ticket on its New York to Washington, D.C., shuttle had reached $2,000. Prices continued to hover around $1,000 per ticket by Thursday afternoon, according to Delta's website. Delta declined to comment on whether it had experienced increased ticket demand since the Amtrak derailment, but it said in a statement that it had not increased prices after the accident.
"Delta has not increased fares on the New York to Washington, D.C. Shuttle product. Airline fares can be affected by a variety of factors, including number of seats available within a particular fare class for people traveling on the same itinerary; the cost of providing the service; the cost of jet fuel; time and date of purchase; the route flown; and the fare class purchased. Delta offers a wide range of fares for leisure and business travelers, and our best fares are always available at delta.com," Delta Airlines spokesman Paul Skrbec said in a statement.
American Airlines added two more round-trip flights from New York's LaGuardia Airport to Reagan National Airport in Washington, D.C., Thursday to cope with increased demand, a spokesperson confirmed in a statement. United Airlines has also experienced increased volume on its domestic flights along the east coast, but not enough to justify additional flights.
The Northeast Corridor, which consists of train lines that run from Boston to Washington, D.C., is considered the busiest in the United States, the New York Times reported. More than 11 million people traveled along the route last year.
© Copyright IBTimes 2023. All rights reserved.