Anaheim Bullet-Ridden Quran A Hate Crime? Muslim Civil Rights Group Asks FBI To Investigate Islamic Holy Book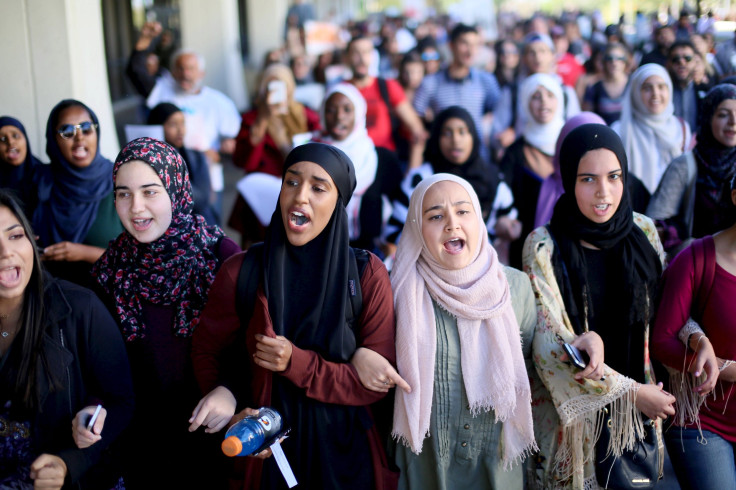 When the owners of the Al-Farah Islamic Clothing store in Anaheim, California, came to work Tuesday morning, they found an English translation of the Quran hanging on the shop's door. But there was something noticeably wrong -- the holy book had been punctured with what appeared to be multiple bullet holes.
The owners contacted the Anaheim police and the Los Angeles chapter of the Council on American-Islamic Relations, the organization said Wednesday. CAIR, the country's largest Muslim civil rights organization, is now asking the FBI to investigate the incident as a hate crime.
"Anyone has the right to be a bigot, but when that bigotry is expressed through the targeting of individuals or businesses through acts of intimidation similar to a cross burning it crosses the line into criminal behavior," CAIR-LA Executive Director Hussam Ayloush said in a statement Wednesday. "If you shoot up a Quran on your own property, that is bigoted freedom of expression. If you deliver that bullet-riddled Quran to a Muslim home or business, that is an act of intimidation and a hate crime."
This episode comes amid a wave of apparent anti-Muslim incidents around the country over the past few weeks. Since the Nov. 13 terror attacks in Paris claimed by Islamic State group militants, Muslims in the United States have experienced a rise in Islamophobic sentiment that many say reminds them of what they saw after the Sept. 11 attacks in 2001.
Other attacks have included bullet holes found in a mosque in Connecticut, threats at mosques in Florida and Kentucky, a fake bomb near a mosque in Virginia and the shooting of a Muslim taxi driver in Pittsburgh on Thanksgiving. ThinkProgress compiled a list of 27 anti-Muslim incidents that have taken place since the Paris attacks.
Muslim community leaders have also been concerned about the rhetoric coming from U.S. politicians in recent weeks. After reports that one of the Paris attackers had sneaked into Europe with a group of refugees, many U.S. governors and several presidential candidates called for the country to stop accepting Syrian refugees, the majority of whom are Muslim. Republican presidential front-runners Donald Trump and Dr. Ben Carson have also sparked concern with their remarks about Muslims over the past few months.
CAIR and other Muslim organizations have been vocal in calling for protection for the Muslim American community. Earlier this week, the group also called for the Department of Justice and the FBI to look into the shooting of the Pittsburgh taxi driver as a hate crime.
Hate Crimes in the United States Broken Down By Bias | FindTheBest
© Copyright IBTimes 2023. All rights reserved.