Mosque Protests Turn Vicious: After Paris Attacks, Muslims Brace For A Backlash They Always Knew Was Coming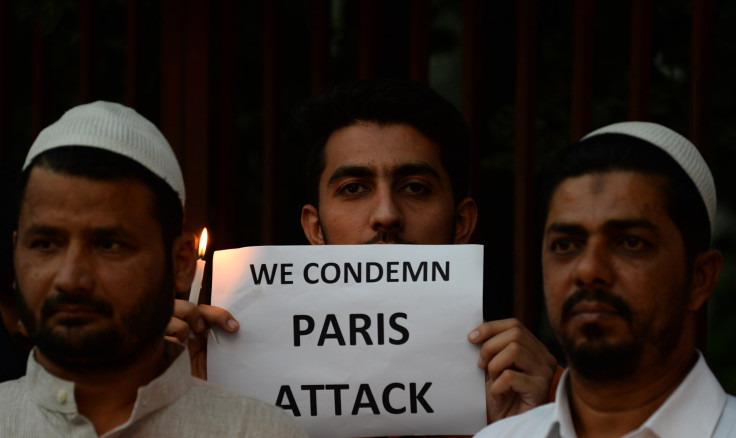 Ronald Abdul Rahim Hubbs arrived at the Rizwan Mosque for prayers on Sunday expecting a quiet fall afternoon at his house of worship in the leafy outskirts of Portland, Oregon. He was greeted with anything but: A handful of protesters, bearing loudspeakers and wearing sandwich boards emblazoned with phrases like "Jesus Saves From Hell," shouted obscenities as Muslims made their way into the building.
"Your Quran is the doctrine of demons! Jesus is going to destroy the Muslims!" one demonstrator screamed, even as a non-Muslim neighbor tried to reason with him. But the epithets continued: "Islam is a lie! You're nothing more than a pawn of Satan, you demonic Muslim dogs!"
For Hubbs, the incident was disturbing, but in some ways, par for the course. After Friday night's horrific coordinated terror attacks in Paris, he was expecting some kind of backlash. In the years since the Sept. 11, 2001, attacks, Hubbs says that his family, and especially his wife, Sajal, have repeatedly been targets of harassment. When they were living in Los Angeles, a woman tried to rip off his wife's head scarf while she filled her vehicle's tank at a gas station. During their years in Tucson, Arizona, an assailant threw a rock through her car window while she was driving. After the Islamic State group -- also known as ISIS or ISIL -- claimed responsibility for the Paris attacks, Hubbs warned his wife to be more careful in public because she's visibly identifiable as Muslim.
"When this horrific thing happened on Friday, all the Muslims I know went through the same thing," says Hubbs, a member of the Ahmadiyya Muslim Community, one of the oldest Muslim organizations in the U.S. "You first have the emotions of, 'Oh my God, that's terrible.' The second feeling that comes up is, 'Here we go again.'"
For many Muslims living in the United States and Europe, it has become an all-too-familiar scenario: A terrorist organization like ISIS or al Qaeda commits a savage act claiming hundreds of lives, people in both mainstream and social media finger Islam as the ultimate culprit, and Muslims are called on to condemn the barbarism while facing a backlash that includes harassment and violence. (A June 2015 study of hate crimes against Muslims in Britain found that such incidents spike after "jihadi" attacks.)
The Paris attacks seem to be no exception. A mosque in Peterborough, Ontario, was set on fire Saturday night -- an act that police say was intentional. While no one has claimed responsibility, the president of the local Muslim association believes it was "clearly a hate crime." The U.S. Department of Justice is investigating threatening voicemails left at a St. Petersburg, Florida, mosque, on Saturday in which the caller warned he would "firebomb you and shoot whoever is there in the head." Meanwhile, Muslims in France fear a repeat of what happened after January's Charlie Hebdo attacks, which were followed by a 281 percent rise in incidents of Islamophobia.
Many Muslims are exhausted by what they call the "condemnathon" -- the act of decrying terrorist acts and distancing Islam from them -- and its seeming futility. Nearly every top Muslim official or Muslim organization the world over issued statements of condemnation Saturday -- ranging from the Iranian president to advocacy groups to individual religious leaders.
"After the attacks, the hashtag #MuslimsAreNotTerrorist began trending -- because so many people were saying on Twitter, 'Oh look, it's the Muslims again.' Isn't it sad that we need that hashtag in the first place?" says Wajahat Ali, co-author of "Fear Inc.: The Roots of the Islamophobia Network in America," and an Al Jazeera America journalist who writes frequently about Muslims in America.
"And we Muslims have to engage in what I call the 'condemnathon tour.' If we don't engage in it, it's almost as if we're validating or supporting a vile act. We're supposed to condemn violent actions by violent extremists in a country we've never visited -- or else. And even if we do, the collective group of 1.5 billion Muslims is still indicted, convicted and sentenced," says Ali, pointing to responses from the likes of conservative pundit Ann Coulter, who tweeted that the West needs to "stop importing Muslims."
But there is a difference between some of the online rhetoric that Muslims face in North America versus the powerlessness that some Muslims feel in Europe, says Shahed Amanullah, founder of an organization that works with startups focusing on positive social impact in Muslim communities around the world.
"You have to make a distinction between hype on the Internet and reality. People create that hype online for things like protests -- and then only one or two people actually show up at mosques," says Amanullah, pointing to recent anti-Muslim rallies planned around the country. He attributes that to a better-integrated American Muslim community and a U.S. society that values pluralism and multiculturalism.
"I'm not discounting that online hate can spill over into the real world," says Amanullah, who adds that leading presidential candidates like Republican Ben Carson fuel anti-Muslim sentiment in this country. "But the non-Muslim supporters have outnumbered the protesters in many ways. In Europe, it's totally different. You have mass rallies of tens of thousands of people. Having a such a big rally, saying 'Muslims, get out,' here in America is almost unthinkable."
Indeed, not all Muslims are as worried about repercussions -- yet. Yousuf Chowdhury of Jackson Heights, Queens, says that in New York City, where the Muslim community is so large and relatively insular, much of the Islamophobia growing pains after 9/11 have passed.
Chowdhury, 22, is studying Islamic sciences in a seven-year program at a madrassah in Jamaica, Queens. He says in his neighborhood of mostly Bangladeshi and Pakistani immigrants, news of the attacks is sad but not seen as relevant to their lives.
"The Muslim community in New York is so strong, and people here see Muslims every day. We're not that worried about it," says Chowdhury, who added that in his program, they study how to rebuke groups like ISIS based on Islamic doctrine. "But when I go to other places like California or Oklahoma, that's where it gets to be a problem."
Indeed, community members at halal food stores and restaurants in Jackson Heights seemed to echo the sentiment of Maruf Sunnah, a 25-year-old employee of Mannan Halal Meat: "They [ISIS] aren't proper Muslims. But here, we've recovered from the discrimination."
FOR FREE to continue reading
✔️ Unlock the full content of International Business Times UK for free
offer available for a limited time only
✔️ Easily manage your Newsletters subscriptions and save your favourite articles
✔️ No payment method required
Already have an account?
Log in
© Copyright IBTimes 2023. All rights reserved.