Andy Dalton Released: New England Patriots, Jacksonville Jaguars Are Most Logical Destinations
The Cincinnati Bengals have finally parted ways with Andy Dalton. The team released the veteran a week after using the first pick in the 2020 NFL Draft to select LSU quarterback Joe Burrow.
There were rumors earlier in the offseason that Cincinnati was trying to trade Dalton. With no takers for the 32-year-old, the Bengals decided to cut the signal caller and his $17.7 million cap hit.
Where will Dalton end up for the 2020 NFL season? Only a handful of landing spots make sense if he wants any chance of getting playing time.
The New England Patriots have been linked to Dalton as a possible suitor. After losing Tom Brady in free agency, the Patriots didn't add a reliable starter or draft a quarterback.
Jarrett Stidham was a 2019 fourth-round pick and only attempted two passes as a rookie. Brian Hoyer has been a backup for most of his 11-year career, starting at least 10 games in just one season.
The Patriots appear to have somewhat high hopes for Stidham. With last season's No.1 ranked defense and Bill Belichick still at head coach, New England can potentially repeat as AFC East champions with a competent signal caller.
FanDuel Sportsbook gives Dalton +550 odds to be the Patriots' Week 1 starter. Stidham is a -250 favorite. Cam Newton, who has been a free agent for over a month, has +400 odds to be under center for New England in the season opener.
The Jacksonville Jaguars aren't expected to compete for a playoff spot, and second-year quarterback Gardner Minshew will be given the reins. The sixth-round pick outperformed Nick Foles in his rookie season, throwing for 3,271 yards, 21 touchdowns, six interceptions and a 91.2 passer rating.
Before the draft, Jacksonville was the favorite to acquire Dalton at DraftKings Sportsbook. The Jaguars lack quarterback depth after trading Foles to the Chicago Bears.
Dalton struggled on the NFL's worst team in 2019. The veteran went 2-11 as Cincinnati's starter with 3,494 passing yards, 16 touchdowns, 14 interceptions and a 78.3 passer rating.
Dalton was the Bengals' starter for nine consecutive seasons. He led Cincinnati to five playoff appearances from 2009-2015. The team never made it out of the wild-card round.
Dalton made the Pro Bowl in 2011, 2014 and 2016. He has a career 87.5 passer rating.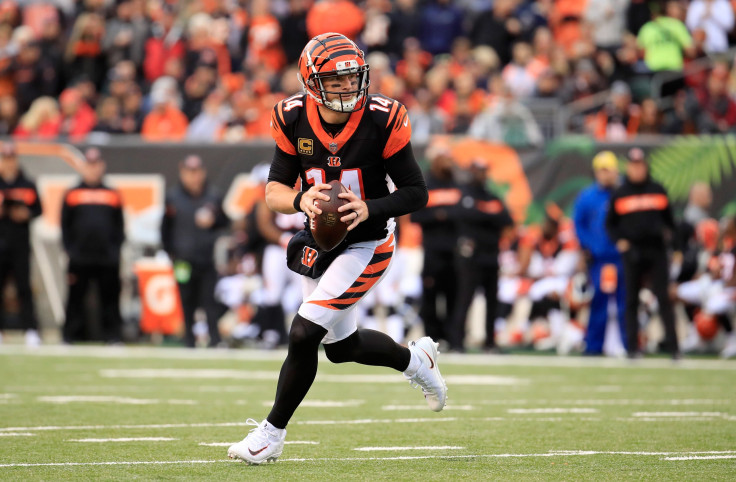 © Copyright IBTimes 2023. All rights reserved.