Angered by US-South Korea Drills, North Korea Reacts With Rocket Test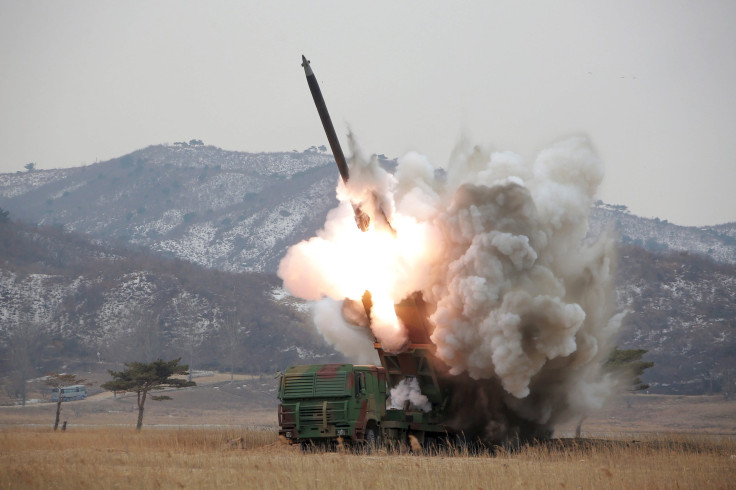 North Korea fired two short-range ballistic missiles into the sea Thursday, probably to show its displeasure over war games being conducted by rival South Korea and the United States, reports said.
The missiles were fired from Hwanghae Province and flew some 310 miles before dropping into the waters off the country's east coast, the Associated Press said, quoting the South Korean military.
North Korea views U.S.-South Korean military drills as a rehearsal for a possible invasion. And this year's exercises, to run until late April, are the largest to be held by the allies.
The rocket launch comes just shortly after the rogue state showed images of North Korean leader Kim Jong Un standing next to what it claims to be a miniature nuclear warhead, even as photos seen on the state's newspaper do not corroborate the claim.
Kim said the warheads were so tiny that they can fit on ballistic missiles.
North Korea is believed to maintain a stockpile of short-range missiles and is developing long-range and intercontinental missiles, and Kim has warned of preemptive strikes against its enemies, causing jitters in South Korea and the region.
The firing of the missiles Thursday increased the already heightened tensions on the Korean peninsula, after the North in January conducted its fourth nuclear test. This month it launched a long-range rocket that earned it new sanctions from the United Nations.
North Korea is believed to have launched a nuclear test Jan. 6 and launched long-range rockets Feb. 7.
The sanctions ban North Korea from exporting gold, titanium, vanadium and other minerals. South Korea and the U.S. have also each imposed their own sanctions. South Korea shut down the Kaesong Industrial Zone, which employed 50,000 North Korean workers in Seoul, and the U.S. will sanction North Korean banks. And the Philippines last week became the first country to follow the U.N. order, holding a North Korean ship in the northeastern port of Subic after it delivered a consignment of agricultural products.
© Copyright IBTimes 2023. All rights reserved.