Another Crude Oil Train Exploded In Canada, And It's Still Burning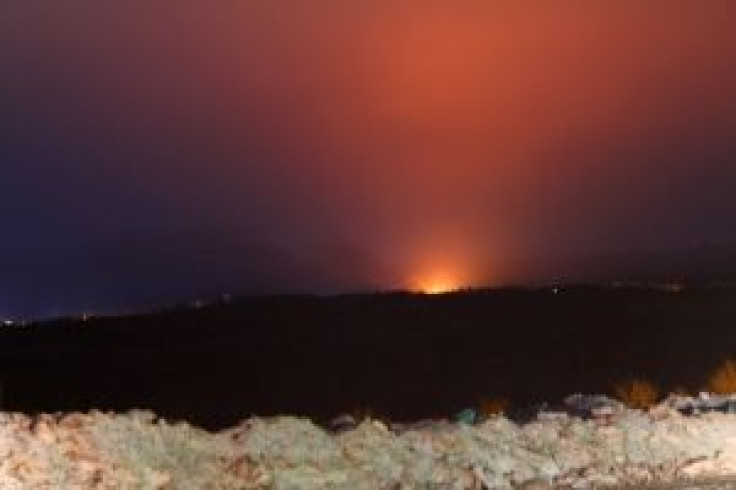 In the latest in a series of recent accidents involving crude-oil transport by rail, a train carrying crude oil and propane derailed at 7 p.m. Tuesday evening near the city of Plaster Rock in New Brunswick, Canada. The resulting fire burned throughout the night, and Wednesday morning there was a major concern about possible propane explosion.
The Canadian National Railway train was traveling from Toronto to Moncton, New Brunswick, when it derailed and caught fire.
"I saw a great big cloud of orange smoke and the flames were really high in the air," said J.D. Saddler, a resident of Plaster Rock, just miles away from the accident, to the CBC. "I think probably a lot of people are scrambling right now."
According to Jim Feeny, director of public affairs for CN Rail, the train had 122 cars, but only 17 came off the tracks, including one locomotive. Last night, officials were unable to determine whether the derailed cars contained the hazardous material – but this morning first responders confirmed that they did.
"The biggest concern is the propane cars," said Plaster Rock Fire Chief Tim Corbin in a statement Wednesday morning. "If they happen to explode, we're looking at major damage."
The train conductor is safe and no injuries have been reported so far, but about 45 households in the area have been evacuated.
Hazardous materials experts from CN and the Transportation Safety Board of Canada are making their way to the scene to make further assessments.
This is the latest in a string of oil train accidents in North America over the past year. The most devastating incident was in July, when a runaway train carrying 72 tank cars of crude oil derailed, causing an explosion in Lac-Mégantic, Quebec, killing more than 42 people. Since then, there have been similar derailment accidents in Alberta, Alsaka, and North Dakota which resulted in massive fires and evacuations.
© Copyright IBTimes 2023. All rights reserved.