Another Latin American Leader Diagnosed With Cancer: Colombia's Santos Joins Grim List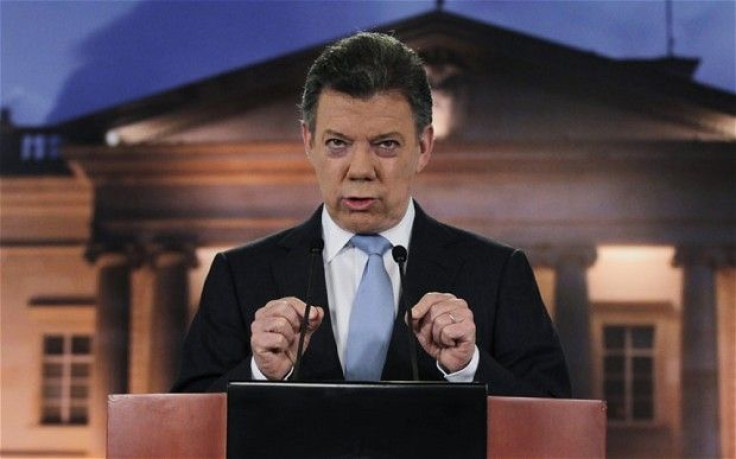 The president of Colombia, Juan Manuel Santos, said he has been diagnosed with prostate cancer and will undergo surgery on Wednesday.
"I have carried out all the routine exams recommended by the doctors, and there has been an abnormal growth of the prostate-specific antigen," Santos said in a statement.
"With God's help, this will turn out to be only one of those challenges we all have to face in life."
Santos, 61, who indicated that the tumor was detected early, believes he has a very high (97 percent) chance of recovery.
The president is in the midst of preparing for historic peace talks with rebels from the leftist Revolutionary Armed Forces of Colombia, or FARC, militant organization after almost five decades of conflict.
Santos, who has been in power for more than two years, is the latest leader (or former leader) of a Latin American nation to have to confront cancer.
Dilma Rousseff, the current president of Brazil, disclosed in April 2009 that she was undergoing medical treatment for an early-stage axillar lymphoma, which is cancer of the lymphatic system. By September of that year, she finished her radiotherapy treatment and declared she was cured.
Rousseff's mentor and immediate predecessor, Luiz Inacio Lula da Silva, disclosed he had contracted throat cancer (after a lifetime of smoking) in October 2011. Following a series of chemotherapy and radiotherapy sessions, he announced his full recovery in March 2012.
In August 2010, President Fernando Lugo of Paraguay was diagnosed with the early stages of a malignant tumor. By January 2012, he had made a full recovery.
Perhaps the highest-profile case of a Latin leader facing cancer is the ongoing saga of Venezuelan President Hugo Chavez, whose condition in the summer of 2011 was regarded as a mystery to the public for many months and sparked calls from the opposition that he step down.
Chavez reportedly received periodic medical treatments in Cuba (during which time he would not be seen in public for as long as a week at a time), raising questions about his viability as the country's leader. Moreover, information released by the Caracas government on the president's condition was frequently confused and contradictory.
As of July, Chavez claimed he had fully recovered (a few months prior to national elections), although questions remain about his actual health.
"I feel in very good spirits, optimistic, believing in what we're doing, in what we will do in life, and, well, my life is in the hands of God and the people, now more than ever," he told local media a few weeks ago.
Another prominent female Latin head of state, Cristina Fernández de Kirchner, the president of Argentina, presented an odd twist on the cancer front. In late December 2011, her spokesman announced that she had been diagnosed with thyroid cancer and was scheduled to undergo surgery. However, one month later, the government said she was misdiagnosed.
According to the Pan American Health Organization, or PAHO, cancer rates have been soaring in Latin America and the Caribbean. In 2005, about 480,000 people in this region died from cancer -- by 2030, that figure is set to triple to more than 1.6 million.
The highest cancer mortality rates were found in Uruguay, Barbados, Peru, Argentina and Chile.
The only sitting U.S. president who was diagnosed with cancer was Ronald Reagan (colon cancer in 1985 and skin cancer in 1987).
© Copyright IBTimes 2023. All rights reserved.