Anthony Joshua Open To Facing Tyson Fury If Wilder Fight Doesn't Happen
Unified heavyweight champion Anthony Joshua is open to facing Tyson Fury if the proposed April 2019 fight with Deontay Wilder does not come to fruition.
It was expected that Joshua would face Wilder, the World Boxing Council heavyweight champion, in a title unification clash that would see the winner become the first undisputed champion to hold all four major heavyweight titles.
However, after multiple delays, the World Boxing Association ordered Joshua to fight his mandatory opponent in Alexander Povetkin, putting an end to a meeting with Wilder for now.
"AJ" was later booked to fight at Wembley Stadium on Sept. 22 and April 13 next year, with the first encounter against Povetkin being made official last week. It paves the way for Wilder to face Joshua in the second Wembley fight as the latter's promoter Eddie Hearn and his team have claimed to have put a $15 million offer on the table for the American.
However, "The Bronze Bomber" is still unhappy with the terms and if negotiations persist the same way as it has throughout the year, Joshua is more than happy to face another unbeaten heavyweight in Fury who is making a comeback this year.
"Fury can be the size he wants to be," Joshua told reporters, as per ESPN. "There's no stopping him from stepping up. If the Wilder fight didn't happen, I would happily fight Fury. He's not in condition. He's still two stones over to when he fought [Wladimir] Klitschko. Even though he's lost weight he's still two stones over his peak weight. When he's a couple of pounds over, half a stone over, then I'll say he's at his peak again."
"What does he do, two sessions a day? I would rather do two boxing sessions a day. Why would you do one boxing session and one run? Are you trying to be a part-time boxer and a part-time track runner? Get in the gym. Focus on your gym work. That's what Klitschko did. The best fighters spent more time in the gym than anywhere else," he said.
Joshua won three of his four heavyweight titles by defeating Klitschko in April last year, however, it was Fury who inflicted the Ukrainian's first defeat in over 11 years when he upset the world to become the heavyweight champion in November 2015.
He would later vacate his titles due to depression and a failed drug test as he notoriously gained a lot of weight in his time away from the ring. However, the Briton is on the comeback trail, having shed a lot of pounds before his win over Sefer Seferi last month — his first fight in 31 months.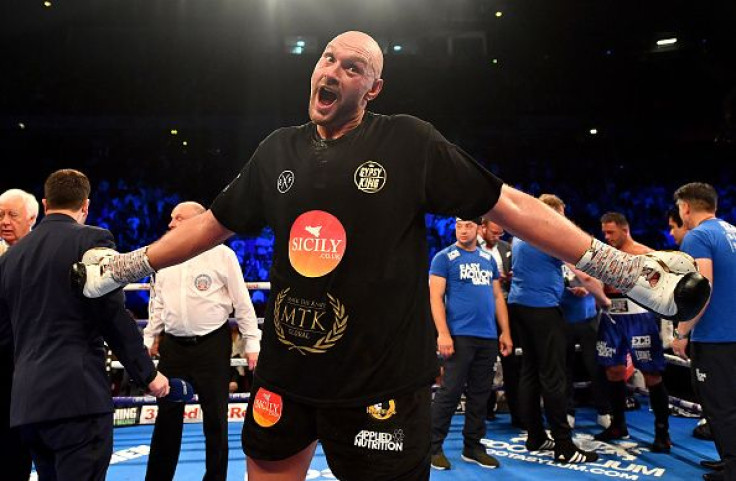 Fury is scheduled to fight again in August and has sparred with Joshua on social media repeatedly in the past in what many are calling potentially the biggest fight in British boxing history.
However, Joshua is wary about Fury's claims that he wants a fight right now.
"He was watching the Muhammad Ali documentary and thought it was Ali, Foreman and Fraser all over again," Joshua added. "But it's not, it's a different type of boxing and he's not ready for that."
In the end, Joshua still prefers a fight with Wilder should he get the victory against Povetkin.
"I don't honestly see a reason why the Wilder fight will not get made. It's like telling the kids there 'aint no Santa," Joshua explained. "I don't believe this fight shouldn't happen next if I get past Povetkin."
"We came close a few times to getting it done. We've actually got months and months of history to play with to get it done so I don't see why not. I've signed the contract already. When Wilder ranted with that social media stuff 'Hey man I'm signing the contract'. No, no, get it done, and then we'll announce it," he added.
© Copyright IBTimes 2023. All rights reserved.