Anti-ESG Movement: Florida Leads The Way In Canceling 'Woke Investing'
KEY POINTS
It came as a sharp rebuke of the asset manager's investing policies
Florida Gov. Ron DeSantis has been vocal of his anti-woke sentiments
Anti-ESG advocates want to stop firms from following conscious investment principle
Florida on Thursday pulled $2 billion in retirement funds from "woke" organization BlackRock in the largest anti-ESG disinvestment. This move came after Republicans gained control of the House in the November midterms.
Let's dive deeper into what it means.
In September, the American Conservative Union sent a "woke congressional leadership pledge" to GOP lawmakers who had sought the union's endorsement.
"The first step to earn our support is a new shared strategy to reprimand corporations that have gone woke," the letter read, reported USA Today. The union, which also organizes the annual GOP gathering named the Conservative Political Action Conference, asked lawmakers to make it punishable by law for corporations operating on "radical left policies" such as paying for employee abortions, supporting the Black Lives Matter (BLM) movement, or promoting "radical gender theory and gender modification onto our children."
"With new, conservative majorities, these same corporate woke elitists will be back on Capitol Hill, trying to cozy back up to conservatives," the letter warned. "CPAC calls on you to take a stand and not allow this to happen without a renunciation of woke policies."
After gaining control of the House following the midterms, Republicans like Kevin McCarthy and Marjorie Taylor Greene among other conservative figures threatened woke organizations against political consequences for supporting Democrats and cutting off GOP politicos who backed former President Donald Trump's election fraud claims.
"There are going to be investigations coming," Greene previously said.
Later, after winning reelection, Florida Gov. Ron DeSantis also expressed his anti-woke sentiments. "We fight the woke in the Legislature. We fight the woke in the schools. We fight the woke in the corporations," DeSantis said in his victory speech. "We will never, ever surrender to the woke mob. Florida is where woke goes to die."
Amid this development, Florida decided to pull retirement funds from BlackRock as part of DeSantis's anti-ESG stance - a new trend that appears to be gaining a strong footing in conservative America.
Anti-ESG advocates want to stop corporations from following environmentally and socially conscious investment principles, commonly referred to as Environmental, Social, and Governance (ESG) principles, Heated reported.
Billionaire Elon Musk recently extended support to the anti-ESG movement. "I am increasingly convinced that corporate ESG is the devil incarnate."
Canceling "woke investing" is one of the priorities of the anti-ESG movement. In 2022, at least 17 states have "proposed or adopted state legislation limiting the ability of the state government, including public retirement plans, to do business with entities that are identified as 'boycotting' certain industries based on environmental, social, and governance (ESG) criteria or goals or companies that consider ESG factors in their investment processes," a blog read.
On Aug. 23, DeSantis approved a resolution to stop the state's $186 billion pension fund from considering ESG governance factors while making investment decisions, as per SPGlobal. This move came on the heels of the Biden administration's climate accountability rules which required businesses to track and report emissions - a measure highly criticized in GOP-dominated states.
It is important to note that DeSantis's move on ESG stretches beyond the economy.
Earlier this year, the Walt Disney Co. lost its special tax district at its Orlando theme park after then-CEO Bob Chapek spoke out against Florida's "Don't Say Gay" policy. He also championed the Stop WOKE Act which, among other things, prohibits businesses from mandating diversity training. The law was partially blocked in federal court in August.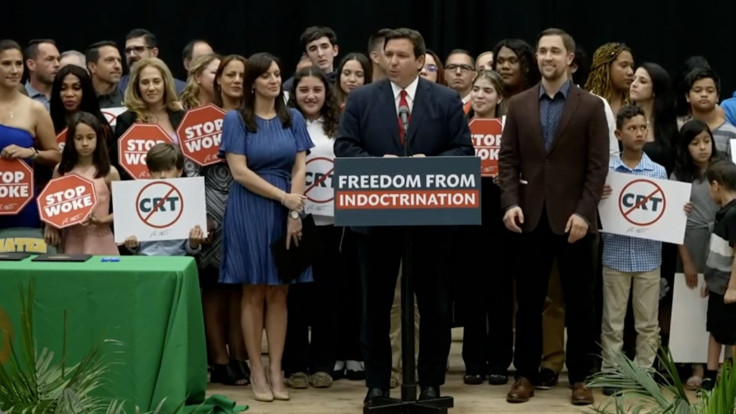 © Copyright IBTimes 2023. All rights reserved.
FOLLOW MORE IBT NEWS ON THE BELOW CHANNELS