'Anti-Gay' Laws: Generational Gap Over LGBT Issues Persists As More Young People Embrace Queer Rights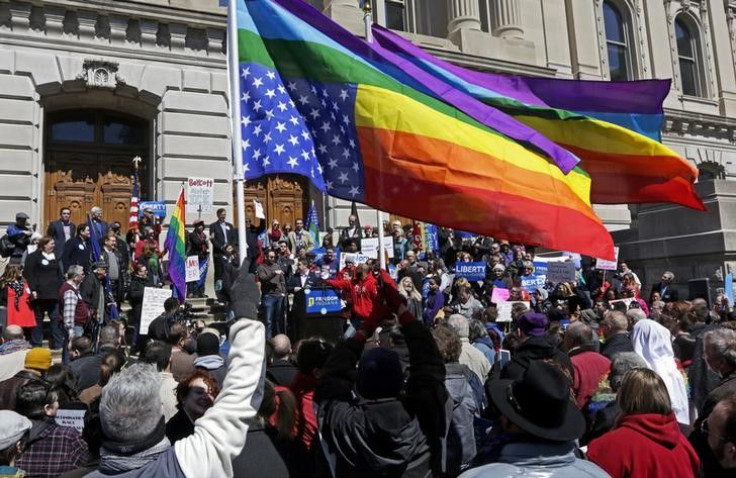 John Jacobson, a sophomore at Ithaca College in New York, had some troubles when he came out to his parents. "I had to come out to them two or three times for them to fully accept it," he said.
Eventually, Jacobson's middle-aged parents came to be more accepting toward the fact that he is an LGBT person, said Jacobson, who identifies as queer. Still, he drew the line there and opted against telling his grandparents.
For families across the United States, conversations about LGBT rights are often shaped by generational divides, a fact underscored Wednesday after Arkansas Gov. Asa Hutchinson said he would not advance his state's controversial Religious Freedom Restoration Act after his son petitioned against the law. The measure, portrayed by critics as an anti-LGBT effort, showed an issue in which "clearly there is a generational gap," Hutchinson said.
The data seems to back up his assertion. A 2014 Pew Research Poll indicated that 54 percent of people support same-sex marriage, as opposed to 31 percent a decade earlier in 2004. A hearty 68 percent of millennials supported same-sex marriage, but that number steadily dropped as age rose. Roughly 55 percent of Gen Xers, 48 percent of Boomers and 38 percent of the Silent generation supported same-sex marriage, according to Pew.
A 2010 poll from NORC at University of Chicago indicated that just 26 percent of people 18 to 29 disapproved of homosexual behavior. The disapproval number steadily rose to 41 percent for people 31 to 39, 41.6 percent for age 40 to 49, and 53.5 percent for age 50-59.
Jacobson said he looks for hints signaling a person's political beliefs before presenting his views about LGBT issues to older people. "From my experience, I approach it a bit more cautiously," he said.
The Religious Freedom Restoration Acts that made headlines in Indiana and Arkansas this week would have allowed businesses and individuals to refuse service to LGBT people. According to a Pew poll, 62 percent of people 18 to 29 said businesses should be required to provide wedding services to same-sex weddings.
Seth Hutchinson, son of Gov. Hutchinson, described his views on Facebook after his father's press conference. "I'm proud to have made a small contribution to the overall effort to stop discrimination against the LGBT community in Arkansas, the state that I love," Hutchinson, 31, wrote. "I love and respect my father very much, but sometimes we have political disagreements, just as many families do."
Young people are often effective when sharing their progressive views with older generations in a bid to persuade them to adopt more liberal positions, said Luca Maurer, program director of the Center for Outreach LGBT Education, Outreach and Services at Ithaca College. Maurer said young people as a group are "much more interested in having this as a public discussion."
Dot Brauer, director of the University of Vermont's LGBTQA center, said the divide among generations exists, but has changed as gay rights and gay marriage laws have become more mainstream. Before, Brauer said, LGBT "lives were invisible to the general public," to the point they were almost mythologized. "That's just completely changed," she said.
National leaders who have announced evolving views on LGBT issues have often thanked younger generations for shifting their positions. In one prominent example, Charles J. Cooper, the conservative lawyer who defended Proposition 8, California's ban on gay marriage, eventually ended up planning his gay daughter's wedding, according to the Washington Post. Republican former Vice President Dick Cheney changed his views on gay rights after his daughter, Mary, came out publicly as gay and married a woman.
Knowing someone who is LGBT is the straightest line to supporting gay causes, Maurer said. But while some young lesbian, gay, transgender or bisexual people might be able to shift perceptions among their elders, it is still often a large gap to navigate. LGBT students often feel disconnected from different generations, especially when coming out.
"In my work [at Ithaca], I do hear from students in general who feel they'll get a much better reception from their peers," Maurer said.
© Copyright IBTimes 2023. All rights reserved.