Anti-Muslim Filmmaker Nakoula And Family Go Into Hiding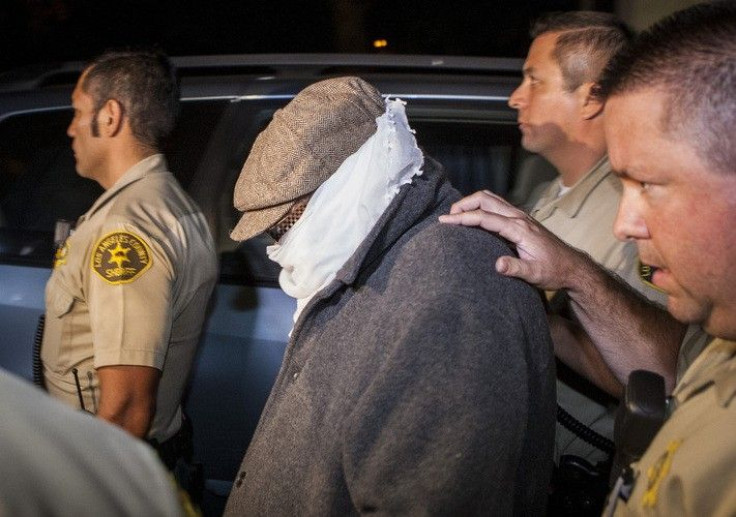 The family of a California man linked to an anti-Islam film that is still triggering global protests went into hiding before dawn Monday, with sheriff's deputies escorting them from their home to an undisclosed location, authorities said.
The family of Nakoula Basseley Nakoula, 55, was accompanied from their house in the Los Angeles suburb of Cerritos before dawn on Monday, Los Angeles County sheriff's spokesman Steve Whitmore told Reuters.
Video posted by ABC News showed several people bundled up in hoods and dark glasses being led out of the house by lawmen.
"They are gone," Whitmore said, adding that deputies drove the family to an undisclosed location to meet Nakoula, who left the home voluntarily just after midnight Saturday to be interviewed by federal authorities and has not returned.
"They decided they would be safer where they could move about and live a normal life," he said. "All we did was pick them up and reunite them with Mr. Nakoula."
Whitmore said he did not know where the Nakoulas were headed but they were not expected to return to the home in Cerritos, which has been besieged by the media for nearly a week.
"It's not our concern anymore at all," Whitmore said. "What we do know and what they told me is that for the time now and for the immediate future, for the weeks and months to come, they will not be returning to this address."
U.S. officials have said authorities were not investigating the film project itself and that even if it was inflammatory or led to violence, simply producing it cannot be considered a crime in the United States, which has strong free speech laws.
But Nakoula, whose name has been widely linked to the film in media reports, was interviewed by federal probation officers on Saturday after leaving the house under police escort.
Nakoula was sentenced to 21 months in prison after he pleaded guilty to bank fraud in 2010, a term that was to be followed by five years on supervised release, according to court documents. He remains on probation in that case.
Authorities have said that probation officials were looking into his possible violations of the terms of his release linked to the making the YouTube film. Those terms restrict him from accessing the Internet or assuming aliases without the approval of probation officer.
The home in Cerritos, which now stands unoccupied, was used in filming a scene from "Innocence of Muslims," according to a crew member who spoke to Reuters on the condition that his name not be used.
In film clips circulating on YouTube, distinctive front doors shown from the inside in one scene were nearly indistinguishable from the front doors of Nakoula's house as seen from the outside.
Both have frosted glass, semi-circular cut-outs with stenciled rose designs in the wood double-door entrance.
Nakoula had originally used the pseudonym Sam Bacile, telling reporters he was an "Israeli Jew" and that the film had cost about $5,000,000, which came from wealthy Jewish friends.
But Nakoula, who is actually an Egyptian-American Coptic Christian, later told authorities that he and his son, Abanob Basseley, 21, were responsible for producing the movie, ABC reported. He reportedly said the film cost between $50,000 and $60,000 and was shot in a little over 12 days. Authorities say he claimed the money for the movie came from his wife's family in Egypt.
FOLLOW MORE IBT NEWS ON THE BELOW CHANNELS