Antonio Brown Injury: Where Is PacMan Jones' Apology After Pittsburgh Steelers WR Is Ruled Out?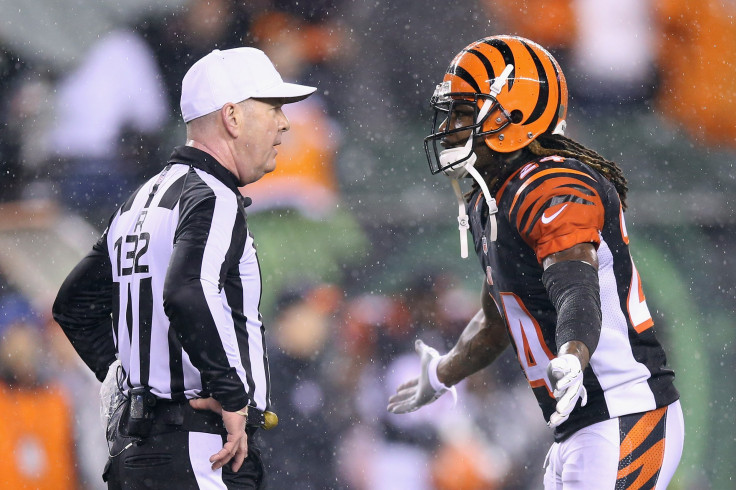 Update [4:02 p.m. ET]: Jones has stayed true to his word and apologized to Brown by posting a video to Instagram.
Original Story
Someone owes someone an "I'm sorry." And no, this has nothing to do with Justin Bieber lyrics.
The Pittsburgh Steelers have ruled star wide receiver Antonio Brown out for their AFC Divisional Round playoff against the Denver Broncos, meaning Bengals cornerback Adam "Pacman" Jones may have to stick to his word and apologize to Brown.
However, Jones has yet to do so on either his Twitter or Instagram accounts.
Earlier this week, Jones accused Brown of flopping after he took a nasty hit to the head from Bengals linebacker Vontaze Burfict in Pittsburgh's comeback victory against Cincinnati in the AFC Wild Card. Burfict was flagged for a personal foul, which gave the Steelers position to kick the game-winning field goal. Jones was also flagged for touching a referee, and ranted on Instagram against the call.
Jones also said Brown "winked" at him after he was taken off the field, and that Brown deserved an Academy Award for his "performance."
"Man, Antonio Brown was not hurt. I know he was faking," Jones said on "The Dan Patrick Show" on Monday. "Go back and look at the play."
Brown hasn't participated at Steelers practice all week and he's still under the NFL's concussion protocol, leaving Pittsburgh without their two-time first-team All-Pro wide out.
Jones later told Brandon Marshall on Showtime's "Inside the NFL" that he would apologize to Brown under one condition.
"If Antonio Brown doesn't play [vs. Denver], will you apologize and say that you were wrong [about him faking it]?" Marshall asked.
To which Jones replied: "I will. I will. If he [doesn't] play."
The vicious hit, taken directly at Brown's head, cost Burfict the first three games of the 2016 season.
© Copyright IBTimes 2023. All rights reserved.