Antonov, Maker of World's Biggest Plane, Shows Business Risks Of Ukraine-Russia Crisis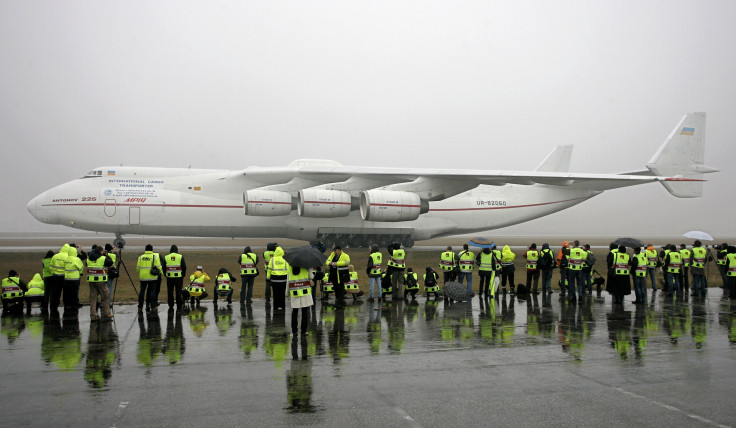 KIEV, Ukraine -- Ukraine is a country on the verge of bankruptcy, struggling to contain an uprising and to remain united. It's also an aviation superpower in its own right, punching way above its size -- thanks to its Antonov flying giants. In a world where aviation records are usually in the hands of the Americans, or sometimes the Russians, Ukraine has managed to become the undisputed leader in cargo planes. The world's biggest aircraft, the Antonov 225, is made here on the outskirts of the Ukrainian capital, as is the smaller but hugely successful Antonov 124.
Antonov says it has also managed to keep a working relationship with its Russian suppliers at a time when Ukraine appeared to be on the brink of war with Russia, which annexed Crimea and is accused by the Ukrainian government of supporting pro-Russian separatists in the Donetsk region. The aircraft company says its supply chain has worked throughout the months of turmoil.
"The Ukrainian political crisis has not caused any disruption in company operations," Dmytro Kiva, the president of Antonov, said. "We are working with Russian companies on civilian aircraft, such as the regional airliners AN-148, AN-158 and AN-140." Around two-thirds of these planes' components come from Russian manufacturers. "We are receiving everything we need from Russia," Kiva said. The AN-148 and its enlarged version, the AN-158, are also produced by Voronezh Aircraft Production Association in Russia. Another Russian company, Aviakor, also manufactures the AN-140 turboprop regional airliner in Samara.
But that's where the cooperation ends. Joint work on a military project that involved working closely together, the AN-70 medium-range transport aircraft, is now suspended.
"Even before the latest developments, we no longer had very close relations with Russia as they had begun to slow down their cooperation for politically motivated reasons," Kiva said during an interview in his office.
That's ironic for a company that used to embody the cooperation between Russia and Ukraine. Antonov was established in Novosibirsk, Russia, in 1946, and in 1952 it was relocated to Ukraine's capital, which went on to become a major aeronautical industry center in the USSR.
Oleg Antonov, who founded the company and oversaw it until his death in 1984, "was a Russian but he loved Ukraine as much as any Ukrainian patriot," Kiva said.
But before that relationship soured, it produced something unique, the biggest airplane that has ever been made. Built to carry the Soviet space shuttle Buran, the six-engined AN-225, or Mriya -- "Dream," in Ukrainian -- is 84 m (276 ft) long. There's only one flying, and it risked being grounded for good shortly after its maiden flight in December 1988. The Buran was canceled, the USSR collapsed, and the Mriya was stored until 2001.
Now it's a sensation followed by camera-toting enthusiasts everywhere it goes, chartered by companies that need to transport things too big even for a Boeing 747. It holds the record for the heaviest object ever transported by air, a 187 metric ton (415,000 pound) generator for a gas power plant in Armenia that landed in the capital Yerevan from Frankfurt in 2009.
High demand for the Mriya and its smaller siblings means Antonov can charge hefty prices to charter the planes, but the company is selling far fewer aircraft than its Western competition. Its mainstay, the AN-148 series of regional jets, has sold 60 units, and only within the ex-Soviet world plus Cuba and North Korea. Embraer from Brazil and Bombadier from Canada have sold a combined 2,000 of their competing models.
While Kiva minimizes the affect that deteriorating relations with Russia may have on the Ukrainian aircraft maker, some experts disagree. Lilit Gevorgyan, senior economist at IHS Global Insight in London, predicts turbulence ahead should Antonov reorient its focus away from Russia toward Western markets.
The state-owned company is an important military hardware producer and exporter to Russia's military industry sector, Gevorgyan said -- and Russia could decide to produce on its own what Antonov makes now, provided it wants to spend "an estimated $20 billion and at least 3-5 years required for product localization in Russia."
For Ukraine, a closure of Russian markets due to the political conflict would mean "the loss of multi-billion contracts (and) a potential brain drain from eastern regions (of Ukraine) to Russia," and a shift toward Western customers "may not fully materialize due to compatibility issues."
Antonov faces the same problem as other Ukrainian companies, especially those located in the east and south, that not only export to Russia but are also dependent on Russian capital or have sold their intellectual property rights to Russian partners, Gevorgyan said. Unlike Russian aircraft makers, however, Antonov produces military, cargo, and passenger aircraft, "all under one roof," she said. Russia lacks a similar company with a full cycle of integrated design and production line, she added. That has contributed to reducing the company's reliance on third parties.
Still, the company appears confident about the outlook for its business. A source familiar with Antonov's operations said there have been expressions of interest from Asia about an order for two AN-225s. A company spokesperson declined to comment.
In his Kiev office, Kiva displayed a large collection of books, one of them with an image of a Boeing 747 on the cover. "The Unsurpassable B-747," was its title in Russian. It was a translation of a book by Joe Sutter, the chief engineer and designer of the Jumbo. "Sutter designed the best passenger plane in the world, the 747, you know," Kiva said. "But the best cargo planes in the world are Antonov," he added with a laugh.
(Anna Pyatetska contributed to this story)
© Copyright IBTimes 2023. All rights reserved.
FOLLOW MORE IBT NEWS ON THE BELOW CHANNELS