Apple Inc. (AAPL) Celebrates Chinese New Year By Slashing IPhone 5 And MacBook Prices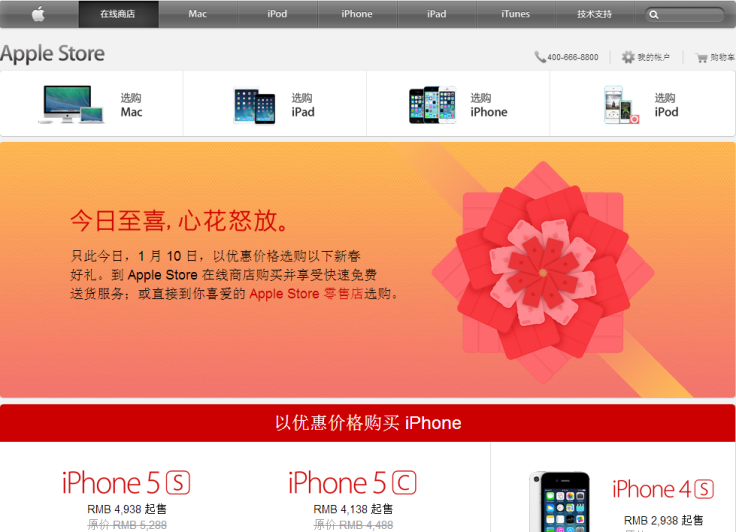 Ahead of Chinese New Year holidays and the official start of its partnership with China Mobile (NYSE:CHL), Apple Inc. (NASDAQ:AAPL) is having a special one-day sale on its Chinese website.
Apple is hoping to take advantage of Lunar New Year as the Chinese get ready for their biggest holiday of the year by shopping for presents. On Friday, Apple offered a one-day sale, shaving 350 yuan ($57.83) off of all iPhone models. You can get an iPhone 5S for just 4,938 yuan and an iPhone 4 for 2,238 yuan.
There are also savings on iPads. The mini is going for 2,668 yuan, 220 yuan cheaper than it was previously, while the newer iPad Air is priced at 3,298 yuan, 290 yuan less than the regular price.
Apple's popular MacBook models have all been adjusted downward by 700 yuan. The MacBook Pro is now just 8,588 yuan, with basic specs.
Other Asian nations that celebrate Lunar New Year, including Malaysia, Singapore, South Korea, Thailand, Taiwan and the special administrative region of Hong Kong, will also benefit from a similar sale on their own official Apple websites and stores.
After closing the deal with China Mobile, the largest Chinese mobile carrier with 760 million users as of December, Apple has been steadily expanding its presence in the market. On Friday, the company opened the newest flagship store in Beijing, its 10th brick-and-mortar store in mainland China.
Earlier this week, Apple also partnered with China's domestic e-commerce giant Alibaba to open an official Apple retail page on Tmall.com, a flagship online shopping site that hosts established global brands.
However, if you are willing to commit to a contract, you can score an iPhone for even cheaper. In response to the Apple-China Mobile deal, China Telecom Corporation Limited (NYSE:CHA), one of the other major state-owned mobile carriers, has adjusted its prices as well. A 16-gigabyte iPhone 5S with a monthly minimum service fee of 189 yuan now costs just 4,488 yuan, 800 yuan less than before, while the same handset with a monthly minimum of 289 yuan now costs 4,000 yuan, 1,288 yuan less than before.
© Copyright IBTimes 2023. All rights reserved.