Apple Inc.'s iOS 9 Spotlight In-App Search Could Make Google Obsolete By Indexing Content From Every App You Own (And Some You Don't)
As iOS 9 rolls out to hundreds of millions of Apple devices around the globe, it's not Apple News, the iPad's new multi-app screen or the improved Apple Maps features that matter most. The most consequential feature in Apple's latest mobile software is the redesigned Spotlight, now capable of searching within apps. It's a key part of Apple's effort to dominate mobile and local search by steering users toward apps -- at the expense of rival Google's dominance in Web search.
Apple's Spotlight search in iOS 9 has been retrofitted to be capable of searching for content found inside of apps from the Apple App Store. This feature shows users information from apps whether or not they've already got the apps installed on their devices. It's an interesting new twist that many developers hope will help their apps get discovered more easily and, in turn, drive more installations.
"The stats are very much that people love apps, so what Apple is doing is making it even easier for people to find apps for the kinds of things that they want," said Richard Forsythe, chief technology officer at NoteStream, a learning app that shares expert searchable content.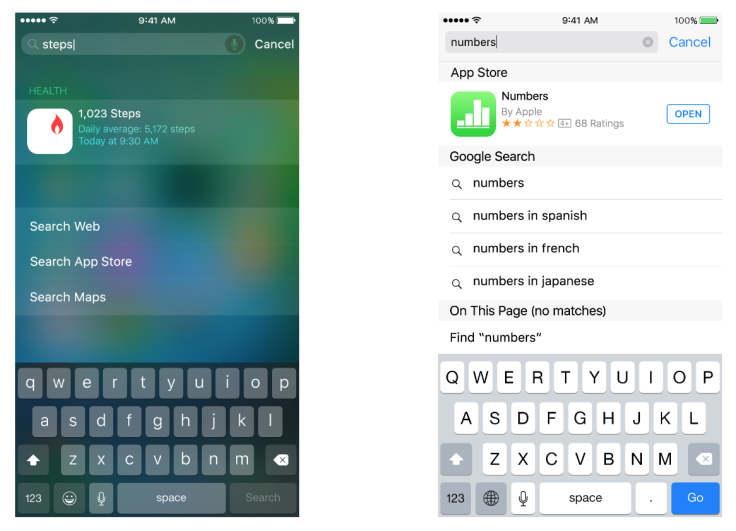 For Developers, A Great Opportunity
Prior to iOS 9, Spotlight search on the iPhone and iPad had been limited to searching for user files within Apple-made apps, such as a song on iTunes or a friend's details in Contacts. The last few years, Spotlight has also been hidden away, with users having to tap, hold and slide down on their phones just to access the feature. But in iOS 9, Apple is making Spotlight a major part of its mobile software. Now consumers will be able to access it more easily (simply swipe right) and instantly get tons of useful information, such as recommended apps and contacts, nearby places and relevant news. And that's all before a search even starts.
As users start typing, the feature will surface content from apps in the App Store that have been optimized for it. For example, search for "cheap hotels in San Francisco," and you might see a result from TripAdvisor. Tap, and you'll be taken to a website where TripAdvisor will suggest you download its app for a better experience.
"Search in iOS 9 gives users great new ways to access information inside of your app, even when it isn't installed," Apple said on a help page explaining the new feature. "Using APIs related to search, you decide what content gets indexed, what information to show in search results, and where the user is redirected after tapping a result from your app or website."
If this sounds familiar, it's because this is Apple's first step in doing for apps what Google did a decade ago for websites. "If you're not a big name (developer) and you want to get there, this is a great opportunity," said Andy Ruff, vice president of product at Location Labs by AVG, a mobile security firm.
iPhone Series Over the Years | SpecOut
Treading On Google's Ground
By no means is Apple the first to launch an effort to make in-app searches possible. Google has been at it for a while now, but so far, the search giant has only managed to index 1,000 apps, which is a tiny percentage considering how many apps exist. Apple, on the other hand, is known for rallying developers and getting them to adopt new technologies. Should Apple manage to quickly index thousands if not millions of apps, that could spell big trouble for Google.
"If iPhone users can search all apps from a single source, they may choose universal app search over Google because all of the results will be from sources they already are familiar with and trust," said Jamie Hill, CEO of adMarketplace. "Apple is changing the rules by competing with Google in a marketplace that Apple created and dominates (the app store) rather than Google's home turf (the web search engine)."
Spotlight should become more useful over time as more and more developers optimize their apps for the tool. Although meeting the criteria for Spotlight will require more work for developers, many are expected to adopt Apple's standards because they're committed to the iPhone and have previously seen the benefits of shifting their apps to include new iOS features, said Morgan Reed, executive director of ACT | The App Association. "Think of it from the developer perspective," Reed said. "You've decided to mortgage part of your house in order to build an app for the Apple platform. You're not going to reach that point and say 'I'm upset with what they want to do around core search API.'"
The trick for developers will be cracking Apple's code to ensure their apps show up in Spotlight results. Many developers believe Apple will rank apps based on how much time users spend in those apps, but no one is quite sure. Figuring this out may create the need for developers to hire experts who focus on solely on Spotlight.
"There's only a few of us focusing right now on Apple Mobile Search Optimization, or AMSO as we call it, because it's quite different than the (search engine optimization) that webmasters are familiar with," Forsythe said.
FOR FREE to continue reading
✔️ Unlock the full content of International Business Times UK for free
offer available for a limited time only
✔️ Easily manage your Newsletters subscriptions and save your favourite articles
✔️ No payment method required
Already have an account?
Log in
© Copyright IBTimes 2023. All rights reserved.