Apple iPhone 6 Rumors: Concept Video Flaunts A Bigger 5.7-Inch iPhone Running On iOS 7
At a time when Apple (NASDAQ: AAPL) is rumored to launch a bigger iPhone in 2014 to take on Samsung's "phablets," a new concept video surfaced online on Friday, showing an iPhone in action with a massive 5.7-inch screen.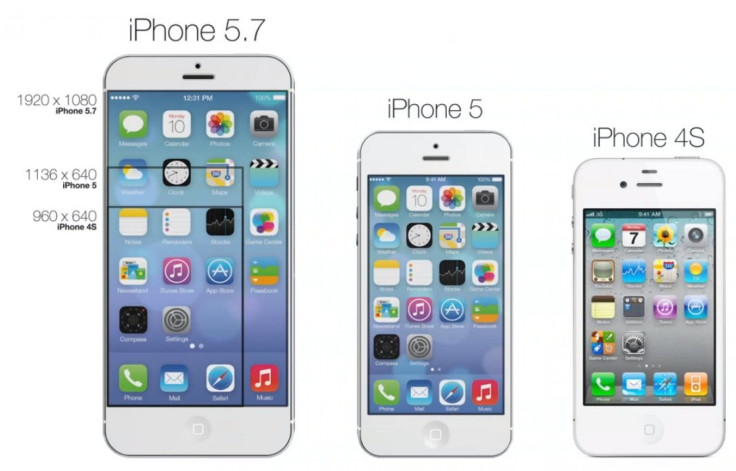 The video, made by T3, runs for more than two minutes, demonstrating a 5.7-inch form factor of an iPhone. The bigger iPhone model has a 1920x1080 retina display at 386 Pixels Per Inch, or PPI, which is a higher pixel density than that of the iPhone 4, iPhone 4S and iPhone 5 that feature a display with 326 PPI.
The concept video has also envisioned the handset sporting an A7 quad-core processor and running the yet-to-be-released iOS 7. The phone's dimensions are shared below:
Height: 151.8 mm (5.9 inches)
Width: 80.5 mm (3.16 inches)
Depth: 7.6 mm (0.30 inches)
Weight: 180 grams (6.34 ounces)
"The biggest concern with upgrading to a full HD 1,920-by-1,080 resolution without blowing up the display itself is that squeezing more pixels onto the same display area would yield little real-life benefits," iDownloadBlog reported.
The report pointed toward a comment made by Dr. Raymond Soneira, president and CEO of DisplayMate, saying that people with perfect 20/20 vision can only spot the "slight" difference between a 720p and 1080p smartphone display.
"For some people, it is possible to tell the difference if we were to sit down and study a [1080p] display and a [720p] display, side-by-side," Soneira said. "If you're really a fanatic and you study images, or you have some professional applications and you're really into displays, then it may make a visual difference for you."
Rumors of a bigger iPhone have been around for quite some now. The most recent report came from Reuters, saying that the next year's iPhone iteration, unofficially dubbed "iPhone 6," may come with at least two bigger screen sizes -- 4.7-inch and 5.7-inch -- as Apple is mulling over expanding its flagship smartphone range.
In April, Jefferies analyst Peter Misek said Apple could launch the "iPhone 6" with a bigger display in June 2014. Misek added the company is getting the supply chain ready for the "iPhone 6," but the device would take at least two or three quarters to develop and manufacture. The delay is due to the time required for making a transition in the handset's display technology.
As for this year's iPhone offerings, Apple is expected to release two versions of the handset toward the second-half of the year -- the "iPhone 5S," the 2013 flagship model and a low-cost version of the iPhone in plastic casing, targeting emerging markets, such as India and China.
© Copyright IBTimes 2023. All rights reserved.