Apple Mountain Lion Release Date Rumored For July 25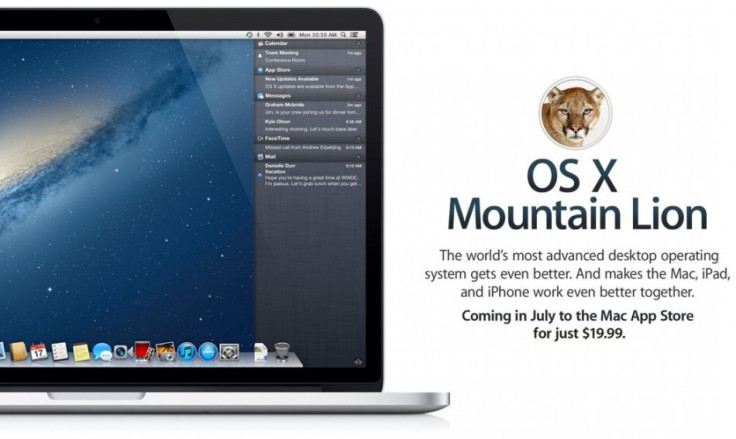 Apple heralds OS X Mountain Lion as the world's most advanced desktop operating system, but even though it was unveiled at WWDC last month, there is no official world on its exact release date.
A new report obtained by 9to5mac, speculates that the Mountain Lion will be released on July 25 in the U.S. and overseas.
The report suggests the release date based on a memo that was sent out to Apple Stores asking some workers to work overnight on July 24, following the announcement of the Q3 2012 earnings report. Last year, Apple launched OS X Lion a day after the Q3 2011 earnings were announced.
The desktop operating software will be available through the Mac App Store for $19.99. Customers who bought a new Mac computer after June 11 will be able to upgrade for free.
New Features:
iCloud
It's more integrated with the Mac than it's ever been before, keeping mail, calendars, contacts, reminders, documents and notes up to date across the Mac, iPad, iPhone and iPod Touch. When you make any changes on your Mac, it's automatically syncs up on other iOS devices so users can pick up from where they left off.
Messages
With Mountain Lion, iMessage comes to the Mac and users can send messages to any device running iOS 5 and above. This means Mac users will be able to start a conversation from their laptop and then continue when they are on the go on their iPhone or iPad.
Notification Center
Email, messages and software updates all appear in one place with Mountain Lion. Whenever users want to see all your notifications in one place, they just swipe to the left from the right edge of the track pad and find them in a simple ordered list.
Sharing
A share button appears throughout Mountain Lion making it easier to share photos, videos and files without having to open up third party apps separately.
Game Center
The game center app on Mac allows users to play anyone on a Mac, iPad, iPhone and iPod Touch.
Gatekeeper
This new addition to Mountain Lion protects users from downloading malicious software on the Mac, giving them more control over which apps are safe to install.
Safari
New features have been added to the browser and surfing the web is smarter and faster than ever. Now there's one simple search field for both search terms and web addresses. As you search, Safari always stays one step ahead. It suggests a Top Hit, popular search terms, and pages from your bookmarks and history to help you find a web page fast.
© Copyright IBTimes 2023. All rights reserved.
FOLLOW MORE IBT NEWS ON THE BELOW CHANNELS