Apple Original Content: Doc On 'Harry Styles: Behind the Album' On The Way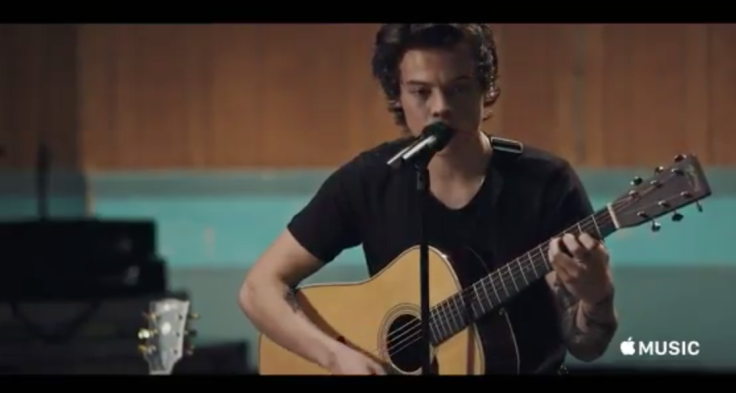 Apple is pushing original content with its new exclusive documentary on former One Direction singer Harry Styles.
Apple Music will stream "Harry Styles: Behind the Album" next Monday. The film will go behind the scenes of Styles' first solo album.
Read: 'Carpool Karaoke: The Series' Delayed Again: Apple Pushes Back Premiere Date To 'Later This Year'
Apple Music shared the trailer for the documentary on YouTube:
<iframe width="560" height="315" src="https://www.youtube.com/embed/3QRpkYlk-SM" frameborder="0" allowfullscreen></iframe>
"The film features exclusive interviews and behind the scenes footage shot in Jamaica, Los Angeles and London during the making of the album and is complemented by Harry and his band performing songs from it for the first time at the world-famous Abbey Road Studios in London," the description of the trailer said.
Apple Music also shared the trailer in a tweet saying: "Moving forward."
Styles is "moving forward" with his career, and so is Apple with its original content. The company is pushing its way into video to boost Apple Music above other rival streaming services, including Spotify, Tidal and Pandora.
Apple's Upcoming Original Video Content
The upcoming iOS 11 update this year is expected to come with a revamped Music App that better showcases Apple original video content.
Apple is expected to release as many as 10 original shows and documentaries by the end of 2017, including will.i.am's Planet of the Apps and Carpool Karaoke. The company is also said to be working on documentaries about hip-hop labels Bad Boy Records and Cash Money Records and another about music impresario Clive Davis.
In a recent interview with Bloomberg, Apple executive Jimmy Iovine said Apple Music "is nowhere near complete in my head," adding the service will "grow slowly" but will move deliberately.
Read: iOS 11 Features: Update Will Push Original Video Content With Revamped Music App
Iovine said he is focused on music-related video, including a possible sequel to R. Kelly's Trapped in the Closet, a rap opera. He has discussed possible ideas with Brian Grazer, the producer of Fox's Empire and Genius, and with director J.J. Abrams. Iovine has also met with Warner Bros. Television about creating a show based on the life of Dr. Dre.
Apple Carpool Karaoke Delayed Again
Meanwhile, Apple has delayed the premiere date of Carpool Karaoke: The Series — again. The show is Apple's first original video series, inspired by The Late Late Show with James Corden segment. Apple was supposed to release the show in April but decided to push the launch to later this year, giving no reason for the delay. Apple reportedly bought rights to the segment last year. Apple released a trailer for the series in February featuring John Cena, Shaquille O'Neal, Ariana Grande, Seth MacFarlane, Alicia Keys, John Legend and other celebrities. The show is expected to pair musicians, sports stars and actors, as well as other famous personalities who go on road trips while singing their favorite songs.
© Copyright IBTimes 2023. All rights reserved.