Apple Removes App From Store Due To 'Illegal' Content After Tim Cook Apology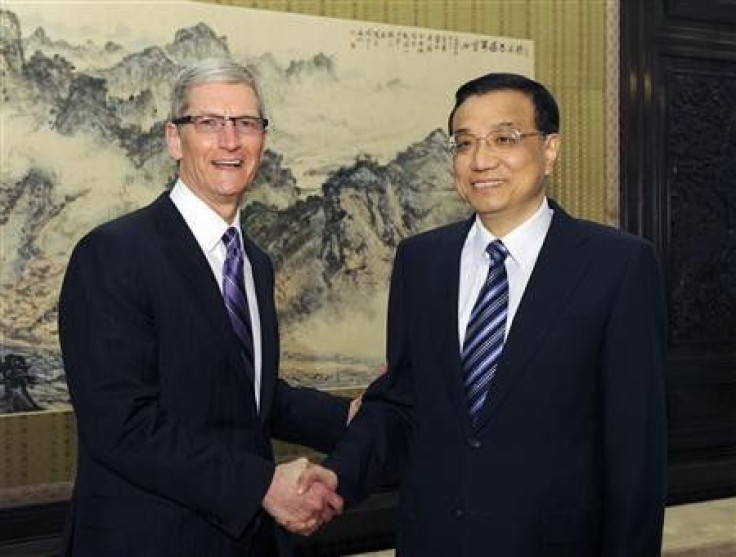 Is Apple practicing self-censorship in China?
According to the Financial Times, Apple (NASDAQ:AAPL) removed an application from China's regional App Store because it enables users to access books that have been banned by China's government.
Hao Peiqiang, the developer of the bookstore application called "jingdian shucheng," was notified by Apple on Thursday that his program was being removed because it "includes content that is illegal in China."
Though Apple's "App Review" team, the people who notified Hao of the removal, did not specify the offending titles, Hao told the Financial Times that three of the 10 books that his application offers were likely the reason behind Apple's decision to bar the application from future downloads. The three books are written by Wang Lixiong, a controversial Chinese writer and Tibet expert.
The sudden adherence to China's censorship policy comes on the heels of Apple CEO Tim Cook's apology to Chinese consumers after the company received a lot of criticism related to accusations of anti-Chinese bias. Media companies, online personalities and netizens all commented on Apple's "arrogance" and inability to operate and communicate with its Chinese audience.
Now, Hao is wondering if Apple has taken heed of China's censorship laws only after the past few weeks' public relations crisis.
"Friends of mine tell me that Apple has had a censorship policy in place for at least two years, so I'm not sure if my app's removal has anything to do with Apple's recent trouble," Hao said. "But the app has been operating normally for the last two months until now without any problems."
Western companies are faced with a difficult task when doing business in China's market. Managing a company's individual policies under the Chinese government's intrusive rules becomes a balancing act. If a company stays steadfast to its own policies, China's government has the capabilities to hurt domestic success; being too obedient to China's laws, companies run the risk of international criticism from anti-censorship groups. Both Google (NASDAQ: GOOG) and Yahoo (NASDAQ: YHOO) were criticized for agreeing to censor content to please China's censors.
Apple, on the other hand, has been able to avoid such conflicts, until the App Store introduced censorious content in the form of applications.
Jeremy Goldkorn, the director of Danwai, a Chinese media and Internet research company, says that this is something he predicted would be an issue.
"This is an issue that we've been waiting to hit the news—there's so much foreign content available through the app store that has not been directly approved by the Chinese government," Goldkorn said.
"In the wake of the recent apology, I imagine Apple China employees have been told to be extra careful about anything at all that could get them in trouble in China and that's why this app has been removed."
© Copyright IBTimes 2022. All rights reserved.
FOLLOW MORE IBT NEWS ON THE BELOW CHANNELS