Apple to Stream Free Paul McCartney Concert on iTunes, Apple TV on Feb. 9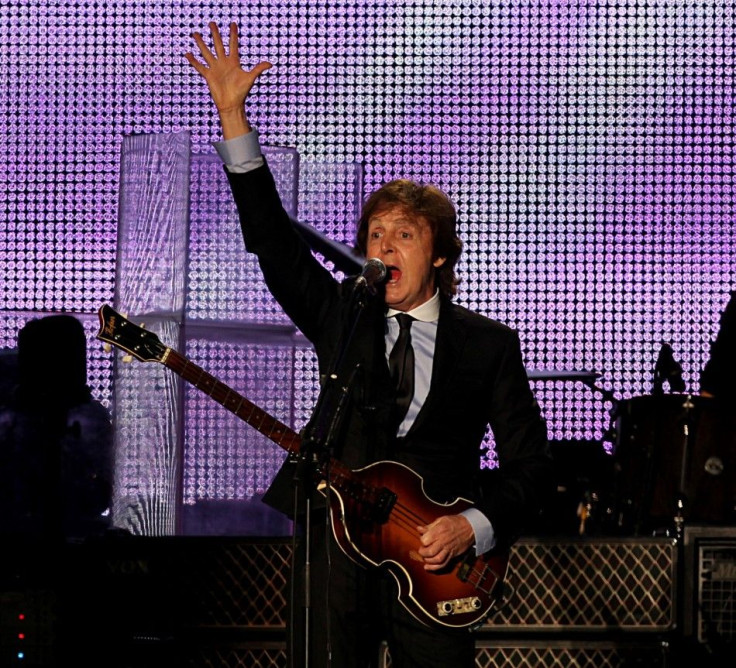 To celebrate the release of his 16th solo album, Kisses on the Bottom, ex-Beatles frontman Paul McCartney will broadcast his live concert commemorating the album on Thursday, Feb. 9, on iTunes. McCartney will perform at Capitol Studios in Los Angeles, where most of his latest album -- a slow, jazzy take on the classic American songbook -- was recorded. Fans can watch the concert starting at 7 p.m. PST directly on Apple's music platform.
McCartney says Kisses on the Bottom originated from lessons he learned listening to his father play the piano as a child.
My dad used to play piano at home. Particularly on New Year's Eve, he was the pianist, McCartney said. They'd roll back the carpet and all the ladies would sit around sippping their rum and black currant, and then after about half an hour of those, they would start singing. I always grew up loving and associating those songs with good times. When I got into songwriting, I realized how well-structured these songs were, and I took a lot of my lessons from him.
McCartney wanted to create a heartfelt ode to the classics, but didn't want to do jazzy, Sinatra-style send-offs.
We decided to keep it very simple, very organic, not go the big bombastic big band way, Our approach was just getting into the songs, singing the songs like I actually meant them.
To help him build an Americana album unlike others developed by musicians like Rod Stewart and Robbie Williams, McCartney enlisted the help of Tommy LiPuma, the Grammy Award-winning producer who's worked with the likes of Barbra Streisand, Miles Davis, Anita Baker and Natalie Cole.
I met him in New york, and we were both interested in the idea, McCartney said. We liked each other. I just started talking to him and he knew all the songs I was talking about and more, so he could suggest some to me, and he turned me onto some songs for this album. He's been producing for a long time, and we've got a lot of things in common.
LiPuma and McCartney said they enjoyed working together because they both took a hands-off approach with each other, but contributed ideas to making the other one successful.
One of the good things about working with Tommy is that he sits in the studio, he doesn't go into the booth, so he's like an extra member of the band, McCartney said. He'll be sitting there saying, 'You know, that groove was just a little fast. We're gonna try it a tad slower.' Sometimes we said 'yeah,' sometimes we said 'no,' but it was a nice way of working. It was good for us all, I think. We started to just have fun with it.
Yet, even with another experienced music veteran in the room, it wasn't enough. McCartney, who has performed on the world's biggest stages with The Beatles, felt overwhelmed by his current situation. He didn't know what his album should sound like.
We came in this studio and I was in the vocal booth a bit intimidated by the whole thing because I've normally got a guitar or piano in front of me to protect me, McCartney said. This time, there was nothing, I was just standing up in front at a mic. I was very nervous about the whole thing, and then the engineer said to me, You know that's Nat King Cole's mic?' And I said 'Ah.' That really put the pressure on.
To help McCartney find his desired tone for the album, LiPuma enlisted the help of Diana Krall, the jazz singer and pianist who has released seven multi-platinum albums, in addition to nine gold and three platinum albums, and who also won three Grammy Awards and eight Juno Awards for her work. Krall is one of the best-selling jazz artists of her time, and the only jazz singer to have eight albums that debuted at the top of the Billboard Jazz Albums.
I think Tommy suggesting Diana Krall to play piano was a good thing, McCartney said. Her dad loves all the old songs... and I found she was a great team player. She wanted to do this stuff the way we wanted to do it.
McCartney had planned on doing a jazz album someday, and some of Kisses from the Bottom has hints of jazz mixed in with classical Americana. Yet, singing an album of other people's material was ultimately difficult for the 69-year-old musician.
It was pretty intimidating for me [to work] with jazz guys, people who know a lot of these songs, know how to play them. They play them a lot, McCartney said. And me, it's not really my world. So I was having to try to find a way in. when they told me it was Nat King Cole's mic, I started to kind of caress the microphone, started to enjoy it. Al Schmidt, who is a great engineer, made it sound so great, so pure. I said, 'I think this is the way forward now.'
After that turning point, LiPuma felt assured that McCartney would discover his voice on the album.
Even before I knew Paul's story, I always felt that he wrote like he had a sense of tradition of the structure of songs, LiPuma said. Of course when I met him and I got to know his background and whatnot, it was very apparent that he did. He was an extension of these standards. What I wanted to make sure of, and we were both on the same wavelength for this, was that we didn't want to do anything that had been done.
The spontoneity of producing the songs, tweaking them until everyone enjoyed the rhythm, felt like returning to his Beatles years.
We started looking at songs and Diana and Tommy would say, 'What do you want to do?' McCartney said. We had sheet music on all [the songs]. While I'd be learning and trying to find my way into the song, Diana would be figuring out her part in an intro. Should we start with a guitar or stride piano? It was very spontaneous and kind of organic, which reminded me of the way we worked with The Beatles. Bring the song in, kick it around, and when we found a way to do it, we said, 'Okay, let's do a take now.' By the time everybody had an idea of what we were doing, we'd learned the song.
McCartney's finished album, which was released on Feb. 7, also included some guest spots from music legends Eric Clapton and Stevie Wonder. The 14 tracks include hits from Fat Waller, Frank Loesser, Irving Berlin and Haywood Harry. The deluxe version of the album includes two additional tracks, including an original from McCartney called Baby's Request, as well as an expanded album package and three postcards.
The musicians have so much respect for Paul, and Paul has a great manner in the studio, LiPuma said. He puts everyone at ease, and he lets you do your job.
Apple, which fought for many years to acquire the rights from Apple Records and EMI to sell The Beatles discography on its iTunes platform, finally acquired the digital rights to one of Steve Jobs's favorite bands in May 2011.
Apple will begin streaming McCartney's Kisses from the Bottom concert, live from Capitol Studios in Los Angeles, at 10 p.m. ET.
© Copyright IBTimes 2023. All rights reserved.