Apple Watch China Holds 'Emotional' Appeal For Young Gadget-Obsessed Urbanites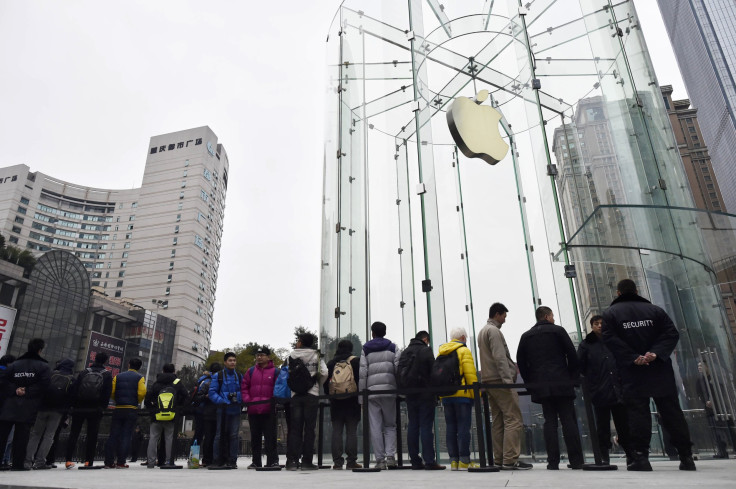 SHANGHAI -- The Apple Watch cannot be ordered online in China until April 10, but at the company's flagship store on Shanghai's Huaihai Road, one of the city's most fashionable shopping streets, interest is already brisk. "Every day, there are so many people coming in to ask if we have the Apple Watch," said a smiling salesman at the door. "I have to tell them to come back next month -- we need time to prepare the tables for the new products!"
Apple Inc. has high hopes for the Apple Watch in China, a country that is not just the source of most of the firm's products, but also a key market for them. Last fall, China overtook the U.S. as the biggest market for the iPhone. Angela Ahrendts, Apple's senior vice president of retail and online stores, has also announced plans for more stores in China, in an attempt to build on this growth.
The Apple Watch may offer a fresh opportunity: In the past, the complexity of dealing with China's state-owned telecommunications operators meant that new iPhone models have always been released months after their debut in the West -- significantly deflating their impact. But the Apple Watch, with no telecom package to worry about, will hit the market here at around the same time as the rest of the world.
For devoted customers such as Angela Dai, a media professional in her early 30s, that's a source of excitement, even pride. "It's the first time we've been in the first batch of countries," she said. "My friends have all been talking about it. So many people in China just love Apple -- it's cool, it's fun, it's modern!"
As elsewhere in the world, questions have been raised about whether young Chinese people, used to getting the time from their smartphones, will buy into the idea. Mimi Yan, a design consultant and former lifestyle-magazine editor, is unconvinced. "The young generation don't have the habit to wear watches to tell the time anymore," she said. "So this may be difficult to change."
Yan said a smart bracelet she bought last year to track her sleep and eating now sits mostly unused. "I'm just not used to having something on my hand."
Emotional Impact
It's a reminder of an unusual dichotomy in China: Luxury watches have enjoyed significant popularity among the country's new rich as status symbols and gifts. But, in other sectors, few among the young generation wear timepieces. Apple enthusiast Dai doesn't believe this will be a problem, however. She admitted she hasn't worn a watch in years, but said that hasn't dampened her interest in the Apple Watch: "My friends and I have all been discussing which wristband to choose: You can have fabric from Italy or leather from Holland."
Clutching her iPhone 6 in its glittery case, Dai suggested the attraction of the Apple Watch is based in part on novelty and in part on its functionality. "You can track your health; if you like someone, you can tap each other on your watch; you can even send someone your heartbeat," she said. "It's a new way of communicating, it sounds really interesting and new -- quite emotional, in fact!"
Some analysts believe Apple could be onto a winner, simply because of the modern Chinese obsession with having the latest gadgets. "Chinese people love new technology and trends," said Duncan Clark, founder and chairman of the tech consultancy BDA China. He added that the fact that the top Chinese electronic-payment platform Alipay and social-media network WeChat -- two of the country's most used online platforms -- have already released apps that support the Apple Watch bodes well. The device could be well-suited to WeChat in particular: "For WeChat voice messages, you just need to push a button to record," he said. "That might work well on a wristwatch."
Apple is well-placed to capitalize on Chinese urban consumers' interest in new technology, thanks to its reputation for innovation and reliability, said Rupert Hoogewerf, founder and CEO of Hurun Report, which tracks trends among luxury buyers in the country. For the first time, Apple this year topped Hurun's list of wealthy Chinese consumers' favorite brands for giving as gifts, overtaking fashion brands such as Hermes and Louis Vuitton, as well as luxury-watch makers. To an extent, this may reflect the impact of China's current anti-corruption campaign, which has cooled sales of more ostentatious luxury brands, Hoogewerf said.
However, Hoogewerf indicated Apple has succeeded in catching the imagination of Chinese shoppers. "People like new products, and the fact that Apple constantly updates its product range means you can always find something new to give as a gift," he said. "It's beating the luxury brands at their own game."
Hoogewerf also argued that even if some younger consumers are less used to wearing watches, there remains "an inherent appreciation of watches in China" among a slightly older generation, who see famous Western brands both as status symbols and as objects to be collected.
China Still Wants Watches
Indeed, there are no fewer than eight luxury European watch stores directly opposite Apple's flagship Shanghai shop in an upmarket mall on the Huaihai Road. In one of these stores, where prices begin at more than $6,000, a sales assistant appeared unconcerned about the potential new challenger on the other side of the road. "In China, many gentlemen still like classic mechanical watches," she said. "They're very collectible. So we don't see a big impact."
However, Sage Brennan, co-founder of the brand consultancy China Luxury Advisors, said Apple has designed the Apple Watch very much with the wallets of Chinese luxury consumers in mind. Apple is "very good at spotting gaps in the market where none existed -- we saw that with the iPad," he said. The fact that the Apple Watch will be available not just in basic models costing some $400, but also in luxury versions priced as much as $20,000, shows it is clearly aimed at Chinese consumers who "want something no one else has," he said.
"In China, Apple has been seen as very fashionable for a long time," Brennan said, "and consumers have been saying, 'Why don't you do a high=end product?' People do care a lot about face here."
Still, the move to capitalize on China's taste for bling may risk alienating some. Sirvina Sheng, a Shanghai-based television producer, said many of her friends in the media and culture world are disappointed that Apple is now marketing such luxurious products. "My friends said they like Apple because it seemed to be about fairness and equality. This will divide people into different categories," she said.
Apple fan Dai acknowledged the most costly Apple Watch will be "as expensive as a car" in China. But she pointed out that the lowest price model will actually cost significantly less than the cheapest iPhone, so "it might actually be more popular among Chinese students than iPhones have been."
Back on the Huaihai Road, Mr. Xu, a 28-year-old chef visiting the Apple store, said he's worried not about the price of the Apple Watch but about practical issues. "I'm not sure about the battery life of the Watch," he said. "So I won't buy it when it first comes out. I want to wait until other people have used it before I decide."
The Copycat Threat
Another potential threat to the Apple Watch's sales in China could come from the ever-present phenomenon of cheaper clones. A scan of the country's most popular online shopping sites shows there are already lookalike products available. The technology may not be the same -- most use the Android mobile operating system -- but the prices are far lower. And in the digital-products mall just down Shanghai's Huaihai Road from the Apple Store, some vendors shrug at the mention of the Apple Watch.
"It's so expensive," said one, showing off his own smart wristband from the Chinese tech upstart Xiaomi. "This tells you how far you've walked, how many calories you've burned, it vibrates when your phone rings," he said, "and it only costs thirty dollars." He also pointed to the $150 Samsung Gear smartwatch, which includes a camera. "Apple doesn't have that!"
For Apple, the growing proliferation of similar products may not be a major threat -- legitimate competitors, and blatant fakes, have been around for many years in China, and they don't appear to have affected the company's market too adversely. For those willing to pay the full price, interest-free loans for Apple Watches may help ease the pain. Dai, the media professional, has already been offered one by her bank.
Dai's well aware that, as with other Apple products, a newer version might come out very soon. But that won't stop her buying one -- and she believes others won't be dissuaded, either. In fact, she said, the Apple Watch could well receive a big boost internationally if the world sees "crowds of Chinese consumers rushing to buy it!"
One thing is certain: If the Apple Watch does not take off in China, it will not be for a lack of advance publicity.
FOR FREE to continue reading
✔️ Unlock the full content of International Business Times UK for free
offer available for a limited time only
✔️ Easily manage your Newsletters subscriptions and save your favourite articles
✔️ No payment method required
Already have an account?
Log in
© Copyright IBTimes 2023. All rights reserved.