April 2013 US Auto Sales: Up For General Motors (GM), Ford (F), Chrysler, VW (VOW), Honda (HMC), Toyota (TM)
[UPDATE: 4:15 p.m. EDT] Here's a glimpse of how the top eight auto manufacturers fared by year-over-year and month-over-month U.S. sales volume in April 2013.
The Detroit Three and Nissan managed double-digit sales growth over April 2012. Honda's sales grew in the upper single digits while Hyundai managed to squeak by with 2 percent growth. Toyota slumped 1.7 percent while Volkswagen saw the biggest decline last month.
March is typically the best month in first quarter sales, followed by an April decline. May's U.S. auto sales have a tendency to be higher than April's, so look for more up-pointing green arrows when sales are reported at the start of next month.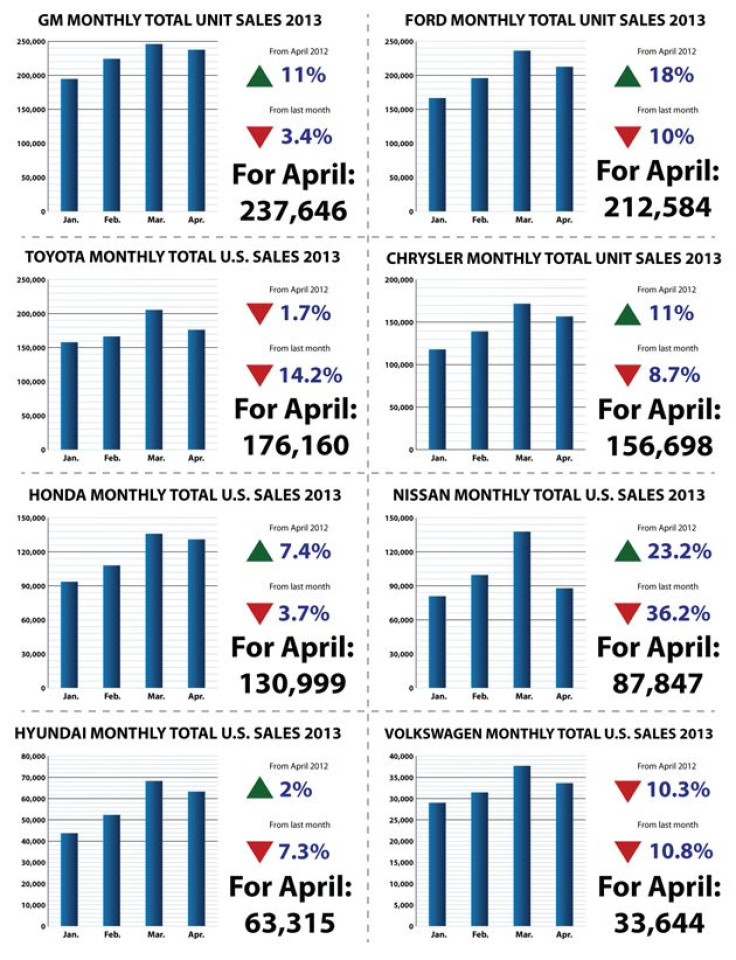 Conclusion: U.S. auto sales performed well overall and stayed in line with an annual forecast of between 15 million and 15.5 million unit sales for 2013, pushing it above the 14.5 million cars and light trucks sold in the U.S. last year. If this performance holds after this year, then 2014 could be the year the U.S. auto market returns to 2007 levels prior to the last recession that pummeled the auto sector.
[UPDATE 3:27 p.m. EDT] Hyundai Motor America, the U.S. unit of South Korea's Hyundai Motor Co. (KRX:005380), said Wednesday it sold 63,315 units, or 2 percent more of the 10 models it sells in the United States.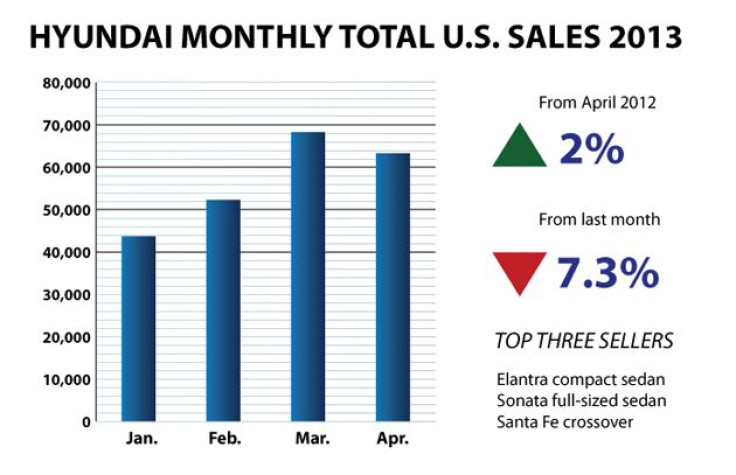 Helping keep sales growing was strong demand for Hyundai's No. 1 model in the U.S., the Elantra compact sedan, which saw sales rise 45 percent compared to April 2012. Sales of the re-designed Santa Fe crossover helped the model boost sales 10 percent over last year.
"While we did a decent job matching production levels with strong demand for Azera, Elantra and Santa Fe, our U.S.-built Sonata inventories remain among the lowest in the segment, and we continue to work to meet demand for all variants of our fast-turning mid-size sedan," said John Krafcik, president and CEO of Hyundai Motor America.
Inventory levels are important to automakers; if they're too low they can't fill orders but if they're too high they eat into profits because the cars cost money when they sit idle waiting to be delivered to dealers.
Sales of the second-best selling Sonata mid-sized sedan declined 21.7 percent to 16,077 units while sales of the Accent subcompact retreated by 23.2 percent to 4,730.
[UPDATE 2:58 p.m. EDT] "The weakening yen is giving the Japanese a lot of room to boost incentives, cut prices, pack vehicles with more content at lower prices, and increase marketing. This will challenge Korean automakers the most." -- Edmunds.com senior analyst Michelle Krebs.
[UPDATE 2:52 p.m. EDT] Chrysler, GM, Ford, Toyota, Volkswagen, Nissan, Honda, Kia and Hyundai have reported selling a combined 1,146,449 vehicles in the U.S. in April.
[UPDATE 2:40 p.m. EDT] Kia Motors America Inc., the Irvine, Calif.-based unit of South Korea's Kia Motors Corp. (KRX:000270), said Wednesday its April U.S. sales were virtually unchanged from April 2012, where it sold six fewer vehicles than it did last month, or 47,556 units.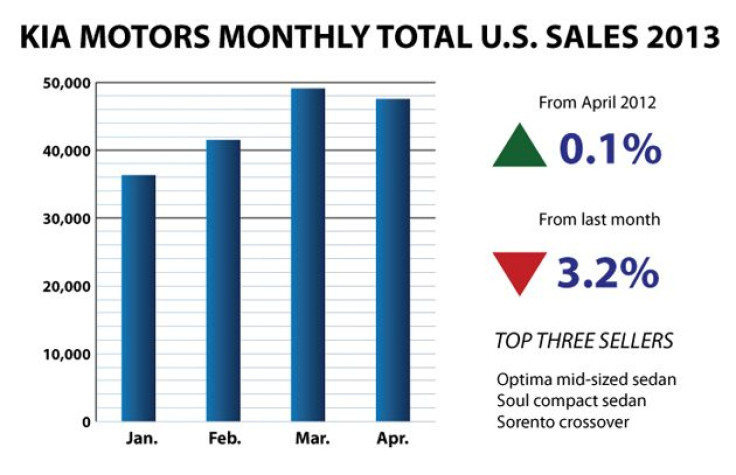 The U.S.-built Optima mid-sized four door sedan saw the biggest jump in sales from 11,021 in April 2012 to 14,678. Year-to-date sales have declined from the same period last year, however, by 6 percent to 174,488.
The automaker has a small U.S. market share and sells only eight models in the country.
[UPDATE 2:04 p.m. EDT] Toyota Motor Sales U.S.A. Inc., the U.S. unit of Japan's Toyota Motor Corp. (NYSE:TM), released its full April sales report on Wednesday afternoon. Earlier in the day it reported a 1.1 percent decline in U.S. sales, to 176,160.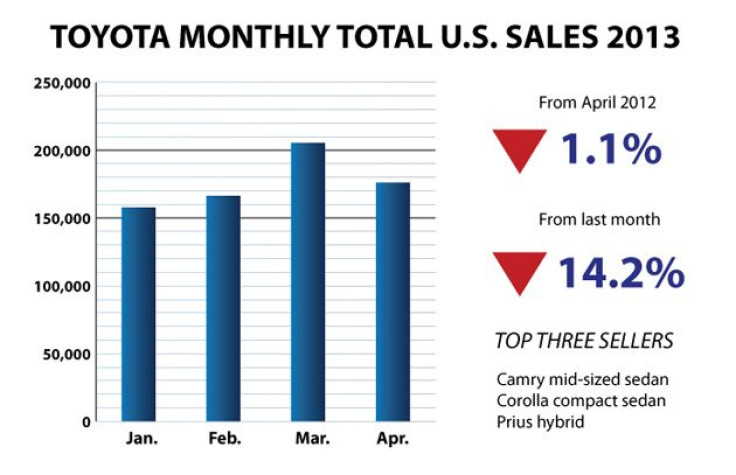 Sales of its popular Corolla compact sedan, Camry mid-sized sedan and Prius hybrid all saw double digit declines from April of last year due largely to increased competition from recent unveils by the Detroit Three automakers.
Two other popular models – the RAV4 crossover, the Tacoma pickup truck – saw 22 percent and 19 percent increases, respectively.
[UPDATE 1:46 p.m. EDT] American Honda, the Torrance, Calif.-based U.S. unit for Japanese auto maker Honda Motor Co. Ltd. (NYSE:HMC), said Wednesday it sold 130,999 vehicles in the U.S. in April, a 7.4 percent rise from the same month last year, on strong demand for the ubiquitous CR-V crossover, which hit a record for April.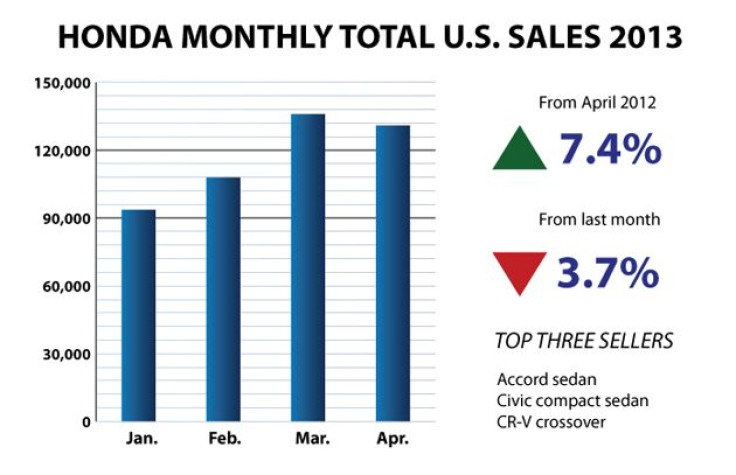 The luxury Acura brand saw sales up 14.2 percent largely due to the newly designed Acura RDX luxury crossover, which saw sales nearly double to 4,088 units and ate into sales of the similar Acura MDX, which sale demand shrink by over 27 percent.
"The April sales record for the CR-V exemplifies the incredible retail sales success of Honda's core models," said John Mendel, executive vice president of Sales for American Honda.
[UPDATE 1:17 p.m. EDT] Fast fact: Chrysler, GM, Ford, Toyota, Volkswagen, Nissan and Honda have reported selling a combined 1,035,578 vehicles in the U.S. in April.
[UPDATE 1:04 p.m. EDT] Nissan North America Inc., the U.S. unit of Japan's Nissan Motor Co. Ltd. (TYO:7201), said Wednesday that its April U.S. sales climbed 23.2 percent, to 87,847 units, from the same month last year on robust demand for the Altima and Sentra sedans, and the Pathfinder and Rogue crossovers.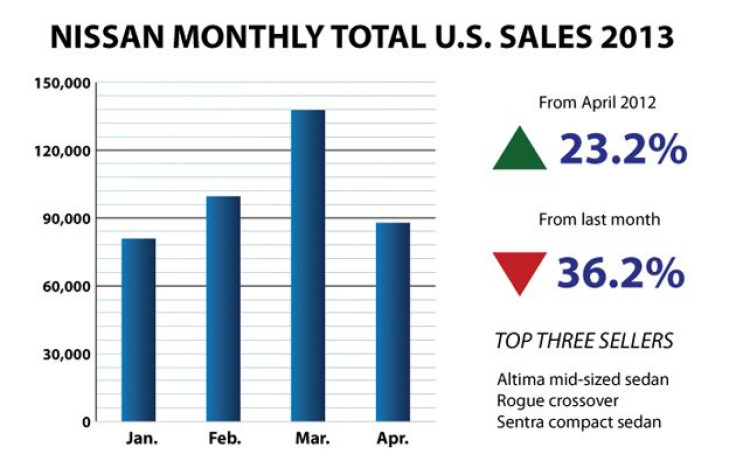 Sales of the company's luxury Infiniti brand rose 7 percent largely on rising demand for the G-sedan, which saw a 29 percent increase to 2,696 units.
Like General Motors, which also saw double-digit growth last month, Nissan spent a higher than industry average on incentives in April at $2,555, or 4.8 percent more than it spent in April of last year. Incentives help spur sales but eat into profits. The Japanese automaker curbed its incentive spending from March, by over 10 percent, which helped drive down month-to-month sales considerably.
The company said the retail sales rate grew by a higher rate. Retail sales exclude government and corporate procurements, such as buys from rental companies.
"April was a very good sales month for the Nissan division, not only from an overall volume standpoint where we were up more than 24 percent, but also in retail where our sales rose more than 32 percent," said Jose Muñoz, vice president of Nissan sales for the Americas.
[UPDATE 12:27 p.m. EDT] Toyota Motor Sales U.S.A. Inc., the U.S. unit of Japan's Toyota Motor Corp. (NYSE:TM), said in its preliminary preview on Wednesday that U.S. sales declined 1.1 percent to 176,160 units in April. The company releases its more in-depth sales summary later in the afternoon Eastern U.S. time.
[UPDATE 12:21 p.m. EDT] Regarding Volkswagen Group of America's April 2013 U.S. sales figures, which declined over 10% from last year (see below), Edmunds.com analyst Michelle Krebs said: "April broke VW's impressive string of 31 months of year-over-year growth. The biggest reason: Volkswagen doesn't have a player to compete in the big truck boom we're seeing. Another reason is that growth has slowed in the midsize segment where Passat is such a key player for VW. That segment is especially competitive, with Honda Accord, Ford Fusion and Toyota Camry holding a commanding lead in shopping consideration on Edmunds.com."
[UPDATE 11:42 a.m. EDT] Volkswagen Group of America Inc., the U.S. unit of Volkswagen AG (FRA:VOW3), said Wednesday it sold 3,881 fewer vehicles in the U.S. in April compared to the same month last year, a 10.3 percent year-over-year decrease, to 33,644 units. VW said the decline was due largely to a retreat in sales for its compact Jetta and mid-sized Passat sedans because of attractive alternatives from rivals, especially from the Detroit Three, which all had double-digit rises in sales for the same period.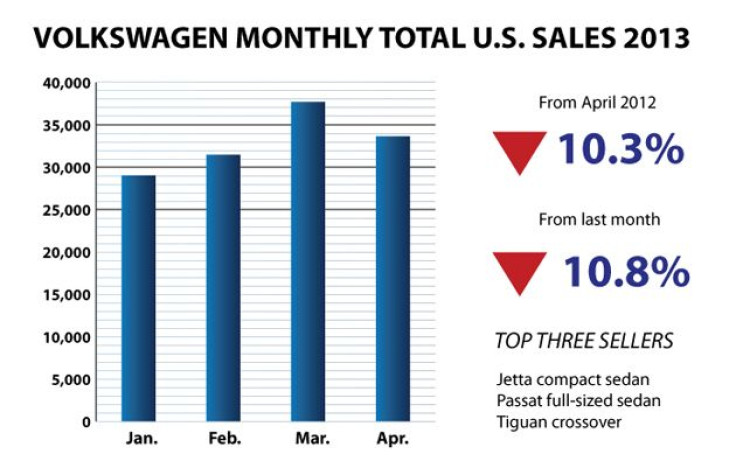 "While it was a challenging month, particularly in the compact and midsize sedan segments, we remain solidly focused on our long-term growth strategy," said Jonathan Browning, Volkswagen Group of America president and CEO.
Most models saw year-over-year declines, including a nearly 33 percent drop for the Golf/GTI subcompact models. The Jetta SportWagen had a 3.4 percent rise in sales, while demand for the Beetle convertible helped keep Beetle sales in positive territory despite declines for the hardtop version. The Tiguan crossover was one of the shining spots in April, registering a 6.6 percent rise on relatively high volume.
Orignal version of this story continues below with figures from the Detroit Three automakers: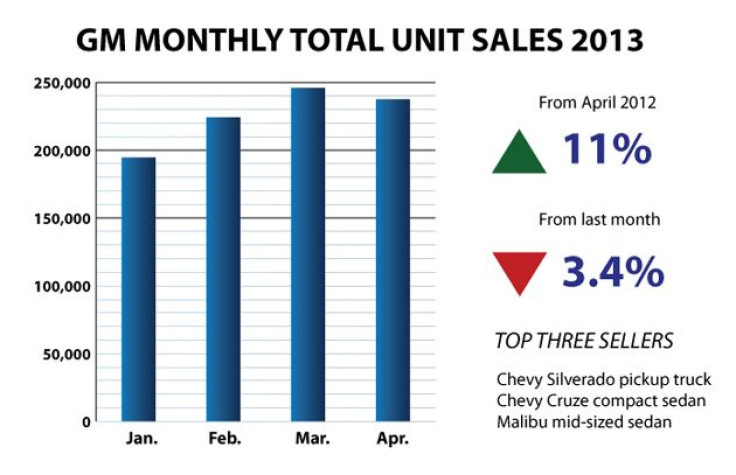 General Motors Co. (NYSE:GM), North America's largest automaker, announced Wednesday it sold 237,646 cars and light trucks in April, an 11 percent increase from last year on robust demand for the Chevrolet Cruze sedan, Equinox crossover and Tahoe SUV.
GM's seasonally adjusted annual rate of sales (SAAR) estimate for the calendar year stands at 15.2 million units, up from last year's 14.5 million and within the 15 million to 15.5 million units that most analysts expect. If achieved with sustained momentum, then 2014 could see the U.S. auto market back to 2007 levels, prior to the recession that sent auto sales plummeting and drove two of three U.S. automakers to seek help from the U.S. taxpayer.
"The Detroit Three had a particularly strong month -- all had double-digit sales increases that look as if they will outpace the industry's growth," said Michelle Krebs of Edmunds.com. "Strength is coming from full-size pickup trucks, which may well have gained a full percentage point of market share from a year ago."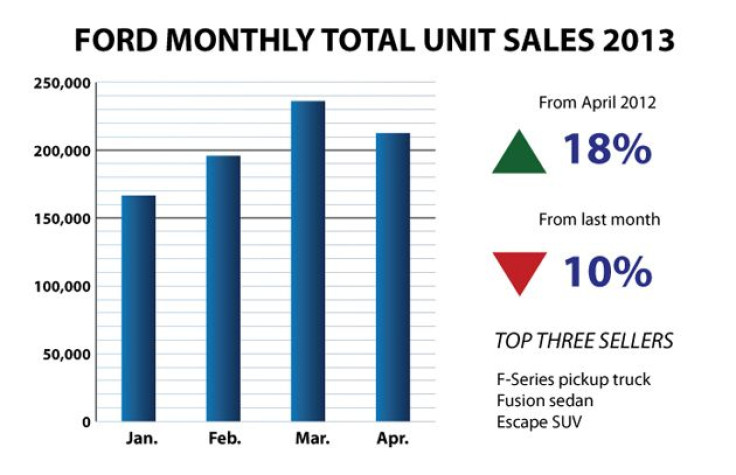 (For more on Ford's April sales, click here.)
As with competitors Ford Motor Company (NYSE:F) and Chrysler Group LLC, GM saw sales of its popular pickup truck, the Silverado, boost revenue as the rebounding housing market lifted demand for America's perennial favorite vehicle type.
Combined, the three auto makers sold 606,928 vehicles last month, representing the bulk of total sales but not including major foreign auto companies, like Honda and VW, which announce their sales figures throughout the day.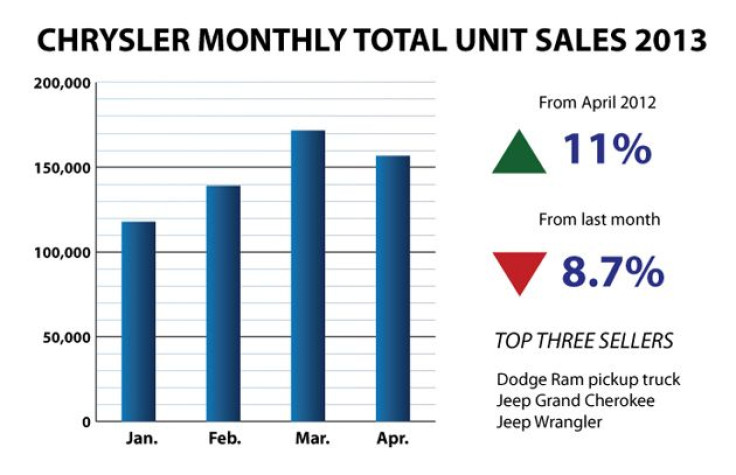 (For more on Chrysler's April sales, click here.)
GM's Chevrolet sold 39,395 Silverado pickups last month, a 28 percent spike from April of last year. The company will be delivering the 2014 model to dealers this summer, so if demand for trucks continues, the company will want to unload its older models and get sales rolling for the newer one.
"GM will be looking to reduce Chevrolet pickup supply if inventory is still high when sales are reported," said Paul Taylor, chief economist for the National Automobile Dealers Association.
The 2013 Cadillac XTS luxury sedan helped push sales up 34.3 percent in GM's luxury segment. The Cadillac SRX crossover and the CTS sedan, the most popular brands in the segment, saw sales decline last month while the three Escalade SUV models saw gains in sales.
"Car-buying conditions are strong and will continue to release pent-up demand," said Kurt McNeil, GM's vice president of U.S. sales, in the sales announcement. GM's SAAR, for the entire U.S. auto market in April was 15 million vehicles, 200,000 fewer than March. April tends to see sales decline from March, which is typically the best month for auto sales in the first quarter.
© Copyright IBTimes 2023. All rights reserved.