Arabs In The Andes? Chile, The Unlikely Long-Term Home Of A Large Palestinian Community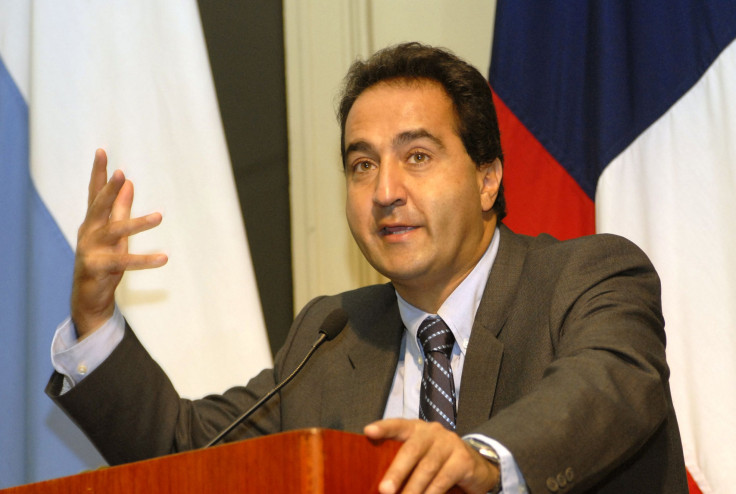 The largest Palestinian community outside of the Middle East resides more than 8,000 miles away from Jerusalem in the South American nation of Chile. Numbering some 500,000 people, Palestinians have resided in Chile for more than 150 years, establishing deep roots in the country's political, economic, cultural and sporting life.
In the 1850s, during the fallout from the Crimean War, a handful of Palestinians found their way to Chile (by way of Argentina) to toil in agriculture or to work in small businesses. These migrants were mistakenly referred to as "Turcos" (Turks) since they originated in the decaying Ottoman Empire. Strikingly, the majority of Palestinians in Chile came from just four towns within a few miles -- Bethlehem, Beit Jala, Beit Sahour, and Beit Safafa (which is now a part of East Jerusalem). More Palestinians migrated over the decades, particularly after World War I and also in the wake of the formation of the State of Israel in 1948. By the following decade, Palestinians had achieved significant economic and political power in Chile, filling high government seats and owning corporations.
Mike Konrad, the webmaster of LatinArabia.com, a website that chronicles the history of Arabs in Latin America, told International Business Times that at one point, 60 percent of all textiles manufactured in Chile were controlled by Palestinian-Chileans. "There are Palestinians all over the place here," businessman and second-generation Palestinian-Chilean Nassim Alamo told Agence France-Presse. "They started out selling just anything. They would go out in the fields, where there were no businesses nearby. Since they did not know the [Spanish] language, they would just hold things up to show what they had to sell. It must have been a really hard life. They would walk hundreds of kilometers, all on foot."
Up until the 21st century, the majority of Palestinians in Chile -- like most Arabs across Latin America -- adhered to Christianity, primarily Eastern Orthodoxy and Roman Catholicism. Interestingly, the Palestinian Christian community in Chile now exceeds their numbers in their Middle Eastern homeland. On the whole, some 800,000 Arabs live in Chile, representing about 5 percent of the total population.
However, recent arrivals to Chile have included some Muslims. In the spring of 2008, a group of more than 100 Palestinian refugees from the Al-Waleed refugee camp on the border between Syria and Iraq were welcomed by Santiago. Eugenio Chahuan, chief of the Arab Studies Center at the University of Chile, told AFP that the Palestinian presence is somewhat a result of pure chance. "You have waves of immigration of people who come because another family member has come. That's quite common in patriarchal societies with very close families," he said.
Prominent Chileans of Palestinian descent include football player Edgardo Abdala, businessman Carlos Abumohor, TV star Jordi Castell Abusleme, Attorney General Sabás Chahuán Sarrás, film director Annemarie Jacir, tennis player Nicolás Massú, activist Mauricio Abu Ghosh and Pablo Zalaquett, a former mayor of Santiago. Two of the country's wealthiest families are the Yarur (founder of the Banco de Crédito e Inversiones) and Said clans.
"They are immigrants who had a greater cultural educational level, not formal education, but with a lot of historical tradition. They [got] here and in a very short time they become social, cultural and economic elite," Chahuan added.
Perhaps the Palestinian community's most famous cultural symbol in Chile is its very own soccer club -- Club Deportivo Palestino S.A. – Palestine Sports Club – which was formed as long ago as 1920 and now flies a flag that promotes the Palestinian territories' green, white, black and red colors. "We are the only team in FIFA competitions that flies the Palestinian flag," the team's general manager, Jorge Correa, told AFP. "At first the team was for people with links to the Arab world, but competition forced some exceptions until we got to the point where it is no longer necessary for players to have a blood relationship with Palestine in order to play."
Indeed, despite the huge distance between Chile and the Holy Land, many Palestinians, regardless of faith, remain deeply committed to the establishment of a new state in the fractious West Bank, as well as with the social and economic problems faced by their peers there and in Gaza. Indeed, during Israel's offensive against Gaza in 2009, Palestinians in Santiago protested the bombardment of Gaza and the resultant bloodshed on the ground. For some of these Palestinian refugees especially, hatred of Israel remains deep-seated. "The Jews are heartless, they are killing children and the defenseless," a Palestinian refugee in Chile named Majida Al-Hamid told Reuters. "I wish the world would lift its head and stop this, because we are all equal, we are all human beings."
Konrad of LatinArabia.com noted that Chile has historically welcomed refugees, including both Jews and Arabs. But he suggests that some of the Palestinians in Chile, unlike the Lebanese Maronite Christians found in other parts of Latin America, are quite hostile to Israel. "Further aggravating the problem is the relative wealth of Palestinians in Chile," Konrad wrote at the conservative website American Thinker. "They are an educated, wealthy elite who punch well above their weight."
Konrad cites, among other things, that the Palestinians alone, excluding other Arabs, account for 10 percent of the seats in the Chilean Senate. "They are captains of industry and banking," he said. "They had enough clout, even way back in 1947, to prevent a pro-Zionist government in Chile from voting for the U.N. Partition to create a Jewish state, forcing Chile to abstain."
Perhaps not surprisingly, Chile's current conservative president, Sebastian Pinera, is an enthusiastic supporter of independent Palestinian statehood and has met with the Palestinian Authority's president, Mahmoud Abbas. "Chile would be very friendly to Israel, but the Palestinian community blocks such a policy," Konrad told IB Times, citing a remark by the president of Chile's Jewish Federation, Gabriel Zaliasnik, who once said, according to the Jerusalem Post: "The Palestinian community is to Chile what the Jewish community is to the U.S."
In fact, a recent article in the Times of Israel noted that a Chilean lawmaker of Palestinian descent accused the Israeli military of spying in the country. Senator Eugenio Tuma reportedly said on television earlier this month that members of Israel Defense Forces were in Chile "dressed as civilians" and "mapping out" the southern part of the country. Tuma, who is chairman of the Senate Foreign Affairs Committee and has been accused of anti-Semitism in the past by calling Chilean Jews "agents of Israel," also criticized the Chilean government for doing nothing "given the power exerted by Israel and the U.S."
Dina Siegel Vann, director of the American Jewish Committee's Latino and Latin American Institute, condemned Tuma's "baseless accusations." "[They are] extremely dangerous, all the more so in a country that has experienced an uptick in anti-Semitism and other forms of racism in recent years," she said. "The real danger to Chilean society is ignoring Tuma's campaign of hate against Israel and Chilean Jews."
However, Chauhan of the Arab Studies Center posits that Palestinians, many of whom have developed close business ties with Chile's Jewish population, are not necessarily anti-Semitic. "The conflict is not with Jews but with the forming of the state of Israel. And they share the experience of being new immigrants. Their jobs, mostly in trade, also connect them economically," he said.
© Copyright IBTimes 2023. All rights reserved.