Are The Cleveland Cavaliers In Trouble? Early Schedule Brings Struggles For Cavs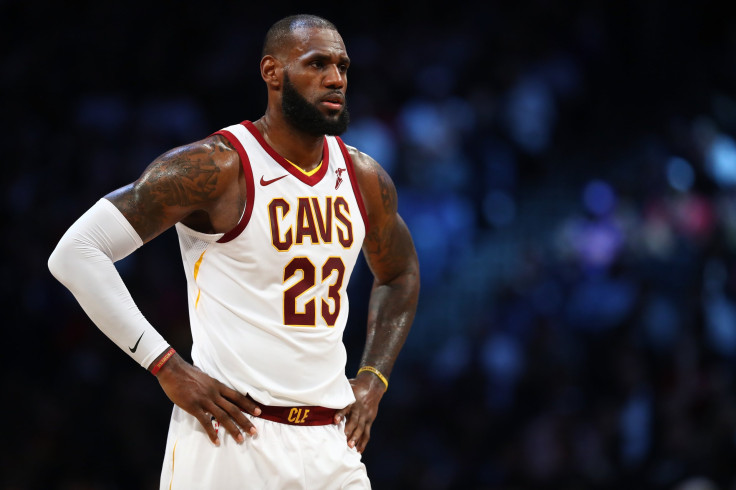 This isn't the start to the 2017-2018 NBA season that the Cleveland Cavaliers had envisioned.
LeBron James and Co. dropped their third game in a row Sunday night, losing 114-95 at home to the New York Knicks. It put the Cavs' record at 3-4 on the year, forcing them out of the current playoff picture.
Cleveland's slow start might be considered a microcosm of what's been a strange first two weeks of the NBA season. The defending champion Golden State Warriors are just 1.5 games better than the Cavs with three losses to start the year. The San Antonio Spurs. Houston Rockets and Oklahoma City Thunder all have three losses of their own.
It's obviously way too early to be looking at the standings, especially for a team that boasts the best basketball player on the planet. That doesn't mean Cleveland has no reason to be concerned.
The Cavaliers haven't simply been beaten by good teams. Cleveland has lost to the Knicks, Brooklyn Nets and New Orleans Pelicans, none of whom made the playoffs last year or currently have a winning record. The Cavs lost to the Knicks and Pelicans by 19 points and 22 points, respectively, and the Nets were without their best player when they topped Cleveland.
James has basically picked up where he left off in the 2017 NBA Finals, even as one of 18 players in NBA history to have played more than 50,000 career minutes. He's averaging 24.6 points, 8.6 assists and 7.1 rebounds per game, shooting 58.6 percent from the field and 40.7 percent from three-point range.
The four-time MVP isn't nearly getting the kind of help he received in his last three seasons with Cleveland. That's bound to happen after trading Kyrie Irving to the Boston Celtics. Isaiah Thomas, the main piece that the Cavs got in return for their starting point guard, won't play until 2018 because of a hip injury.
But James' current supporting staff is playing worse than any group of players that surrounds another NBA superstar.
Russell Westbrook has Carmelo Anthony and Paul George. Kevin Durant and Stephen Curry play with two other All-Stars with the Warriors. With Chris Paul out, Eric Gordon is scoring 24.9 points per game alongside James Harden. Khris Middleton and Malcolm Brogdon give Giannis Antetokounmpo solid second and third options with the Milwaukee Bucks.
Kevin Love has put up decent offensive numbers, but he hasn't provided the scoring that Irving did for Cleveland while being a liability on the defensive end. When Dwyane Wade and Derrick Rose haven't missed games with injuries, they've looked like former superstars that are well past their prime. J.R. Smith is shooting an abysmal 25.9 percent from the field, and Jae Crowder has hit just 39.1 percent of his shots.
After Sunday's loss to the Knicks, Cavaliers head coach Tyronn Lue suggested that Cleveland's newest additions might be "intimidated" to play alongside James.
"I don't know if 'intimidated' was the right word, but if you play with LeBron...I've had the chance to play with greats and you just find yourself deferring to those guys and not wanting to step on toes," Lue said, via ESPN's Dave McMenamin.
"I just told Jae Crowder and (Derrick) Rose and the new guys, just play your game. Like, be aggressive, be who you are. LeBron and Kevin (Love) and those guys are unselfish, so they're going to be able to adjust to you. We don't want you to be worrying about if you're taking too many shots or if you're being too aggressive, running too many pick and rolls. Just play your game, and if you do it too much we'll let you know."
Only the Houston Rockets made more three-pointers than Cleveland in 2016, and the Cavs set multiple records with their three-point shooting in the playoffs. Ten teams have made more threes than Cleveland this season, and the Cavs are tied for 19th by hitting 34.6 percent of their attempts.
Cleveland had a top-four offensive rating in each of the last three seasons. They're currently 14th in the NBA with 104.3 points per 100 possessions.
The defensive end of the floor is even more concerning.
Opposing teams have been especially deadly from three-point range against Cleveland. The Cavs are letting teams shoot 39.7 percent from behind the arc, which ranks 27th in the NBA. No team has allowed more made three-pointers than Cleveland, who is giving up 3.3 more threes per game than they did a year ago.
The Cavs are giving up 109.8 points per 100 possessions, ranking them better than just two other teams. Boston has the NBA's best defensive rating, and the Toronto Raptors are tied for second in the league.
Watch one of Cleveland's first seven games, and you'll see a team that's slow on defense. Teams are beating them in transition, and Cavs' players, including James at times, have been slow on their rotations.
After beating the Celtics in the season opener, James admitted that he wasn't in the proper game shape because he missed much of training camp with a sprained ankle. The rest of the team, which is the oldest in the NBA, isn't where it should be either.
Lue is confident that will change.
"I know we will," Lue said, via Cleveland.com, after Sunday's loss to the Knicks. "I know we can for sure. Older team, to drill and run 'em early in the season before training camp, with a shortened training camp, is tough, especially coming off three Finals.
"Guys got to get in better shape, we understand that. A lot of times when we make runs guys ask to come out because they're tired. It's got to be a balance, getting in shape, but also being smart."
Cleveland's slow start has been enough of a concern that the team held a meeting before Tuesday's practice. James was described as "vocal" during the meeting, though most of the players had something to say.
"I mean it's early in the season, I feel like, to do it but it wasn't one of those meetings where it was so 'over the top,' so to speak," Love told ESPN. "It was just figuring out exactly what we need to do. We watched certain segments on film of the game. We broke down film a little bit differently and came out here and got some good work in."
Regular-season struggles are nothing new to the Cavs. Last year, the team played .500 basketball for most of 2017. They didn't have the No.1 seed in the Eastern Conference playoffs, just as they didn't come close to finishing with the best record in the East in 2015.
Cleveland has still cruised to the NBA Finals in each season since James returned to the team in 2014.
Even if the Cavs have taken a step back from last season, there doesn't seem to be a viable challenger in the East. Boston has lost arguably their best player in Gordon Hayward for the season. Toronto is essentially the same team that Cleveland swept in the 2017 postseason.
Milwaukee might prove to be Cleveland's greatest threat with Antetokounmpo emerging as the MVP favorite. The Bucks have a lot more to prove after failing to win a playoff game with the same group of players last year. The Cavs beat the Bucks in their one matchup this season.
Winning the East, of course, isn't Cleveland's goal. The Cavs are expected to reach the 2018 NBA Finals, where they will presumably have a fourth straight meeting with Golden State.
The Warriors began the year as odds-on favorites to repeat as NBA champions. The Cavaliers have shown no indication that this year's Finals will be any different than June's series when Golden State beat Cleveland in five games.
© Copyright IBTimes 2023. All rights reserved.