Are Pipelines Safe? Saskatchewan Oil Leak Source Still Unknown As Canadian Authorities Prepare To Evacuate Spill Area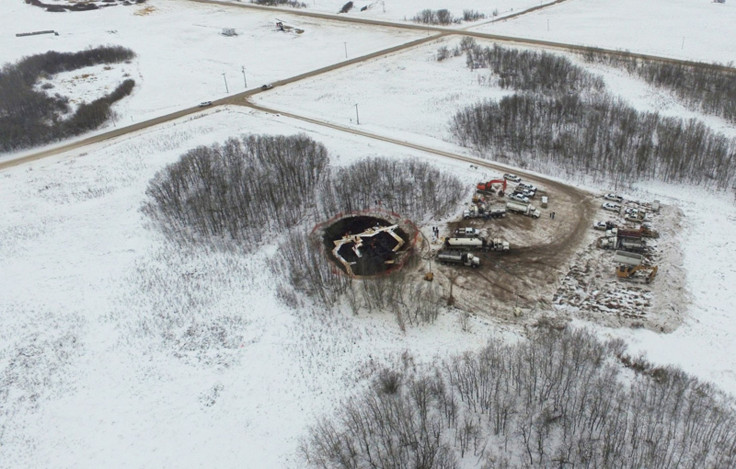 Canadian authorities continued clean-up operations Tuesday after last week's massive oil spill on an aboriginal reserve as crews began preparations to evacuate the site in order to determine the source of the leak, Saskatchewan officials said. The provincial government was informed Friday of a pipeline leaking about 200,000 liters (52,834 gallons) oil in the western Canadian region.
Reports said vacuum trucks were working on removing the contaminated oil that spilled onto a farmland at the Ocean Man First Nation, located about 87 miles from Regina, the provincial capital.
While the spill occurred far from residential areas, it was close to a cemetery considered sacred by the band. The leak is Saskatchewan's second major incident in seven months, the first being a Husky Energy Inc pipeline spill that released 225,000 liters of oil into a major river, affecting drinking water supply to two cities.
Tundra Energy Marketing Inc, which has a line adjacent to the spill, is leading the clean up efforts, Doug McKnight, assistant deputy minister in the Ministry of the Economy, said.
"There are a number of pipes in the area," McKnight reportedly said. "Until we excavate it, we won't know with 100-percent certainty which pipe."
Tundra said late Monday it was cooperating with the authorities, adding that the company would see to it that "the affected land is restored appropriately."
Ocean Man's Chief Connie Big Eagle said the band's 540 members experienced emotions ranging from anger to disappointment.
"I don't know about things returning to normal, as far as the environment goes, but I know we're all co-operating at this point, ensuring it's cleaned up properly and no further damage is caused to the land or the environment," she reportedly said Tuesday.
The chief said earlier that the spill was about 15 meters (50 feet) in diameter on Friday.
"We have got to make sure that Tundra has done everything that they can to get our land back to the way it was. That can take years," she said. "They have assured me that they follow up and they don't leave ... until we are satisfied."
© Copyright IBTimes 2023. All rights reserved.