What Is An Executive Order? President Trump Signs Dakota Access Pipeline, Global Gag Rule, TPP Laws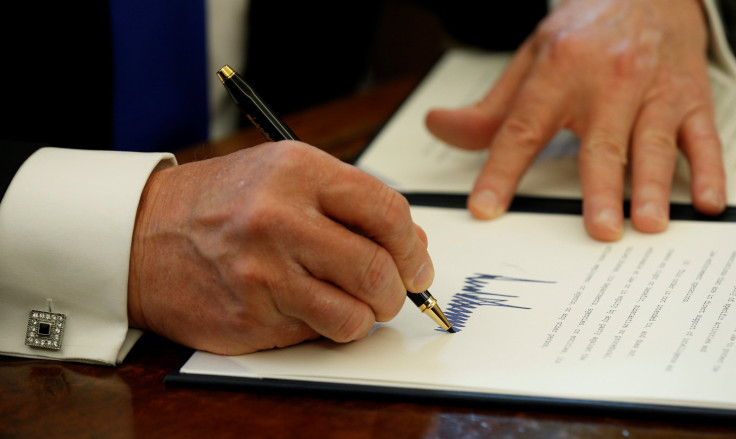 President Donald Trump began his time in office with a flurry of executive orders designed to overturn some of former President Barack Obama's landmark policy decisions. Executive orders are designed as a way for a president to bypass congressional approval. Though Trump has made headlines with his swift actions, every president has made use of executive orders.
The president doesn't need approval to sign an executive order. Congress can attempt to reverse such an order by introducing a bill to nullify it, but the president is still able to veto that bill, making it extremely difficult for anything to stand in the way of an executive order. The actions have been used since George Washington was in office, though they used to be far less transparent. Executive orders only began being listed by the State Department in the early 1900s. More than 13,000 have been signed since then. Obama signed a total of 277 executive orders throughout his time as president, compared to George W. Bush's 291 orders and Bill Clinton's 364.
Trump's executive orders have primarily served to reverse Obama's legacy. One of his first actions was to begin repealing the Affordable Care Act, arguably Obama's most major policy legacy. The order gave federal agencies the power to unwind some of the regulations put in place by Obamacare.
In another executive action, Trump reinstated the Global Gag Rule, formally known as the Mexico City Policy, a law that has been volleyed back and forth between Republican and Democratic presidents since it was signed by Ronald Reagan. The policy states that non-governmental organizations operating outside the United States who receive funding from the U.S. can't provide abortions, advice on where to get abortions or education on abortion safety.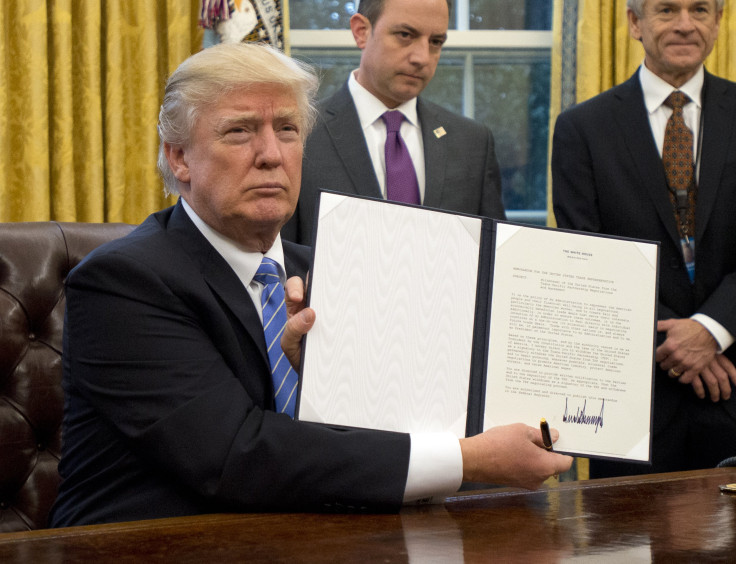 Trump withdrew the U.S. from the Trans-Pacific Partnership (TPP), a trade agreement between 12 nations, in another action Monday.
Much to the dismay of environmental advocates, Trump signed an executive order Tuesday allowing for the construction of the Keystone XL and Dakota Access Oil pipelines. The specifics are still unknown, but the order reverses Obama's 2015 decision to halt the pipelines.
Trump also signed an order putting a freeze on the hiring of federal employees, intending to "clean up corruption and special interest collusion in Washington, D.C.," according to the administration's first 100-day plan.
SaveSave
© Copyright IBTimes 2023. All rights reserved.