Argentine Leader Is An 'Old Hag': Did Uruguay's President Just Say That?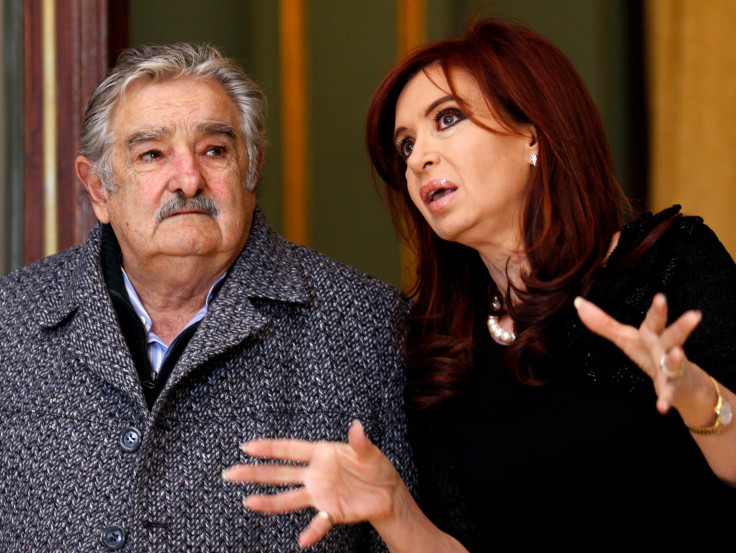 The "world's poorest president," Jose Mujica of Uruguay, was overheard apparently denigrating his Argentine counterpart Cristina Fernandez de Kirchner when a microphone picked up a private conversation shortly before he commenced a recent press conference.
"This old hag is worse than the cross-eyed man," Mujica said in an aside to another Uruguayan official, AFP reported, presumably referring to Fernandez and her late husband and former Argentine president Nestor Kirchner, who died of a heart attack in 2010 and had a lazy eye.
Mujica later denied that he was talking about Fernandez or her late husband, clarifying that he was talking about Brazil.
"I was talking about (former Brazilian president) Lula (da Silva) and Brazil. I never spoke publicly of Argentina," Mujica told La Republica.
Mujica refused to further clarify his controversial comments, so it wasn't clear whether he meant that he was referring to da Silva as the "cross-eyed man" or current Brazilian president Dilma Rousseff as the "old hag."
Nevertheless, the Argentine government has taken the initial interpretation of Mujica's remarks and released a statement expressing its outrage.
Argentina's foreign ministry called the comments "disparaging," adding that "it is unacceptable that derogatory comments have been made that offend the memory of a deceased person, which cannot be repeated or defended, particularly by someone who Dr. Kirchner considered his friend," the statement read, El Observador reported.
The ministry added that while Mujica's comments were offensive, they wouldn't affect the "historical ties that have united our countries."
Uruguay and Argentina have generally shared close political and economic ties due to their proximity to one another and similar cultural demographics.
There has been a recent conflict over the use and pollution of the Uruguay River that separates the two countries.
In 2003, Uruguay's then-president Tabare Vasquez authorized the opening of two pulp mills along the river, which Argentina protested, claiming it would cause pollution and affect communities downstream.
The issue became a flash point between Vasquez and his Argentine counterpart Nestor Kirchner, but was eventually resolved between their successors, Mujica and Fernandez in June 2010, when the two leaders agreed to establish a joint commission to monitor the river.
Moreover, while Cristina Fernández de Kirchner is 60 years old, Mujica is 77.
© Copyright IBTimes 2023. All rights reserved.